NCAA Basketball: Under-evaluated headlines of the week (Johnny Jones on LSU's 2015-16 season)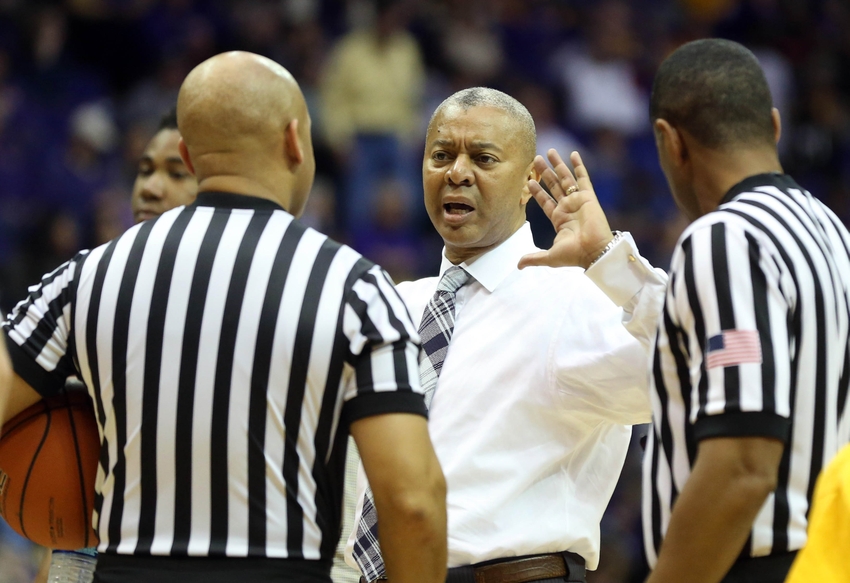 What news and notes were under-evaluated this week in the world of NCAA basketball?
It's almost the end of October! Recruits are taking visits, teams are well into their fall practices, coaches are approaching crunch time, late night madness' continue to take center stage this weekend and fans are increasingly gaining excitement as the regular season is just about 20 days away.
Just think, very soon we will be evaluating teams on the court and players will begin to either stand out or become bust material.
We cover all the major headlines and preview the world of college basketball here at Busting Brackets, but every week there will be under-evaluated storylines that need some extra attention.
Sure, they may not be breaking news stories, similar to a monster commitment or a surprising transfer, but they are important in terms of tracking your favorite recruit, team, player or even coach.
In the lead up to the start of the college basketball regular season in mid-November, Busting Brackets will have those under-evaluated headlines covered at the end of every week.
This week we continue with four stories, including a key bench player for Xavier suffering an injury, Purdue landing their second commitment in 2017, an Oregon State forward getting cleared for practice and Johnny Jones speaking about LSU's 2015-16 season.
4. Kaiser Gates out a month
With James Farr and Jalen Reynolds moving on to greener pastures, the Xavier front court needs all the bodies and depth it can get.
However, the Musketeers lost one of their valuable rotation players for at least a month, as 6'8″ sophomore forward Kaiser Gates underwent surgery on his left knee on Thursday. According to Shannon Russell of the Cincinnati Enquirer, Gates' procedure consisted of removing small particles of cartilage from his knee.  
Gates only averaged 3.2 points, 2.6 points and 0.2 assists per game in his freshman campaign, but he is expected to play a much larger role this season. The forward came into Xavier as a four-star recruit, so he certainly has the talent and skills to provide Chris Mack with more than 10.4 minutes per night.
Gates is a long, athletic forward who runs the floor like a gazelle. He has great touch around the basket, is efficient from mid-range and can even step out beyond the three point arc to make set jump shots.
While this injury is unlikely to affect Gates in the long term, he could miss the 2016 Tire Pros Invitational (a tournament that includes Missouri, Davidson, Oklahoma and Clemson) and a quality game against Northern Iowa.
That will strip the Musketeers of depth beyond Norfolk State transfer big man RaShid Gaston, the versatile Trevon Bluiett and junior forward Sean O'Mara. Freshman forward Tyrique Jones will have a big role on the 2016-17 roster regardless, but he will need to fill more minutes than expected right off the bat.
3. Aaron Wheeler to Purdue
Aaron Wheeler is the newest member of the Purdue Boilermakers' 2017 recruiting class. The 6'7″, 180 pound three-star small forward from Stamford, CT committed to Matt Painter and company earlier this week, making him the second member of next year's class.
Before verbally committing to Purdue, Wheeler held offers from Duquesne, Pittsburgh, Rhode Island and Temple.
Wheeler, who plays his high school basketball at Brewster Academy, has the perfect physical tools to be the eventual replacement for junior forward Vince Edwards. Wheeler has great size, good length and terrific athleticism. He is still working on his feel for the game and improving his scoring ability (besides just hitting perimeter shots), but there is clear upside for Wheeler to become a versatile option.
The small forward joins 7'2″ Dutch center Matt Haarms in Purdue's 2017 class. The Boilermakers still have an offer out to four-star forward Nojel Eastern, so they could add a highly touted talent to the mix.
The Boilermakers have just one senior on their roster that will play in the rotation this year (Spike Albrecht). That means Wheeler could be groomed for the future and likely won't receive a plethora of minutes in 2017-18.
2. Tres Tinkle cleared for all basketball related activities
Sophomore forward Tres Tinkle is the leading returning scorer for the Oregon State Beavers. He put up 13.1 points, grabbed 5.4 rebounds and snagged 1.2 steals in his freshman season, but also suffered a broken foot that knocked him out of the final five games of the season and forced him to undergo surgery.
Tinkle is finally all set to go for the 2016-17 season, after he was cleared for full basketball activities on Thursday.
Oregon State's Tres Tinkle (foot) has been fully cleared for all basketball related activities, per Wayne Tinkle.

— Jon Rothstein (@JonRothstein) October 20, 2016
With Gary Payton II in the NBA and Oregon State possessing very little front court depth, Tinkle needs to have a monster season. He will need to increase his scoring average to help make up for the loss of Payton and he will also need to be even more impactful on the glass.
One of the main concerns for Oregon State is how they will consistently rebound against opposing front courts.
Now that Tinkle is back, he can work himself into game shape for the first three games (Prairie View A&M, UTSA and Lamar) before the actual true tests emerge (at Nevada and at Tulsa).
If Oregon State wants to have any shot at making the NCAA Tournament for the second year in a row, Tinkle is going to have to have a First Team All-Conference type of season. If not, the Beavers will fall back to the middle of the pack in the Pac-12.
1. Was 2015-16 a disappointing year for LSU?
LSU was a top-25 team entering the 2015-16 season. They had the number one recruit in the country in Ben Simmons, solid returnees like Keith Hornsby and Tim Quarterman and also other top notch newcomers, including Antonio Blakeney and Brandon Sampson.
But instead of being the top contender to Kentucky in the SEC, the Tigers fell flat on their faces. They finished 19-14 overall, failed to reach the NCAA Tournament, were often embarrassed late in the season (a 71-38 defeat to Texas A&M comes to mind) and declined an NIT bid.
Simmons put up terrific numbers (19.2 points, 11.8 rebounds and 4.8 assists per game), but he often showed terrible body language and poor leadership. He was in the running for the Wooden Award before academic issues forced him to become ineligible for the honor.
The head coach of LSU, Johnny Jones, had the opportunity to reflect on a season that many would call a disaster this week at SEC Media Day. 
"I think at the end of the day, not making the tournament was a disappointment, but we did not declare that as a disappointing year for us," Jones said. "We were 8-1 at home (in conference play). We had a tremendous fan base. We averaged over 11,000 fans a game, the third-largest increase in the country last year. So a lot of positive things happened for our team last year."

"I'll be that guy who will stand up and say anything that was lacking in last year's team, you can certainly point it at me," Jones said Wednesday at SEC men's basketball media day. "I'm the head basketball coach. At the end of the day, all that falls on my shoulder and we continue to get better. But at the end of the day, if you're in the top three in a conference of this magnitude, you'd think you'd get in the NCAA Tournament, but you just didn't have any control over that."
There's a lot of unpack from these comments by Jones.
First, putting 'positive' in the same sentence as 'last year' is ludicrous. While Simmons' numbers were a bright spot and the attendance was also a plus, the Tigers had goals to compete for an SEC title, make the NCAA Tournament and make a run in March. Instead, they failed to be competitive in multiple games despite having a more talented roster than most opponents.
Second, I do (and I'm sure many others) appreciate Jones taking the blame for the season. The collapse doesn't fall only on his shoulders, as Simmons, Blakeney and the players also deserve a lot of the blame for problems.
However, Jones failed to get the most out of his roster. His offensive "sets" often looked an AAU team playing their third game in one day. Players were going one-on-one, there were a lot of poor shots and Simmons was tentative at times.
Also, the Tigers didn't play any defense (124th in KenPom's defensive efficiency rankings) and shot 67 percent from the free throw line.
Finally, the SEC is the weakest of all Power Five conferences. They don't have a clear cut team after Kentucky and only two-to-three teams could make the Big Dance out of the conference this year.
If your resume isn't up to par and you don't pass the eye-test, it doesn't matter what place you are in the standings. Finishing in the top-three does not guarantee a spot in March.
It will be a tough 2016-17 season for LSU. They are losing Simmons, Quarterman and Hornsby, so expectations certainly won't be even close to as high as last year. With Jones on the hot seat, maybe the Tigers will be better than projected in a wide open SEC.
This article originally appeared on