NCAA Basketball: Under-evaluated headlines of the week (2018 Maui Invitational field released)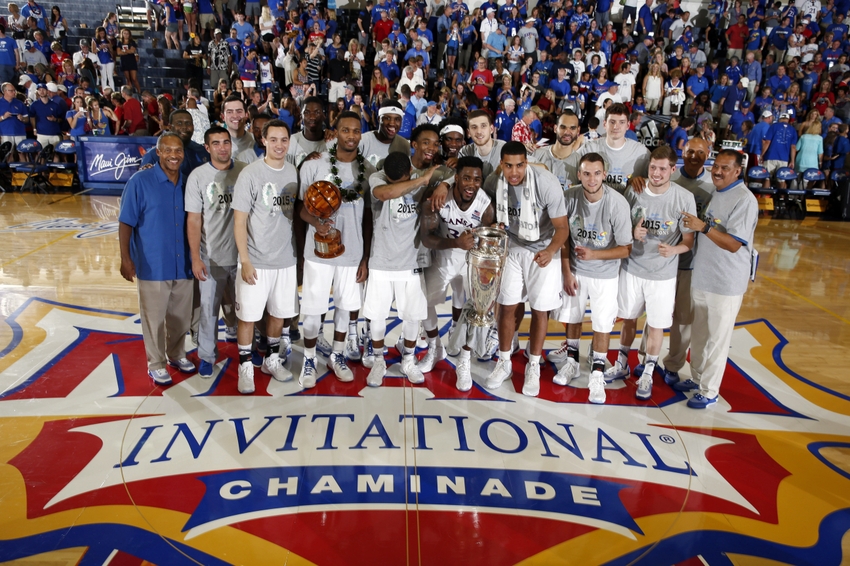 What news and notes were under-evaluated this week in the world of NCAA basketball?
We are approaching the end of October! Recruits are taking visits, teams are well into their fall practices, conference media day's have wrapped up, coaches are approaching crunch time, late night madness' continue to take center stage this weekend and fans are increasingly gaining excitement as the regular season is just about 15 days away.
Just think, very soon we will be evaluating teams on the court and players will begin to either stand out or become bust material.
We cover all the major headlines and preview the world of college basketball here at Busting Brackets, but every week there will be under-evaluated storylines that need some extra attention.
Sure, they may not be breaking news stories, similar to a monster commitment or a surprising transfer, but they are important in terms of tracking your favorite recruit, team, player or even coach.
In the lead up to the start of the college basketball regular season in mid-November, Busting Brackets will have those under-evaluated headlines covered at the end of every week.
This week we continue with four stories, including Kevin Stallings' latest commitment at Pittsburgh, Mark Few talking about his team being a work in progress, Maryland head coach Mark Turgeon landing a new extension and the Maui Invitational announcing their 2018 field.
4. Pittsburgh lands JUCO prospect Jared Wilson-Frame
In his first year as head coach at Pittsburgh, Kevin Stallings has a veteran roster that includes four seniors (all of whom are amongst the team's best players).
Whether it's Jamel Artis, Michael Young, Sheldon Jeter or Chris Jones, the Panthers are losing a ton of production after this upcoming campaign.
That means that in order for Stallings to continue Pittsburgh's yearly success, he must work his magic on the recruiting trail. The Panthers already have three commitments in the class of 2017, but on Friday, Stallings added a JUCO prospect by the name of Jared Wilson-Frame.
Wilson-Frame is a 6'5″ guard who has the versatility to play both wing positions. He is strong and physical, but also has the shot making ability to knock down jumpers from the perimeter. Wilson-Frame has range that extends beyond the three point arc, runs off screens successfully and has good mechanics on his jumper.
He's developing the rest of his offensive game, however, Wilson-Frame also can attack defenders off the bounce with straight line drives.
Coming out of Notre Dame Prep in 2015, Wilson-Frame had offers from UConn, Georgia, Providence, Rutgers and VCU. Instead, the Hartford, CT native enrolled in Northwest Florida College.
He averaged 15.4 points, 4.4 rebounds and 3.2 assists per game last season, while knocking down 41 percent of his shots from the field overall and 37 percent from beyond the arc. With one more year remaining at Northwest Florida College, Wilson-Frame will have two years of eligibility left when he officially joins the Panthers in 2017-18.
As one of the top JUCO prospects in the nation, this is a terrific get for Stallings. The new head coach takes over an already proven roster in 2016-17, but the true task for Stallings begins as he brings in his first recruiting class next year.
The early thoughts are positive as Wilson-Frame joins four-star point guard Aaron Thompson, three-star big Terrell Brown and three-star point guard Marcus Carr in their 2017 class. The Panthers are reloading nicely.
3. Mark Few says Gonzaga will be a work in progress
The Gonzaga Bulldogs may have the most talented roster of the Mark Few era this season. And that's saying something given the players that have made their way through Spokane over the last 17 years.
However, the majority of the players who own significant roles on the Bulldogs' roster are newcomers. Thus, Mark Few believes it could take a while before Gonzaga hits their stride.
"We've got talented guys, but they haven't spent a lot of time here," Few told FanRag Sports on Thursday afternoon. "There's been a lot of teaching and instructing. We're showing guys how we do things and we're going to do that all year. We're going to be a work in progress."

"There's definitely good balance," Few said. "This isn't the type of team that has a guy like Kevin Pangos or Gary Bell or Kelly Olynyk — guys who you knew were going to play a lot of minutes. It's hard to separate guys now because everyone is so close together. We lost two guys who are in the NBA right now (Domantas Sabonis, Kyle Wiltjer) and also lost two guys who played major roles last year in Eric McClellan and Kyle Dranginis."

Few also pointed out that Williams-Goss was only able to practice "8-10" times last season due to a nagging ankle injury and Mathews didn't arrive on campus until September since he was a graduate transfer.

"We better be ready early," Few said. "Because we're going to find out real quick where we stand."
As mentioned previously, the talent on this roster is undeniable.
The Bulldogs have a solid backcourt that consists of returnees Josh Perkins and Silas Melson, and transfers Nigel Williams-Goss and Jordan Mathews. Up front, Przemek Karnowski and Ryan Edwards are back, Johnathan Williams comes over from Missouri, and Zach Collins, Killian Tillie and Rui Hachimura join the roster as freshman.
But let's remember, Williams-Goss, Karnowski and Williams all sat out a year, the three freshman are still learning the game and Perkins could still be suspended because of an off-the-court issue.
While I agree with Few that the Bulldogs are a work in progress, I would be stunned if they didn't hit their stride by March. Few has made 17 straight NCAA Tournaments (he hasn't missed one in his Gonzaga career yet), but he has yet to reach the Final Four. This could be the year if the Zags overcome early adversity.
2. Mark Turgeon signs an extension
For Mark Turgeon's outstanding success on the court and on the recruiting trail, Maryland rewarded their head coach with a four-year extension. Turgeon, who is now under contract through the 2022-23 season, will receive a bump up in pay to $2.6M annually.
The contract also holds incentives that could sky rocket to $425,000 annually, including a possible $200,000 for the team's performance in the NCAA Tournament.
Since Turgeon took over the job in 2011, the Terps have reached two NCAA Tournaments, have finished in the top three of the Big Ten standings in their first two years in the league and earned a berth in the Sweet 16 in 2015-16.
Turgeon also continues to bring in elite recruiting classes. This season, the Terps add five freshman, including three four-star talents. Turgeon already has a four-star prospect, Bruno Fernando, lined up for 2017, and has had plenty of other key additions in the past.
Remember, Turgeon was the man who brought five-star big man Diamond Stone, five-star point guard Melo Trimble, four-star shooting guard Dion Wiley and four-star forward Jake Layman to College Park.
The biggest get was Trimble, who has been the face and the leader of the program for the last two years. The junior lead guard was tremendous in his freshman season and should rebound successfully after a so-so sophomore campaign. 
Turgeon has put Maryland on the map as a potential perennial NCAA Tournament team that is a flagship program within their conference. The winning tradition has returned to the Terps after a four-year NCAA Tournament drought.
1. 2018 Maui Invitational field announced
Earlier this week, the 2018 Maui Invitational field was officially announced. The field will feature eight Division I programs for the first time in the tournament's 35-year history. Those programs are Arizona, Auburn, Duke, Gonzaga, Illinois, Iowa State, San Diego State and Xavier.
Chaminade will not take part in bracket play, but they will participate in the Opening Round on the mainland for the first time ever. This will continue to be a trend moving forward as Chaminade will participate only in the Opening Round during the even years (2018, 2020, 2022, and beyond), while making their way into the Championship Round (bracket play) during the odd seasons.
More from Busting Brackets
But looking forward to 2018, this should be the spotlight tournament of the non-conference portion of the college basketball season. Obviously programs and their personnel will change over the next couple of years, but when looking at the future of all these programs, everything seems to be promising.
There are two true blue bloods that will hit the island in Arizona and Duke. Gonzaga has been the best "mid-major" program of the century and hasn't missed an NCAA Tournament in 17 years. San Diego State has a Hall of Fame head coach and the best team in the Mountain West. Xavier has molded itself into one of the most consistent programs in the country.
Illinois has a special 2017 recruiting class coming to Champaign. Iowa State will lose Monte Morris after this year but Steve Prohm is expected to build something special. And then theres Auburn, who have been elite on the recruiting trail and are projected to be a challenger to Kentucky in the SEC for years to come.
We won't know the players that will be participating in this tournament, however, we do know there are some excellent coaching staffs that will be taking part in the event. There is nothing that can top a tourney like this one, especially when the competition takes part in Hawaii.
This article originally appeared on