NCAA Basketball: Top 10 Super Seniors of 2016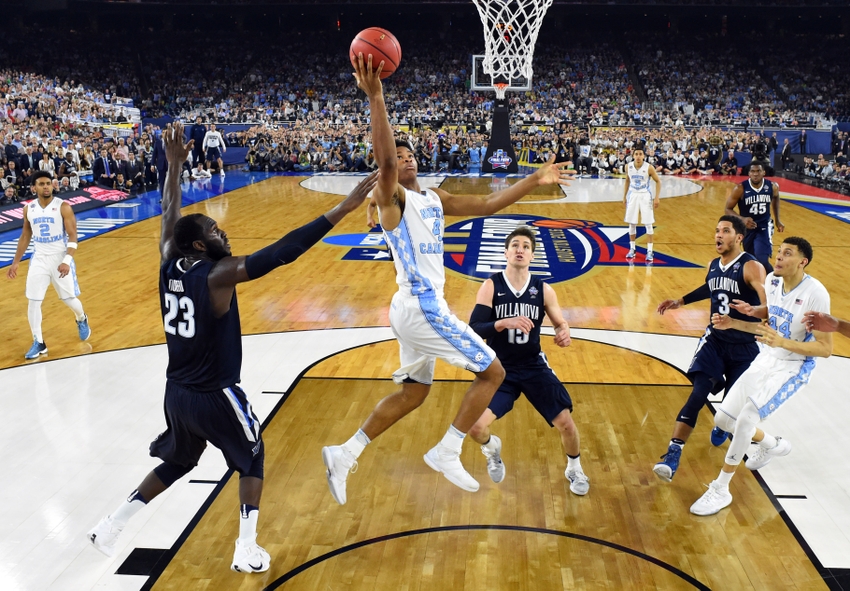 Forget about the one-and-done. These seniors are out to prove that they're the best that NCAA basketball has to offer.
College basketball has undergone a lot of change over the past decade-plus. A shorter shot clock has been put in place. The three-point line has been extended. Players can no longer call a timeout while jumping out-of-bounds. The biggest change though, is the age requirement put on players to enter the NBA. It's the rule we commonly refer to as the "one-and-done" rule.
Players' ability to compete professionally straight out of high school became limited to leagues overseas and not the NBA. The rule forced players to go to college for at least one season before putting their name into the NBA Draft. Because of that, we've seen a much greater number of freshmen enter the NBA Draft each year.
Some of the players that leave after one season are ready. Others are not. And each has their own reason for doing so. Regardless, it's difficult to argue that the NBA age requirement hasn't greatly affected the college game. Whether the change has been for better or for worse is for the individual fan to determine.
If nothing else, the one-and-done rule has made it that much easier to appreciate All-American caliber seniors. Players that are good enough to leave for the pros but choose to stay in college only makes the competition stronger. They give the game more character and heart. They show perseverance and promote continuity within their programs. They enhance the college game with their talent and experience while showing others that it's okay to stay in school just a little bit longer.
The following players represent all of the aforementioned qualities. They are the best of the best in the class of 2017.
Let us know what you think about the 10 seniors we chose. Who should we have included that we left out? Who doesn't deserve to be on the list?
10. Frank Mason III (Kansas)
With the return of both Frank Mason III and Devonte' Graham, along with the addition of standout freshman wing Josh Jackson, the Jayhawks are nearly guaranteed to have the best back court in the Big 12 Conference.
And maybe the best in the nation.
Over the past two seasons, Mason has averaged better than 12 points, four rebounds and four assists per game. He's played 33.5 minutes per game and led the team in assists in each of the last two seasons. And while he's been invaluable in the KU back court, he's struggled with consistency.
He's never shot better than 44.1 percent in his three years at Kansas. Last season, his shooting percentage was 43.4. He's also struggled to shoot well from three-point range on a consistent basis.
In his freshman season at Kansas, he shot 32.7 percent from long-range. A year later his three-point percentage shot up to 42.9 percent. Las year though, it dipped back down to 38.1 percent.
It's been much of the same story at the free throw line for Mason where he's shot 66.2, 78.6 and 73.9 percent, respectively, in his three years at Kansas.
Despite his inconsistencies, Mason has been a centerpiece for the Jayhawks over the last few years. His ability to lead the team and facilitate to the talent around him is what he's best at.
Considering the players he'll have next to him again this season, he shouldn't have a problem leading the Jayhawks to their 13th consecutive Big 12 title.
9. Chris Boucher (Oregon)
Chris Boucher has only played one season of Division I basketball. Based on last season, it'd be difficult to convince anyone of that.
After a couple of years at junior college, Boucher enrolled at the University of Oregon in 2015. Initially, he was only granted one year of eligibility due to the circumstances surrounding his high school graduation. His graduation was delayed when he took a year off from school to work and provide for his family.
In early 2016, the NCAA granted him an additional year of eligibility, stating that the circumstances that caused him to graduate high school late were out of his control.
Early in the season, Boucher made his presence felt when he notched four double-doubles in his first 11 games. He finished the season with nine double-doubles, averaging 12.1 points and 7.4 rebounds per game.
He was an important piece for the Ducks last season, playing 25.8 minutes per game and being named All-Conference Honorable Mention and a First-Team Pac-12 All-Defensive selection. His contributions were evident and immeasurable in helping Oregon win 31 games and reach the Elite Eight.
The 6-foot-10, 200-pound power forward will now look to build on the successes of last season, both individually and as a team.
Oregon also returns All-American candidate Dillon Brooks and super sophomore Tyler Dorsey. The Ducks should be an early favorite to win the Pac-12 and compete for a spot in the Final Four.
8. Nigel Hayes (Wisconsin)
Wisconsin power forward Nigel Hayes burst onto the scene as a sophomore, doubling his minutes played from the previous season and increasing his output in nearly every major statistical category.
Hayes played 33 minutes a game, averaging 12.4 points, 6.2 rebounds and two assists per contest. He shot almost 50 percent from the field and just shy of 40 percent from three-point range.
After Wisconsin lost to Duke in the 2015 National Championship game, senior All-American Frank Kaminsky graduated and junior forward Sam Dekker left for the NBA. That's when things got increasingly tougher for Hayes and the Badgers.
With less star-power surrounding him and more responsibility on his shoulders, Hayes struggled to find consistency in his junior season. He hit just 36.8 percent of his shots from the floor and only 29.3 percent of his three-pointers. The Badgers won only 22 games, but did manage to put together a nice NCAA Tournament run that landed them in the Sweet 16.
In his final year at Wisconsin, Hayes has a much stronger supporting cast around him. The Badgers enter the season as one of the teams to beat in the Big Ten Conference, along with perennial powerhouse Michigan State, Indiana, and up-and-comer Purdue.
Although his per-game averages looked good last year, they lacked the efficiency that Hayes will be striving for in his senior season. For Wisconsin, as Hayes goes, so too do the Badgers.
We'll have to wait and see just how far that is, though.
7. Malcolm Hill (Illinois)
Malcolm Hill's efforts on the basketball court are often in vain, but at least he gives Illinois fans something to cheer for.
Hill played over 35 minutes per games as a junior, logging 18.1 points, 6.6 rebounds and 3.3 assists per contest. He recorded seven doubles-doubles and scored double figure points in all but three games. He scored 20 or more points in 16 games, and 30 or more points in four games. Hill didn't foul out of any games either, despite being on the court so much.
He's actually never fouled out of any games while at Illinois. He's also never been part of a single NCAA Tournament game.
Not making the Big Dance is part of his college experience that he'd like to change.
Hill, a 6'6", 220-pound native of Fairview Heights, Illinois, would love to lead his hometown team to the NCAA Tournament before his time in college is through.
If the Illini have any shot at doing so, Hill will have to be sharp during his final go-round in Champaign. Although he's been the lone bright spot on a traditionally bad team, Hill has struggled with consistency, too.
His 18.1 points per game ranked third in the conference last season, but his efficiency was nothing to write home about. He shot less than 44 percent from the floor and connected on only 31.4 percent of his attempted three-pointers. He did however, shoot 82.1 percent from the free-throw line and have a 1.5 assist-to-turnover ratio.
There is little doubt that Hill is one of the top players in the Big Ten Conference, but how many people will notice and how much recognition will he get while playing for a below average team that finished near the bottom of their league last season?
6. Isaiah Hicks (North Carolina)
When folks look back on the 2016 national runner-up Tar Heels, they'll probably think of Brice Johnson and his fantastic senior campaign. Marcus Paige probably comes to mind. The outstanding play of sophomore Joel Berry II is memorable, too.
Less often, now senior forward Isaiah Hicks comes to mind. Hicks is a talented player, but was nowhere near the forefront of stardom and publicity as the aforementioned.
If you've spent much time watching Hicks play the past couple of years, then you've most likely come to two conclusions. First, he's extremely effective when he's on the court. Second, he spends a lot of time off the court, in foul trouble.
Hicks is an athletic, dominant force in the UNC front court when he's playing, but he's frequently hampered with foul trouble that keeps him on the bench for extended periods of time. Hicks had four or more fouls in a game 19 times last season and fouled out on three occasions. For the season, he averaged three fouls in only 18.1 minutes per game. The season before, he averaged 2.5 fouls in only 14.8 minutes.
Roy Williams has mentioned on several occasions that Hicks will be called upon to fill the void left by the departed Brice Johnson. The four-year player left big shoes to fill at UNC, where he had a historical senior season that earned him First-Team All-American honors in 2016. Remarkably, when Hicks was on the court last season, his numbers were similar to that of Johnson.
Averaged out over 40 minutes, Hicks' scored 19.8 points and pulled down 10.2 rebounds. Using the same metric, Johnson scored 24.2 points and grabbed 14.8 rebounds. Johnson had a player efficiency rating (PER) of 33 last season. Hicks' PER was a fraction under 24.
Not bad for a guy who had trouble staying on the court.
When Hicks plays aggressive but smart basketball, he's a force in the paint. His athleticism, size and play-making ability are difficult for smaller, less athletic big men to handle. Once he finds the middle ground between tough defense and silly fouls, there's no stopping the 6-foot-8, 230-pound power forward.
The talent and experience surrounding Hicks cannot be overstated. He won't have to shoulder the load in his senior season. He just needs to soften the blow of losing one of the best big men in North Carolina history.
5. Michael Young (Pittsburgh)
Pittsburgh big man Michael Young is one of the most underrated players in the Atlantic Coast Conference.
Young, a 6'9'', 235-pound power forward, averaged 15.7 points, 6.9 rebounds and 2.3 assists as a junior. He shot 53.7 percent from the floor and nearly 78 percent from the free-throw line. He rarely gets into foul trouble, as he averaged only 1.6 fouls per game and didn't get disqualified from a single contest last season. He also had a solid player efficiency rating (PER) of 24.1.
If there's a down side to his game, it's the 2.5 turnovers he averaged last season, which isn't uncommon for a player in his position.
Pittsburgh got off to a fast start in 2015, compiling a 14-1 record by early January. From there, the Panthers schedule got more difficult and their momentum fizzled. They finished the regular season with a record of 21-11, losing 10 of their final 17 games.
To finish off what had been a disappointing season, Pitt lost a close contest to Wisconsin in the NCAA Tournament's Round of 64.
After long-time Pitt coach Jamie Dixon left the program for TCU in the offseason, Kevin Stallings now steps in to take the reins. Although expectations won't be extremely high this season, Stallings will look to Young to provide as much leadership as he can.
As Young enters his final season at Pittsburgh, he'll look to get the Panthers off to another hot start. This year, they'll need to remain consistent throughout the back half of their schedule that includes all the usual ACC powerhouses.
4. Josh Hart (Villanova)
College athletes prematurely turn pro for a number of reasons and all seem fairly understandable.
Some players come from an impoverished background and need to support their families. Some just want the quickest path from point A to point B. Others are simply fulfilling their lifelong dream of playing professional sports.
We often see players leave college early after winning a National Championship, believing that their stock is as high as it's ever going to get. And that's understandable, too.
It would have been easy for Villanova's Josh Hart to leave school after his junior season, fresh off a National Championship.
But he didn't.
Villanova's best player and leading scorer decided to return to campus for one more season in hopes of winning another championship. And with Nova's cast of returning players, along with freshman big man Omari Spellman, there's no reason that the Wildcats shouldn't be favorites to do so.
Hart's decision to stick around was particularly important given the loss of senior starters Ryan Arcidiacono and Daniel Ochefu. Hart is the undisputed leader of the team and a popular preseason pick for Big East Player of the Year.
He had a terrific junior season, averaging 15.5 points, 6.8 rebounds and 1.9 assists per game. He shot 51 percent from the floor and nearly 36 percent from long-range. His ability to impact a game both offensively and defensively was invaluable for the Wildcats during their title run last season.
The Wildcats come into the 2016 season with high hopes and expectations to match that title. The Wildcats are odds-on favorites to win their conference and get back to the Final Four in 2017.
3. Monte Morris (Iowa State)
Given his skill set and play-making abilities, Monte Morris is the best all-around true point guard in college basketball. (Relax, UNC fans. Joel Berry II is quickly approaching.)
Morris' ability to distribute the ball to teammates is special and his knack for creating offense off the dribble is formidable. He's got a good feel for the game and doesn't make a lot of mistakes.
Since his freshman year at Iowa State, his points, rebounds and assists per game have increased each subsequent season. The same goes for his playing time, which ballooned to an exorbitant 38 minutes per game as a junior.
While playing over 1,300 minutes of actual game time last season, Morris averaged 13.8 points, 3.9 rebounds and 6.9 assists per game. His field-goal percentage was 48.7 percent and he hit almost 36 percent of the three-pointers he attempted. His free-throw percentage was down from the prior two years, but he was still a reliable shooter from the charity stripe at a clip of 72.9 percent.
Perhaps the most remarkable part of his game, though, is his passing ability. While averaging 6.9 assists per game last season, Morris only turned the ball over 1.6 times per game. That's good for a 4.31 assist-to-turnover ratio, which if you aren't aware, is spectacular.
When Morris is passing well, which is a vast majority of the time, his teammates are thriving on the offensive end of the court. His teammates though, will look a bit different this year than they have in recent seasons.
The Cyclones lost senior forwards Georges Niang and Abdel Nader, a big part of the Iowa State offense. Morris will undoubtedly call his own number more than in years past, and that's not necessarily a bad thing. When he is aggressive on the offensive end of the floor, good things happen.
Just ask the Kansas Jayhawks about the last time they faced Morris and the Cyclones in Ames.
2. Alec Peters (Valparaiso)
Valparaiso's Alec Peters isn't a household name, but he should be.
Valpo's soon-to-be all-time leading scorer goes into his senior season looking to build on the team's 30-win season from a year ago. And while 30-win seasons don't come along often, there was little for the Crusaders to celebrate after being bounced from the Horizon League Tournament early and receiving no NCAA Tourney bid.
Valpo was the overwhelming favorite to win the conference tournament and rightfully so with star forward Alec Peters and a regular season league record of 16-2. Surprisingly, Green Bay walked away with the tournament championship and the invitation to the Big Dance.
Peters, a 6-foot-9, 230-pound power forward averaged 18.4 points, 8.5 rebounds and 1.3 assists in 32.1 minutes per game last season. He shot better than 50 percent from the floor and hit 91 of his 207 three-pointers, good for 44 percent. He also converted 85 percent of his free-throw attempts.
After beating Green Bay in the final game of the regular season, Valpo fell to the Phoenix a week later in the Horizon League Tournament semifinals. Despite the tremendous effort of Peters, who scored 32 points and grabbed 12 rebounds, the Crusaders season was essentially over.
Peters averaged 20.8 points and 8.6 rebounds per game in the NIT to officially close out the 2015-16 season.
Despite the disappointing end to the campaign, Valparaiso is optimistic about the upcoming season. With Peters back for his senior season, there's no reason that they shouldn't compete for a Horizon League title in 2017.
And if Peters puts together the kind of season he did as a junior but doesn't get any nods for All-American honors, it makes one wonder what the criteria is.
1. Jaron Blossomgame (Clemson)
A year ago, Jaron Blossomgame was nearly unknown by most outside of Clemson, South Carolina. That all changed after last season, when he became the focal point of the Clemson basketball program and one of the premier players in the ACC.
And that's not to say that he wasn't a really good player beforehand. He was.
As a sophomore, Blossomgame averaged 13.1 points, 8.2 rebounds and one assist per game. He shot over 48 percent from the floor and nearly 71 percent from the free-throw line. The one flaw in his game was his inability to hit shots from long-range. He hit less than 29 percent of his three-point attempts, connecting on only 17 of 59 shots.
That's also what makes his transformation from a sophomore to a junior so remarkable.
Only a year later, Blossomgame increased his scoring to 18.7 points per game. He was still a force on the boards, collecting 6.7 rebounds per game. He also dished out 1.5 assists and recorded 1.3 blocks per game. And as good as his raw numbers were, it was his efficiency as a junior that was so mind-blowing.
The 6'7", 220-pound forward hit 51.3 percent of his shots from the floor, which ranked among the leaders in the ACC for field-goal percentage. He knocked down 44.6 percent of his threes, good for an increase of over 16 percent from the previous season. He even improved his free-throw percentage by hitting 78.2 percent of his attempts from the charity stripe.
Simply put, he was fantastic.
Blossomgame was named First Team All-ACC and now goes into his senior season with high hopes and huge expectations. He's poised to have a big year and has an opportunity to etch his name into the Clemson record books with the all-time Tiger greats.
This article originally appeared on