NCAA Basketball: Monitoring the Player of the Year contenders (Edition One)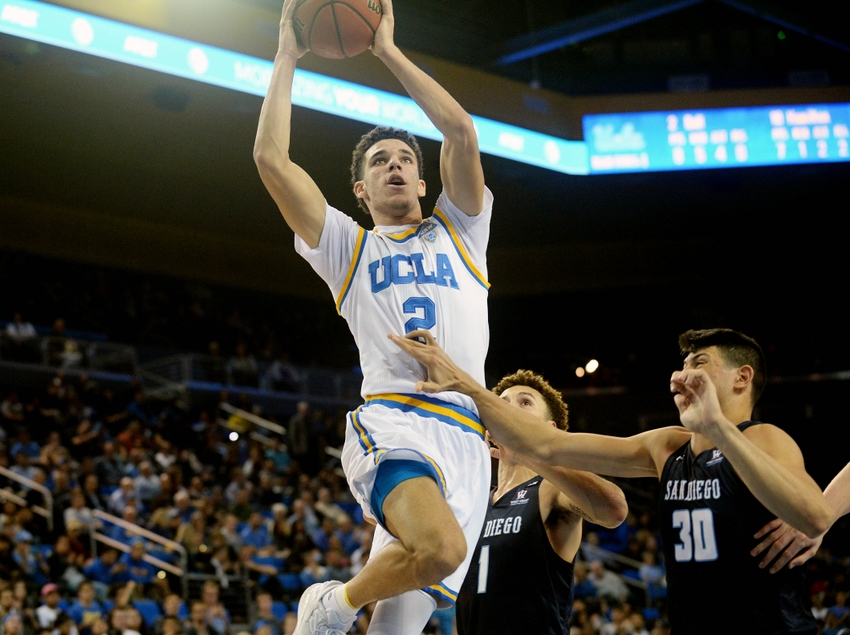 Who are the top candidates for the Player of the Year (Wooden) award through two weeks of the NCAA basketball season?
With only two weeks of the 2016-17 college basketball season completed, it may be a bit too early to project or predict who the best player in the nation will be at the end of the season.
However, it's never too early to start looking at who the front runners are for the Player of the Year award.
So how do you build a Player of the Year candidacy? You must have strong overall numbers, your team must be successful and of course, you must have clutch season-defining moments.
Obviously, players' numbers aren't final, teams are going to have their fair share of inconsistencies and there are still months remaining for clutch plays and surprising performances. But for now, we will use the information that we have been provided with so far to look at the early favorites.
Every week until the end of the season, Busting Brackets will list the top five candidates (in order) for Player of the Year.
In our first edition, there really are no surprises, as most of the players on our list have impressed through their first few games. Some of them have already had clutch moments, while others are putting up absurd stat lines for their undefeated teams.
5. Melo Trimble, Maryland
Melo Trimble has been hero in College Park since the day he stepped on campus three years ago. The 6'3″ point guard's ability to thrive in the big moment and make smart decisions in the pick-and-roll has helped the Maryland Terrapins reach two straight NCAA Tournaments.
While Trimble's inefficiency was disappointing in 2015-16 and the team's underachievement resulted in a first round NCAA Tournament loss, the lead guard has been absolutely sensational so far this season.
Through seven games, Trimble is averaging 21.1 points, 3.0 rebounds, 2.0 assists, and is shooting a career high 47 percent from the field. Sure, Trimble is averaging more turnovers than assists per game, but he also has led the Terps to a 7-0 start, including numerous thrilling comebacks.
Mark Turgeon's team knows how to close games, as evident by their five come from behind victories against American, Georgetown, Towson, Richmond and Kansas State this year.
The reason for this: Melo Trimble.
Against Georgetown, Trimble scored the final four points of the game, including a layup that cut the lead to one with 11 seconds remaining and two free throws that put the Terps up one. At the Barclays Center Classic this past week, Trimble dropped 31 points in an overtime win over Richmond and had an outstanding follow-up game against Kansas State in the championship game.
Versus the Wildcats, Trimble recorded eight of the Terps' final 10 points. He capped off Maryland's victory with a game winning And-1 layup with 6.6 seconds left in front of a heavy Terrapins crowd in Brooklyn.
The Terps won't be able to bank on these miraculous comebacks every night. However, if Maryland keeps winning games and Trimble cuts down his turnovers, the junior will likely remain on this list, at least for a couple more weeks.
4. Lonzo Ball, UCLA
If you haven't watched Lonzo Ball play yet this year, you must immediately get to a local arena or turn on your television during a UCLA Bruin game.
This five-star freshman point guard has taken reigns of the Bruins' offense and is one of the most fun players to watch in the entire country.
His early stat line: 16.0 points, 9.1 assists, 5.3 rebounds, 1.3 steals and 0.9 steals per game.
Those are just ridiculous numbers that you wouldn't expect a freshman, who has played only seven games, to record.
But Ball is a unique 6'6″, 190 pound point guard. He has incredible vision, great instincts, tremendous athleticism, can see over the defense because of his size and he makes shots from deep.
He doesn't just impact the game on the offensive end of the floor though. Ball is long and aggressive on defense, creating turnovers and blocking shots as a help defender on the interior.
While he has still shown some freshman mistakes (lazy passes, turnovers, bad shot selection), Ball has molded the Bruins into a fast pace, high energy, transition offense that is must-watch TV.
Bryce Alford, who was the point guard in 2015-16 has pushed off the ball to the two-position. However, he seems more than happy with his role because of the early impact of Ball and how many easy open shots he gets within the confines of the offense.
UCLA is currently 7-0 and has victories against Texas A&M and Nebraska. But Ball's true test will come against Kentucky at Rupp Arena this Saturday.
3. Joel Berry II, UNC
North Carolina point guard Joel Berry II picked up right where he left off.
Last season during the NCAA Tournament, Berry averaged 14 points a game and nearly had a triple-double in UNC's Final Four victory over Syracuse.
So far in 2016-17, Berry is averaging 17.1 points, 4.3 rebounds and 4.3 assists per game. He is shooting 55 percent from the field, 47 percent from three and 93 percent from the free throw line, while only turning the ball over two times a game.
Berry's play tailed off a bit in two games against Hawaii (two points on 1-of-9 shooting) and Chaminade (eight points on 3-of-8 shooting). But he has scored over 20 points in four of UNC's first seven games.
The Tar Heels also haven't won a game by less than 15 points, and that win came against Wisconsin in the Maui Invitational.
The 6'0″ junior guard is the leader of this 3rd ranked North Carolina team, as he scores, distributes and makes plays on offense, and competes on defense.
The one thing that will hurt Berry is North Carolina's incredible balance. They have five players who are averaging 10+ points per game, and that's without Theo Pinson playing in a single game.
North Carolina has the current status of a top tier team. Berry's candidacy will rise or remain the same with similar performances by him and his team.
2. Josh Hart, Villanova
If Kentucky isn't the best team in the nation, then the Villanova Wildcats are.
'Nova, who is currently ranked 2nd nationally, is led by versatile wing Josh Hart. The senior is averaging 18.2 points, 5.8 rebounds and 2.0 assists through Villanova's first six games. He is also shooting a terrific 57 percent from the floor and 44 percent from beyond the three point line.
So far this year, Hart dropped 24 points in a road win over Purdue and crushed the Wake Forest Demon Deacons with 30 points on 11-of-14 shooting. Add in 13 points and 11 rebounds against Charleston, and he has been one of the main reasons Villanova looks ready to repeat.
Hart brings more than just numbers to the table though: He brings intangibles.
Hart can guard numerous positions, hustles and tracks down 50-50 balls, and is one of the hardest working players in the nation. He is one of the top rebounding guards in the nation and can score, but the attention he brings to opposing defenses opens up the floor for his teammates to operate successfully.
With Daniel Ochefu and Ryan Arcidiacono gone, Hart and Kris Jenkins are the two locker room leaders. Between his play on the court and his leadership skills, Hart deserves the number two ranking on this list.
1. Frank Mason III, Kansas
What hasn't Frank Mason III done so far this year?
Kansas' senior point guard is averaging 21.5 points, 5.0 assists, 4.3 rebounds and 1.5 steals per game, while shooting 55 percent from the field overall, 48 percent from downtown and 78 percent from the free throw strike. Sure, he's averaging 3.0 turnovers per game, but that's only because he handles the ball more than any player on the team, including his fellow guard Devonte' Graham.
Even though Kansas already has one loss, they are ranked 4th in the nation and have beaten the Duke Blue Devils (a win that is going to look awesome in March).
And get this, Mason already has his "season-defining" moment, as they call it. His fall-away game-winner against Duke on the biggest stage at Madison Square Garden will be remembered throughout the rest of the regular season as one of the great moments of this campaign.
Some may argue that it happened to early in the season, however, is there really anyone that is set to challenge the Jayhawks in the Big 12? That will be their signature win of the season, unless of course they can topple Kentucky at Rupp Arena in January.
So give it up for Mason. He's putting up the numbers, helping his team win the games and he has already hit a game winning shocker.
This article originally appeared on