NCAA Basketball: Five surprises through week one of the 2016-17 season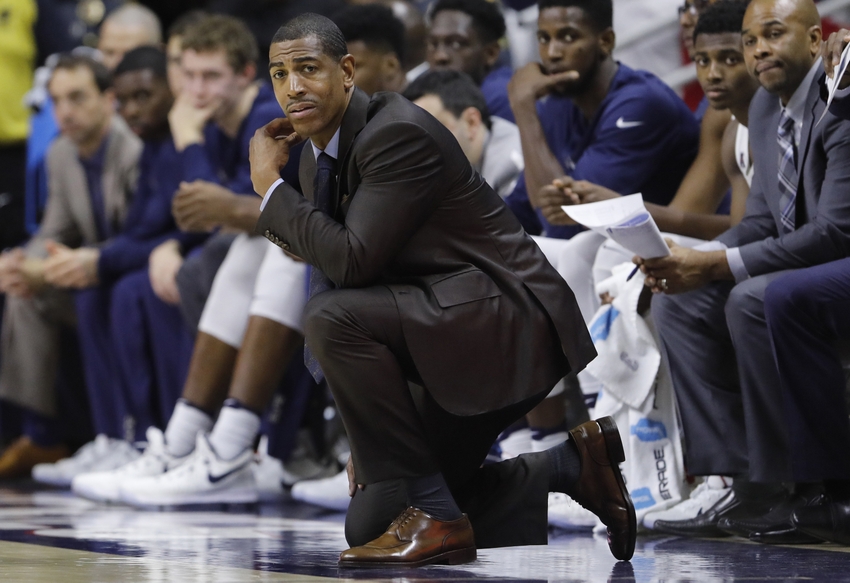 What are the top five surprises through the first week of the NCAA basketball season?
It's only been one week since the 2016-17 season opened, but it already feels like NCAA basketball is in mid-season form.
Just think about what we have seen in seven days of action.
Kansas' Frank Mason III hit a game winning, off-balance jumper to beat Duke at Madison Square Garden. Butler's Kamar Baldwin drilled a step-back game winner versus Northwestern. Arkansas State upset Georgetown. Finally, Yale beat Washington without their top player Makai Mason.
And this is just the start.
But before we get ahead of ourselves, there are numerous surprising teams, players and game plans that have become major headlines through the first week.
These five surprises go beyond wins, losses and stats. Instead, they are more about some improvements, some shockingly poor play and the in-depth analysis that we have taken after watching a plethora of games to start the year.
It's important to keep everything in perspective given that very few games have been played. The results of these teams and/or players may not carry out over the course of the season, as rosters become more experienced, teammates develop more chemistry, coaches adjust their game plans and injuries/suspension become key factors.
However, tracking progress is awfully interesting in college basketball. The season is long and programs play in different scenarios and settings (buy-games, regular non-conference games, preseason tournaments, conference play, etc). Every aspect is critical in the lead up to March Madness, so let's take a peak at the five biggest surprises of the 2016-17 season so far.
5. Wisconsin's offensive attack
Through three games, the Wisconsin Badgers are 2-1 and are ranked 9th nationally. They crushed Central Arkansas and Chicago State, however, they failed to defeat Creighton on the road in the Gavitt Games.
The Badgers are clearly one of the favorites in the Big Ten (along with Indiana, Michigan State and Purdue), but their offensive attack has surprisingly picked up where it left off.
We'll start with the Badgers' center piece in Nigel Hayes, who has continued to play inefficient basketball. Hayes is averaging 11 points, 4.3 rebounds and 3.7 assists per game, but he is also shooting 39 percent from the field, 29 percent from long range and just 50 percent from the free throw line.
In fact, Hayes has only taken eight free throws in three games. He's settling for too many long contested jumpers, and has become one of the reasons the Badgers have been shaky on the offensive end.
But it's not just Hayes.
Bronson Koenig is putting up almost 16 points per game and is shooting 43 percent from the field overall. However, he has already taken 29 threes and is shooting just 28 percent from beyond the arc. He is also averaging more turnovers (1.7 per game) than assists (1.0 per game).
Even Ethan Happ, who is supposed to have a breakout year, is averaging only 7.7 points per game.
As I mentioned on the first slide, it goes beyond just stats though. The Badgers are not protecting the ball like a typical Wisconsin team and are launching way too many ill-advised shots for a squad that has many weapons that can attack and score in the paint.
The Badgers still have an elite defense (59th in points allowed), so it's not even close to panic time. But if they don't correct their offensive attack moving forward, more elite teams will exploit the Badgers.
4. Missouri is better than we expected
The Missouri Tigers are not an NCAA Tournament team, nor are they a middle-of-the-pack team in the SEC. But Kim Anderson's group doesn't seem to be as bad as the projections have called for.
In fact, Missouri nearly defeated the 11th ranked Xavier Musketeers in the quarterfinals of the Tire Pros Invitational. While the Tigers showed their youth in the overtime period (Terrence Phillips fouled Edmond Sumner with less than a second remaining and their shot selection was poor down the stretch), Missouri controlled this game for most of the afternoon.
Freshman Frankie Hughes and sophomores Phillips and Kevin Puryear were the three most impressive players.
Hughes, a three-star recruit, scored 24 points on 8-of-20 shooting overall (5-of-13 three-pointers). He is a born scorer who can knock down shots from downtown and attack the basket and finish at the rim.
Phillips also impressed with his competitiveness, true point guard mentality and superb spin moves.
The younger brother of Brandon Jennings, Phillips, is the proper leader for this Tigers team, especially if he improves his decision making and defense.
Finally, Puryear is also a keeper. He can score in the paint, rebound and is also capable of getting to the free throw strike.
The follow-up game the next day against Davidson wasn't as impressive (they lost by 15), but it's tough to take stock in any morning game, especially with a young team who lost a heartbreaker the day before.
Missouri was thought to be one of the worst teams in any Power Five conference. That doesn't seem to be the case after two games in Orlando.
3. Tacko Fall dominates Mississippi State
In Tacko Fall's freshman campaign, the 7'6″ big man from Senegal averaged just 7.4 points and 5.9 rebounds in 17.6 minutes per game.
So far in his sophomore year, Fall has dominated the painted area. He is averaging 17.0 points, 12.3 rebounds and 3.7 blocks per game, while shooting 75 percent from the field. Fall crushed a young Mississippi State team on the glass (scoring 27 points and grabbing 12 rebounds) and burned Nicholls State with 16 points and 16 boards.
Fall came back to earth a bit against Charleston and no one expects him to put up those absurd numbers all season. However, it's promising to see the sophomore have much improved conditioning, a better feel for the game and more developed moves in the post.
If Fall can average close to a double-double, the UCF Knights could actually surprise some people in the AAC. Beyond Cincinnati and maybe SMU, this league is truly wide open, especially considering the struggles the UConn Huskies are having.
B.J. Taylor, Tanksley Efianayi and Matt Williams are all averaging double figures, and have shot the ball well from the field.
It's still a long shot for the Knights to make the postseason, but if Fall and his three counterparts can play at a high level for the rest of the season, they could finish in the middle of the pack in the AAC. UCF has a big test Sunday night against Villanova at 9 p.m. ET.
2. Michigan is a top-25 team
If one team outside of the AP Poll's top-25 has impressed enough to be included in the rankings on Monday, it's the Michigan Wolverines.
The Wolverines won their first two games against Howard and IUPUI in Ann Arbor, but looked like an elite team in the 2K Sports Classic at Madison Square Garden this week. John Beilein's club captured the tournament title by winning two games (against Marquette and SMU) by an average of 20 points.
Michigan's offense looked unstoppable in the first half against Marquette on Thursday and looked even more crisp on Friday versus SMU. They have a plethora of go-to options on the perimeter in Derrick Walton Jr., Zak Irvin, Duncan Robinson and Muhammad Ali Abdur-Rahkman.
With Walton battling foul trouble and ineffective play on Thursday night, Michigan was still able to drop 50 points on the Golden Eagles in one half. Irvin, Abdur-Rahkman and Robinson all stepped up in the mean time, showing how many weapons the Wolverines truly have.
They have great guards, versatile bigs and a superb offensive system that relies on pick-and-rolls and transition points. Michigan also has terrific three point sharp shooters.
Against SMU, the Wolverines shot 53 percent from the field, 42 percent from beyond the arc and turned the ball over just four times in a game that was never close.
"We trusted our offense," Walton said following the win. "We have so many weapons in our system so it is hard to take away everything. Tonight was a great example of what Michigan basketball looks like."
While they haven't played any teams with a powerful front court just yet, the Wolverines haven't had issues on the glass and have been surprisingly good on the defense end. Watch out for UM.
1. UConn loses to Wagner, Northeastern
The UConn Huskies are officially in the midst of a disaster. Kevin Ollie's club lost to Wagner and Northeastern at home in the first two games of the season, and they have host of problems that will be difficult to fix moving forward.
They did indeed survive Loyola Marymount on the road earlier this week, but who would've thought that the Huskies would be playing a must-win game in November?
The bad news: Their non-conference portion of the schedule is just heating up and they do have personnel issues that might be unfixable moving forward.
The Huskies will travel to Hawaii for the Maui Invitational next week, where they will open up the tournament against a feisty Oklahoma State team. The field is loaded beyond just the Cowboys though, putting UConn in a tough position if they cannot address their early season problems.
After Maui, UConn will face Syracuse at Madison Square Garden, will play at Ohio State and will host Houston, North Florida and Auburn in three underrated games.
In terms of their personnel problems, the Huskies are weak on the interior and lack the shooters necessary to make up for their ineffective bigs.
Amida Brimah is tremendous shot blocker, but he still has zero offensive game, doesn't have much strength and isn't a solid rebounder. Steven Enoch and Kentan Facey both struggle on offense and don't provide much of a lift on defense.
On the perimeter, the Huskies are shooting 27 percent from deep. Terry Larrier and Rodney Purvis aren't much of three point shooters, while Jalen Adams is currently struggling despite higher expectations in 2016-17.
Finally, the Huskies might not have the services of Alterique Gilbert for a little while because of a dislocated shoulder he suffered in the team's last game. UConn needs to fix things, and fast, if they want want to make the NCAA Tournament.
This article originally appeared on