NCAA Basketball: Best Bets (Wednesday's ACC/Big Ten Challenge Edition)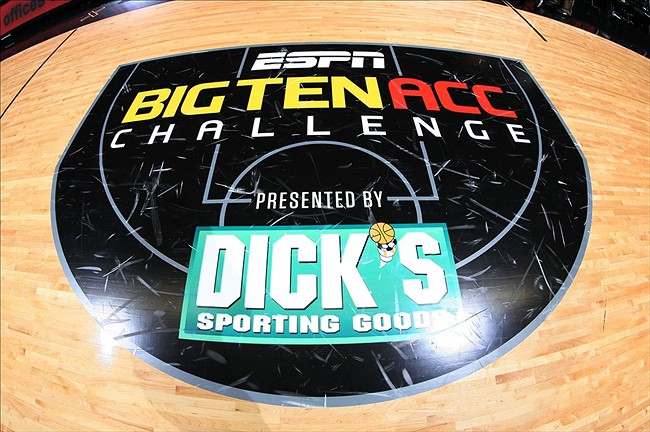 What are the best NCAA basketball bests for the third week of the 2016-17 season?
Here is how this series will work. Every week I will pick a group of 3-to-5 games that look to be safe bets around the college basketball landscape. Usually the games I pick will have some sort of theme. I will only be picking point spreads, so no over-unders or other props.
My odds will come from Vegas Insider and I will try to post picks close enough to game time to limit adjustments to the line. I'll keep track of how I do and report back each week.
The first iteration of this series will highlight bets in the ACC/Big Ten Challenge. The long running series has become a staple of the college basketball non-conference slate. Overall, the ACC leads the all-time series 10-5-2. The conference won the first 10, but has failed to capture the title since 2008.
The results from the first two days of the Challenge find the leagues deadlocked at four apiece. Six more games are on slate for Wednesday.
With the groundwork laid down, let's look at three critical games from the last day of the Challenge. What are the best bets of the day?
Virginia Tech at Michigan (-5)
This one will be a good one.
The home team Wolverines are looking for a bounce back victory against a quality opponent after losing by double-digits to South Carolina last Monday. Virginia Tech, on the other hand, has looked solid so far this season and probably should have beaten Texas A&M in the Wooden Classic in California.
Both of these teams are very even and play similar styles. Both struggle rebounding and with defense, but love shooting three-pointers and have the ability to shoot them at a pretty high percentage.
The NCAA Tournament looms large in this match-up as well. Though Michigan got into the tournament last season (play-in game), one of their biggest knocks was their inability to beat good teams. Virginia Tech was never really in tournament consideration last season, but will be this year and could use a road victory over a KenPom top-25 opponent.
So what will be the difference in this one? I think it will be three-pointers. Michigan has surprisingly struggled (33 percent) from deep this season. This game screams "bounce back" for the Wolverines. The crowd will be rocking and I think Michigan will roll in this one and cover the five point spread for a 8-to-10 point victory.
Pick: Michigan (-5)
Nebraska at Clemson (-9)
Through five games, there might be more questions about Nebraska than when the season started.
Senior Tai Webster has been good as advertised (over 18 points a game) and sophomore point guard Glynn Watson Jr. had two really great games against UCLA (20 points and five steals) and Dayton (27 points). Sophomore forward Ed Morrow has been a nice surprise, as he has helped improve a bad front court. Still though, the Cornhuskers are 3-2 and really struggled in the second half of their latest loss against Virginia Tech.
Clemson is also 3-2, but have looked much better. They picked up a nice season-opening win over potential bubble team Georgia and have played Xavier and Oklahoma close.
The Tigers can really score the basketball. Senior forward Jaron Blossomgame leads the way with over 18 points a game. Clemson also has five other players who average double figures.
Overall, they are a top-20 team offensively, according to KenPom, and top-5 in the ACC. The big question in this match-up is can Nebraska score enough to keep up on the road?
My guess is no. I think it will be close in the first half, but like the expected Virginia Tech loss, Nebraska will fade in the second half. Look for Clemson senior point guard Avry Holmes to have a nice game against the young Watson. I expect Clemson to win by 12-to-15 points.
Pick: Clemson (-9)
Purdue at Louisville (-6.5)
This could arguably be the best game of the ACC-Big Ten Challenge (if James Blackmon Jr. doesn't play for Indiana versus North Carolina). Two regional teams that have not played one another since 2007 square off at the KFC Yum! Center.
The Cardinals and Boilermakers, who are both ranked in the top 15, have two distinctly different styles of play that will make this game must see TV.
The key to the match-up will be turnovers. Purdue has a well-documented struggle with poise and handling the ball against press defenses. One of the masters of the press defense is Rick Pitino. Expect Louisville to swarm Purdue into making bad passes. This could lead to transition lay-ups or wide-open 3-pointers.
The Boilermakers have struggled with turnovers this season at over 16 a game, but most have not come when faced against a press. Most turnovers have come when feeding the post. The opposition has double and triple-teamed 7'2″ center Isaac Haas and dared him to pass it back out. That has been an issue at times and Haas is tied for a team worst 3.2 turnovers a game.
Expect Louisville to crash hard against the post and not let the mammoth Haas beat them. Can the seven-footer keep his poise and find the open shooter?
If Haas and the other Purdue bigs struggle with this, it could be over pretty quickly. The Cardinals will rack up easy points and win going away. But if the Boilermakers take care of the ball and hit open 3-pointers, they have a shot.
What will happen? It is hard to bet against 16 turnovers a game on the road against one of the best defenses in the country. I think this one will be close until the last 4-to-5 minutes and then Louisville will pull away. Expect around an 8-point win, so the Cardinals will cover.
Pick: Louisville (-6.5)
This is the first addition of "Best Bets," so there is no update from last week. Check back at the beginning of December (next week) for my updated record.
This article originally appeared on