NCAA Basketball: Arizona grinds out thriller versus Michigan State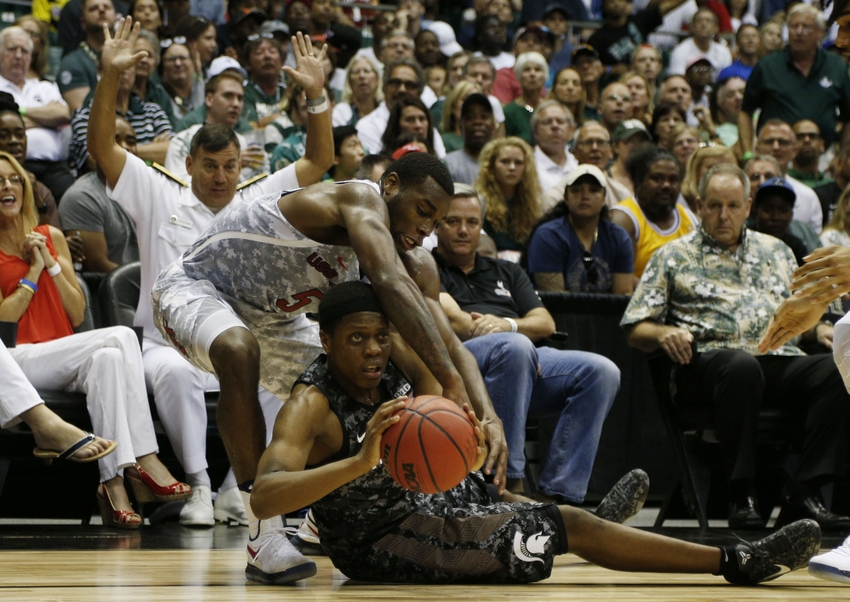 What are three things we learned from Arizona's victory over Michigan State in NCAA basketball's Armed Forces Classic?
It was the battled of the depleted.
12th ranked Michigan State and 10th ranked Arizona came into Friday night's Armed Forces Classic showdown in Honolulu, Hawaii each missing multiple pieces to their respective puzzles.
Tom Izzo's Spartans were without their two top big men, UNLV transfer Ben Carter and Gavin Schilling, while Arizona was without their top scorer Allonzo Trier and power forward Ray Smith (who tore his ACL for the third time in three years). Both teams also relied heavily on young freshman who have never been through the rigors of Division I college basketball.
The result: 32 total turnovers, just 22 assists, and 43 personal fouls between the two teams.
Arizona played just eight players on Friday night, but they still were able to grind out a 65-63 victory after Kadeem Allen hit a game-winning coast-to-coast layup with two seconds remaining.
Sean Miller's squad showed an ability to overcome adversity all night long. They responded successfully to a Lourawls 'Tum Tum' Nairn three pointer (only the 7th made three of his career) that tied the game at 63 apiece with seven seconds remaining and more importantly, they dug themselves out of a 17-2 deficit early in the first half.
Without Trier in the lineup, freshman Kobi Simmons led the way with 18 points on 4-of-7 shooting (12 points in first half) off the bench and Lauri Markkanen added 13 points.
While this was a big win for the Wildcats, they are anything but a complete team. The same goes for Michigan State, who is still working through issues across their roster. So with that in mind, here are the three things that we learned from this top-15 match-up.
3. Miles Bridges lives up to the hype
With Ben Carter and Gavin Schilling injured, the Michigan State Spartans were expected to rely heavily on Miles Bridges as a versatile small ball four during the non-conference portion of schedule.
There was plenty of hype coming into the 2016-17 regarding the five-star prospect, but no one knew what to truly expect. Would he be able to shoot the ball consistently? How long would it take him to adjust to the college level of play?
Bridges didn't answer all the questions (he went 1-of-6 from three and had four turnovers), but his first game was a resounding success.
The forward scored 21 points, grabbed seven rebounds and dished out a couple of assists, showing off his extra terrestrial-like athleticism, ability to make the plays off the bounce and underrated passing ability.
Bridges also possesses the flexibility to defend numerous different positions on the defensive end the floor, and isn't afraid to attack slower opponents on the offensive end of the court.
Again, Bridges is anything but a finished product. However, this was an excellent start against a high quality opponent on national television.
2. The problems are evident on both sides
As I mentioned on the first slide, both of these teams are far from a finished product.
We'll start with Michigan State, who struggled up front and didn't get consistent play from any of their freshman besides Miles Bridges.
The Spartans actually surprisingly held their own on the glass (34 rebounds apiece), but Nick Ward has a long way too go and Lauri Markkanen's versatility bothered MSU in the second half. Kenny Goins also went down with an injury and was rather quiet, scoring just four points on 2-of-2 shooting.
While Ward put up nine points off the pine, Josh Langford (five points in 12 minutes) and Cassius Winston (zero points in 10 minutes) struggled in their debuts. Even though Langford has the ability to create shots on the offensive end, he didn't seem all that comfortable playing against a high major opponent. On the other hand, Winston was a complete non-factor all night long.
If the Spartans are going to counteract their lacking front court, they need their pieces at the guard position to come together. That means that Langford and Winston will have to play a whole lot better than they did on Friday if the Spartans are going to do damage in the Big Ten.
For Arizona, their lack of depth and shot creation is going to be a major problem moving forward.
The Wildcats had just eight bodies, and received very little production from Rawle Alkins (three points and a couple offensive fouls) and Dusan Ristic (two points in just 18 minutes). Kobi Simmons had a big game off the bench, but he disappeared in the second half.
That's where Trier would come into play. The team's leading returning scorer has the experience, savviness and swagger to take over games late and make plays when the shot clock is winding down. Arizona was able to survive this time, but they may not be as fortunate in the future.
1. Arizona's defense led them to victory
This wasn't a pretty game by any stretch of the imagination, but you have to give the Wildcats credit for making a surprising comeback and battling through adversity.
No matter what personnel issues the Wildcats have, they will always be competitive nationally because of head coach Sean Miller.
The Wildcats didn't win on Friday night because of their talent or their offense. Instead, they won because of Miller's defensive scheme.
Arizona looked dead in the water when they trailed 17-2 and 19-4 out of the gate. However, they dug themselves out of a hole by playing possession-by-possession, stopping Michigan State's dribble penetration and limiting the Spartans opportunities in transition.
While Rawle Alkins had his fair share of issues on the offensive end of the floor, he a big body defender who can move well laterally. Kadeem Allen is a terrific on ball-defender. And of course, the 5'11" Parker Jackson-Cartwright can be stingy.
Arizona had 12 steals on the night and a couple blocks. They forced 18 turnovers and turned the pace and style of the game into their favor. The defensive end will be the Wildcats' calling card moving forward.
This article originally appeared on