Moses Kingsley Named SEC Preseason MVP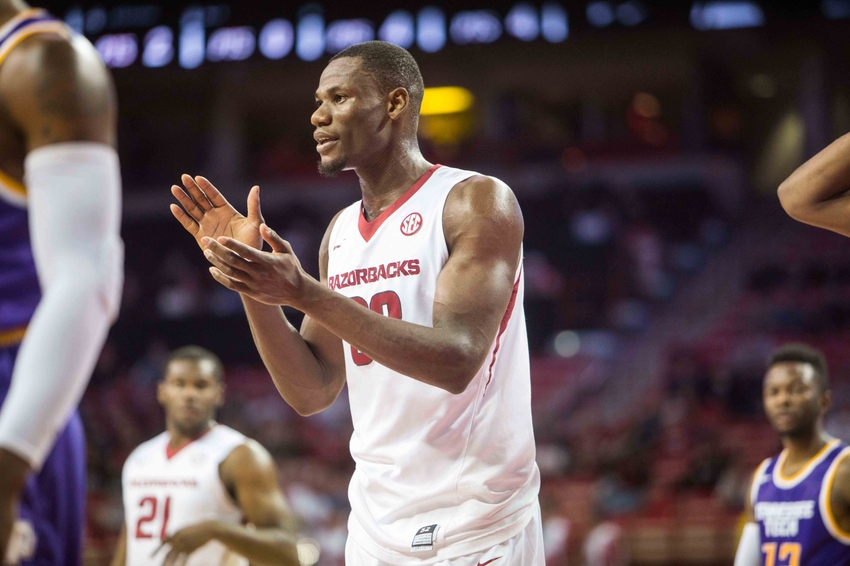 Arkansas forward, Moses Kingsley, is receiving some respect today as he has been named the preseason SEC MVP.
King Moses in the news today for earning the preseason SEC MVP. The senior forward from Nigeria is expected to be a dominant force in the league this year.
These acknowledgments aren't without reason for the King. He and Dusty Hannahs were the leading scoring duo in the league last year with Kingsley averaging 15.9 points and 9.3 rebounds per game.
He was named second-team All-SEC as well as SEC All-Defensive team for the 2015-2016 season. Last season he was one of eight high-major players with a whopping 16 double-doubles. Out of 32 games, he reached double-digit points 30 times.
Don't get it messed up, though. Kingsley isn't just a scoring big man. He's just as nasty on the defensive side of the ball as he is on the offensive side. He fights hard for rebounds and is a monster of a blocker. Last year he recorded 76 blocks alone. That brings his career total to 163.
Heavy is the crown for the King as expectations for him are huge this season. Fans are looking for Kingsley to lead the Hogs to a successful season and a bid to the dance in March.
If Moses progresses half as much this season as he did the season prior, watch out. His game last year went from good to really good. If he can come back from really good to great, don't count the Razorbacks out of any game. I can't wait to see the big man has in store this year. Woo Pig!
More from Razorbackers
This article originally appeared on