Moses Kingsley Added to Wooden Award List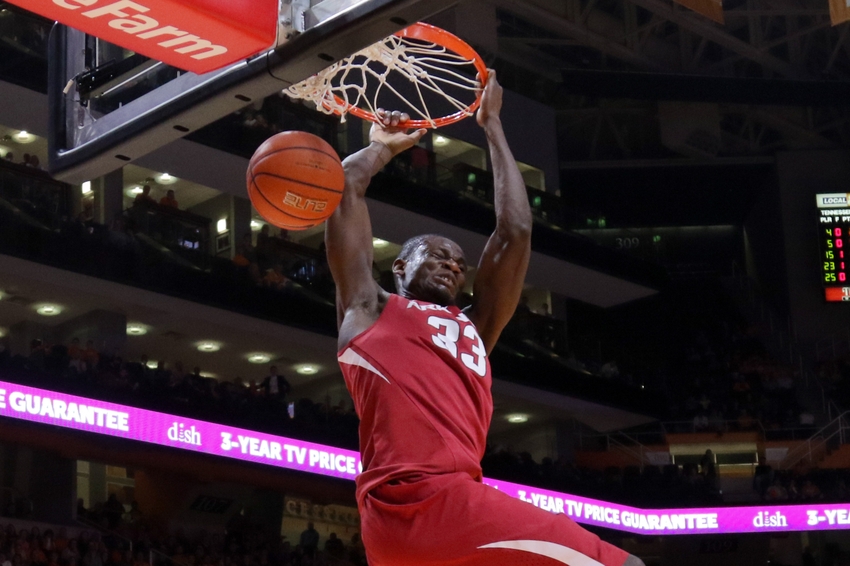 Moses Kingsley started the season as the Pre-Season SEC Player of the Year and has been added to numerous other award watch lists. Today Kingsley made yet another watch list, this time for the John R. Wooden Award.
The Hogs are off to a great season so far and leading that 2-0 start is the big man, Moses Kingsley. Today it was announced that Moses had made the 50 student Wooden Award watchlist.
The John R. Wooden Award is the Heisman of the college basketball world. It is awarded every year to the most outstanding men's and women's college basketball players. The fact that Kingsley even made the list is a huge accomplishment.
Kingsley can add this to his long list of watch lists that he is already currently on. The list includes the Naismith Trophy, which is the player of the year award. The Lute Olson Award, which is given out to the nation's top Division 1 player who has played at least two seasons. Lastly, Kingsley is on the Kareem Abdul-Jabbar Award watch list.
In early January, the Wooden Award National Advisory Board will choose 25 players for the midseason list. The list will then narrow to 20 in February before the release of the last 15 players list. To make the list of 15, the players will have to show their universities that they are working toward graduation and maintaining at least a cumulative 2.0 GPA. The winner will be announced during the ESPN College Basketball Awards Shows on Friday, April 7, 2017.
Congratulations to Moses for everything he is accomplishing this year. We will make sure to keep you updated on the progression of the watch lists as the season goes on. Woo Pig!
More from Razorbackers
This article originally appeared on