Michigan State Recruiting: 5 reasons Gary Trent Jr. could commit to MSU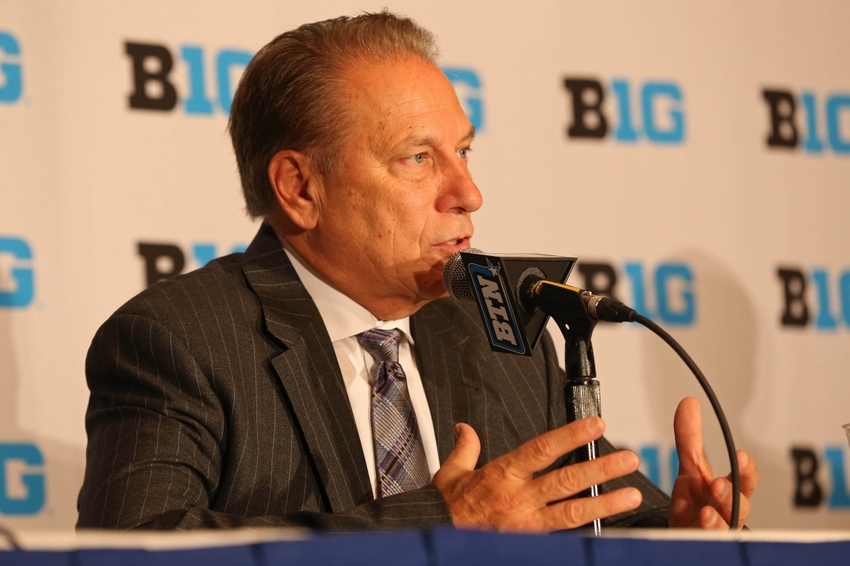 It's not all that likely, but here are five reasons why Michigan State recruiting could add five-star shooting guard Gary Trent Jr. Thursday.
Thursday could very well be a big day for Michigan State recruiting. At 6:00 p.m. ET, Tom Izzo and the Spartans will find out if they have added to their 2017 recruiting class with five-star shooting guard Gary Trent Jr. or if he picked Duke or UCLA.
No, I'm not going to say it's likely the Spartans get him to commit nor will I even give Michigan State more than a 10 percent chance, but anything is possible as we've learned in years past.
This is the exact opposite of the Jabari Parker situation a few years back. The tides seemed to be turning in Michigan State's favor and it was about to be Izzo's biggest recruiting win ever, but he wound up picking Duke. It still puzzles many as to why he chose the Blue Devils after being a lean to Michigan State, it seemed.
Right now, Trent Jr. seems to be a lock to Duke, but could the Spartans pull out a miracle and land the shooting guard? Here are the five reasons why that's possible.
5. 'Unbelievable' visit to Michigan State
You can't put too much stock in a kid tweeting about a visit because very rarely, if ever, do they say bad things. However, a simple tweet calling his trip last week to East Lansing "unbelievable" seemed to reach a little higher than your typical "great visit" tweet.
Spending time with the coaching staff and making new friends with potential future teammates had to be a big deal for him. Trent Jr. wasn't very familiar with East Lansing before the visit, but you know that Tom Izzo and the fellow players showed him a good time and didn't skip anything on the check list.
Another positive that may have helped the Spartans' chances on his visit was the fact that he got to witness the biggest football rivalry for Michigan State. It hasn't been the ideal year for the football team, but it didn't seem to negatively affect recruits.
That and the fact that Tum Tum Nairn has been an incredible recruiter as well seems to be playing in Michigan State's favor. His final visit being to Michigan State is a definite positive.
4. Stepping into a starting role
Surely it's been talked about on his visit, but Trent Jr. could step into a starting role with the Spartans right away. Starting for a national title contender and Big Ten favorite instantly has to be an intriguing thought for a 17-year-old kid, especially when he could play for a newly-anointed Hall of Fame head coach.
Losing Eron Harris after this season will open up a spot at the shooting guard position. Sure, Josh Langford will likely be there to fill it, but the Spartans could have a two-wing team with Langford and Trent Jr. both on the floor at the same time.
Just imagine a lineup with Cassius Winston at point, Trent Jr. and Langford at the wings and Jaren Jackson Jr. and Nick Ward, assuming Miles Bridges leaves early, in the post. That's a tough team to beat right there, and that's not even mentioning the talent coming off the bench.
Playing time is a definite factor into any five-star recruit's decision and he will likely be guaranteed major minutes at both Duke and Michigan State, but starting for the Blue Devils might not be a sure thing.
There's no doubt about it, this kid is going to be a star wherever he goes and a potential one-and-done. Would he rather start for the Spartans or be a sixth man for Duke/fringe starter? Right now, it's looking like Duke is the popular, safe choice.
3. Relationship with Tom Izzo, current commits
The five-star shooting guard has admitted that he's down to the three schools — UCLA, Duke and Michigan State — because of the relationships he has built with the staffs and the current players. He feels most comfortable with these three and that has factored into his decision.
Like many recruits who have visited over the past year, or so, Izzo has left an impression on them. That was the case with Jaren Jackson Jr. who seemed to be a lock to Maryland or Purdue as well as Miles Bridges, Josh Langford, Nick Ward, Cassius Winston and Xavier Tillman. Oh, and you can't forget class of 2018's Thomas Kithier.
If Trent Jr. is going to pick the Spartans over Duke in upset fashion, it's going to be because of the current commits as well as Izzo.
It's been said that having potential future teammates on a visit with you could sway your decision. Trent Jr. has been creating relationships with commits to both Duke and UCLA, but he got to visit MSU for the Michigan game while Jackson Jr. was on campus as well — that could play into this decision. The two likely talked about playing together.
Izzo's recruiting style has obviously changed over the past couple of years and he seems to really develop relationships with these kids on a personal level.
2. Wendell Carter could pick Georgia
It's been rumored for some time that Trent Jr. and Wendell Carter could be package deal and that would likely lead both of them to Duke. Both are considered heavy leans to the Blue Devils, but Trent Jr. and his father have both said that both sides are going to do what's best for them and if it happens to be playing at the same school, then that's the cherry on top.
Carter is not considering Michigan State, obviously, and he's down to Georgia and Duke. He is coming closer to a decision and it might be closer than people think.
According to Brandon Sudge of macon.com, Carter is seriously contemplating staying close to home and playing for the Bulldogs. He realizes he could be the go-to guy for that program and help attract other elite prospects.
"Both universities were great, and I could see myself on both teams," Carter said. "Duke is self-explanatory for how good of a school it is, and Georgia is currently on the rise. Georgia and Duke are on the same level right now."
If the two have talked and Carter has said that he might pick Georgia, that might help Trent Jr. decide to forge his own path as well at Michigan State.
Either way, I don't think the two are dependent on each other's decisions.
1. Playing for a serious title contender
Admittedly, the Duke Blue Devils will also be on this level next season when Trent Jr. gets to college, but he has to figure out which situation he'd rather be in. UCLA might be a contender, but not nearly on the same level of national title prowess.
Must Read: MSU Basketball: 5 bold predictions for month of November
Duke might have one of the top recruiting classes yet again next season to go along with this year's batch — or at least what is left over. The Blue Devils had four of the nation's top 15 prospects commit for 2016 and there's a good chance that a majority of that haul will be going to the NBA after one season under Coach K.
Playing into the Spartans' favor is the fact that none of the four are guaranteed to leave early. There's a good chance Miles Bridges could leave after just one season, but Josh Langford, Nick Ward and Cassius Winston will likely be around for a couple years more.
Factor in those returning guys with Jaren Jackson Jr. and Xavier Tillman in 2017 and you have an elite team already. Add in a potential Brian Bowen and Brandon McCoy and this team could be the No. 1 ranked team in the land next season.
Either way, you can't go wrong with Duke and Michigan State. UCLA is also a storied program with a lot to offer.
Did we miss any other reasons why Trent Jr. could commit to the Spartans? Let us know in the comment section below.
This article originally appeared on