Michigan State Basketball: Spartans demolish Johnnies in paint, advance in Bahamas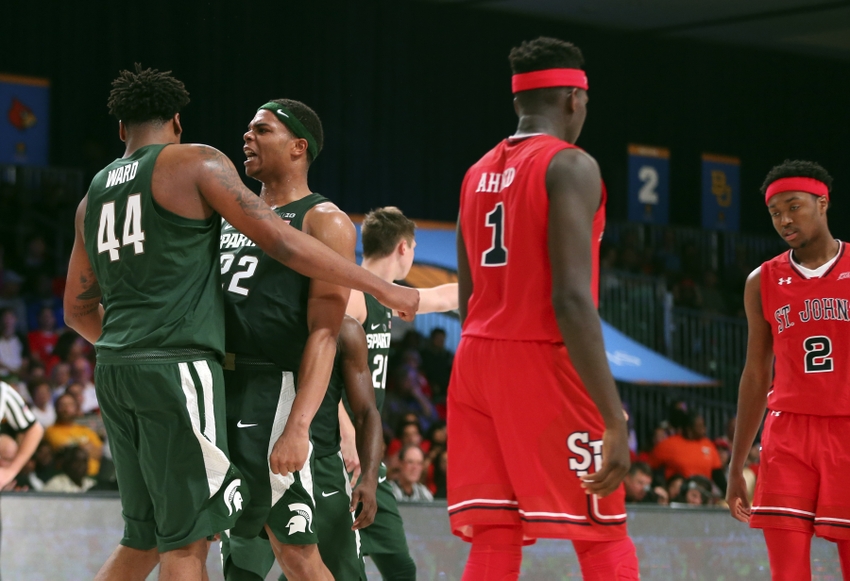 Michigan State basketball pulls away from St. John's in second half of Battle 4 Atlantis quarterfinal.

73

62
Coming into Wednesday night's Battle 4 Atlantis quarterfinal match-up against St. John's, the Michigan State Spartans had a plethora of question marks that emerged after suffering a beatdown against Kentucky in the Champions Classic.
Will they be able to succeed without their two best bigs, Ben Carter and Gavin Schilling? Who is going to create on offense? Can their freshman continue to carry a heavy load?
While the Spartans still have a long way to go, they answered some of the concerns for one night. Tom Izzo's team defeated the St. John's Red Storm, 73-62, thanks to a superb second half run and their tremendous play in the paint.
The Spartans were led by Miles Bridges (22 points and 15 rebounds), Eron Harris (14 points) and Bahamas native Lourawls 'Tum Tum' Nairn (13 points). All three of their leading scorers played a key role in their break through second half.
Bridges was terrific both inside and out and Harris shot the ball well from the perimeter, but Nairn in particular was critical to the Spartans pulling away from the Johnnies. St. John's, like all other teams that face Michigan State, sagged way off of Nairn, daring him to launch perimeter shots.
The point guard answered the call by drilling three three pointers, almost half as many as he's made in his entire career.
And then there's the dunk. Nairn, who mentioned in his postgame press conference that he hasn't dunked since high school, took the ball coast-to-coast for an emphatic slam that put Imperial Arena into a massive uproar.
But as good as Bridges, Harris and Nairn were, it was Michigan State's presence in the paint that proved to be the difference. They out-rebounded the Johnnies by 22, scored 14 more points in the paint and added 13 second chance points.
Nick Ward's strength and size bothered the Red Storm throughout the second 20 minutes. The freshman finished the game with nine points and 11 boards overall, while also adding three blocks.
This was promising for the Spartans because as mentioned previously, they are without their top two and most experienced big men. If they can receive consistent production from Bridges and Ward that would be a huge positive moving forward for MSU. However, asking too much of both freshman could also prove to be a detriment when March rolls around.
Michigan State's front court dominance also did not reflect well on St. John's forwards/centers. Yankuba Sima and Kassoum Yakwe combined to score just seven points and grab six rebounds, while making just two field goals. Sima's lack of a left hand is a problem and while Yakwe blocked four shots, he also had issues catching the ball offensively.
Tariq Owens flashed some promise early in the first half, but got into foul trouble before fouling out in the second frame.
The bright spot for the Johnnies was once again the play of Marcus LoVett and Shamorie Ponds. The two freshman guards combined to score 32 points, grab nine rebounds and give the ball away just once. They kept the Johnnies in the game for 35 minutes and have continued to show no fear on a big stage.
Now both teams will have to get ready for a quick turnaround on Thanksgiving. The Spartans play the Baylor Bears, while St. John's takes on VCU.
More from Busting Brackets
This article originally appeared on