Michigan State Basketball: Score predictions vs. Kentucky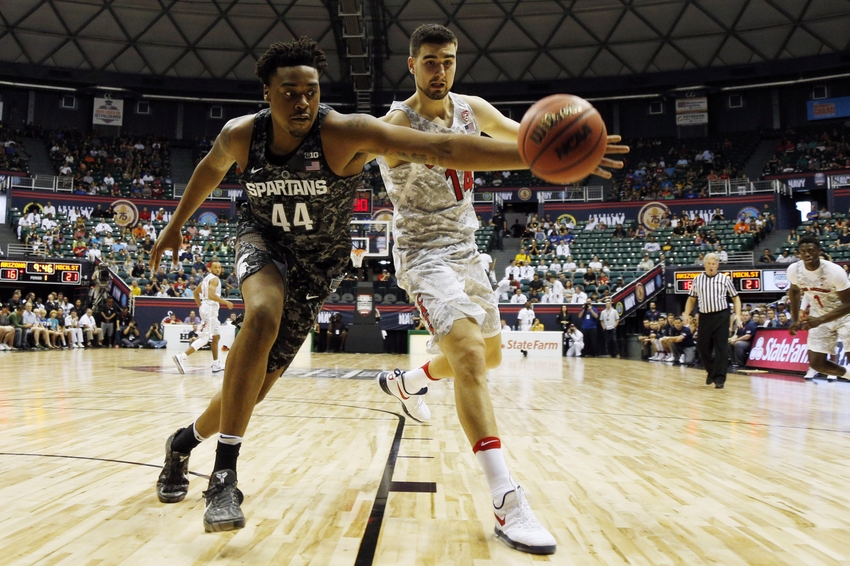 Michigan State basketball is facing off against No. 2 Kentucky on Tuesday night and here are our staff score predictions.
Following up a top-10 foe in the first game of the year with a top-three opponent in game two, Michigan State basketball isn't doing itself any favors in November, but it will pay dividends in March. The Spartans will see Kentucky in the Champions Classic on Tuesday night.
Also Read: Michigan State vs Kentucky: Game preview, prediction
Losing to Arizona was tough, but Tom Izzo admitted that he learned some things about his team and it's time to fix the mistakes. Not many are giving the Spartans a chance to beat the No. 2 team in college basketball, but anything can happen.
Take a look at our staff score predictions for the big game.
Connor Muldowney: It's not going to be an easy game for Tom Izzo and the Spartans as the young team will be facing off a talented Kentucky squad. The rebounding battle will be important, but I think Bam Adebayo and the rest of the Wildcats will win on the glass. Michigan State continues to build toward a strong team, but ultimately it will start the season 0-2. The Spartans. Expect a better performance from Eron Harris tonight and Miles Bridges will be Miles Bridges.
Prediction: Michigan State 71, Kentucky 78
Stephen Robb: Kentucky had the number No. 1 recruiting class last year and is saturated with unproven talent.  Coach Calipari said on ESPN that he would play five out of eight of his freshmen. In the same vein, MSU will be playing again many of its highly sought-after freshmen. Both teams want to dribble drive to the hoop and are similar in their defensive effort. I anticipate another close game for MSU. Spartans will be down at halftime and make a run to start the second half.
If Michigan State is to have a chance at winning this game then it will need to get big games from Nick Ward and the bench. Kentucky has excellent talent and it's difficult to pick against the Wildcats, especially with a Spartan team that is finding it's way.
Prediction: Michigan State 67, Kentucky 71
Andrew Erdman: The Champions Classic always gives the fans two good games. This year should be no different. Michigan State comes into its matchup with Kentucky already being tested against Arizona. Just like Arizona, Kentucky is big which could potentially cause problems for the Spartans. Kentucky is also a young team and this will be its first 'road' game. How those young freshman respond will decide this game. I think this game will be close for most of the game but I think Kentucky pulls away late.
Prediction: Michigan State 68, Kentucky 77
This article originally appeared on