Michigan State Basketball releases photo of new-look court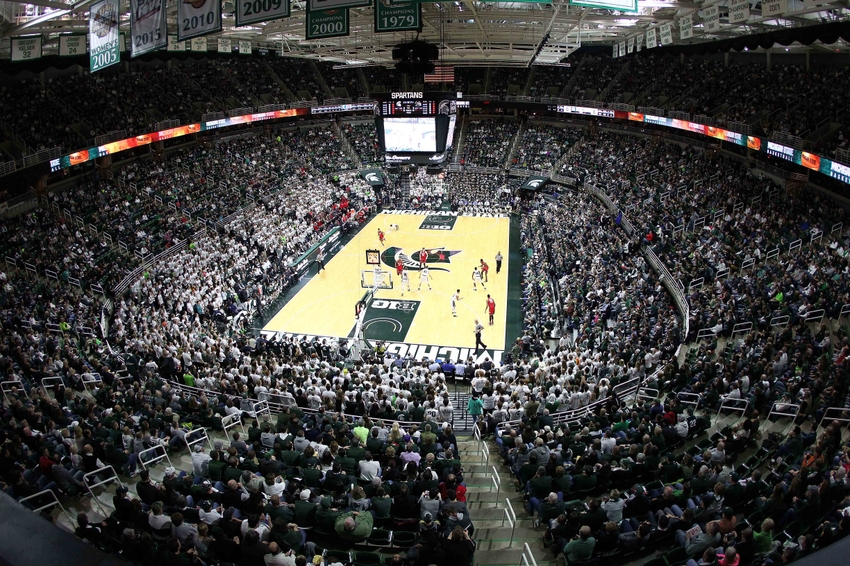 Michigan State basketball released a photo of the new-look Breslin Center court, and it's awesome.
If you're like most Michigan State fans, you probably can't wait for the start of basketball season. We are just a few weeks away from live Michigan State basketball action and there are high expectations for the 2016-17 season, and for good reason.
Must Read: MSU Basketball: Ranking Tom Izzo's biggest recruiting victories
The Spartans are coming off one of their best regular seasons in recent memory and it could be argued that the 2015-16 team was Tom Izzo's best since the 2009 Final Four team. However, the Spartans fell in the first round of the NCAA Tournament in shocking fashion.
With Denzel Valentine, Bryn Forbes, Deyonta Davis and Matt Costello gone from last year's 29-6 squad, it'll be interesting to see how the young guys perform. The elite 2016 recruiting class will be one of the most exciting to watch in the Izzo era, headlined by five-stars Josh Langford and Miles Bridges.
The 2016-17 team will be playing on a new and improved court at the Breslin Center. Spartan Basketball on Twitter released a photo of the new-look court, and it looks awesome.
Michigan State Madness is on Friday night at 8:30 p.m. ET and fans will get a chance to see it in person for the first time.
The two-toned look is always one of the more unique ones in college basketball and it looks the cleanest, in my opinion. What do you think of the new-look Breslin floor?
This article originally appeared on