Michigan State Basketball: November game-by-game preview, predictions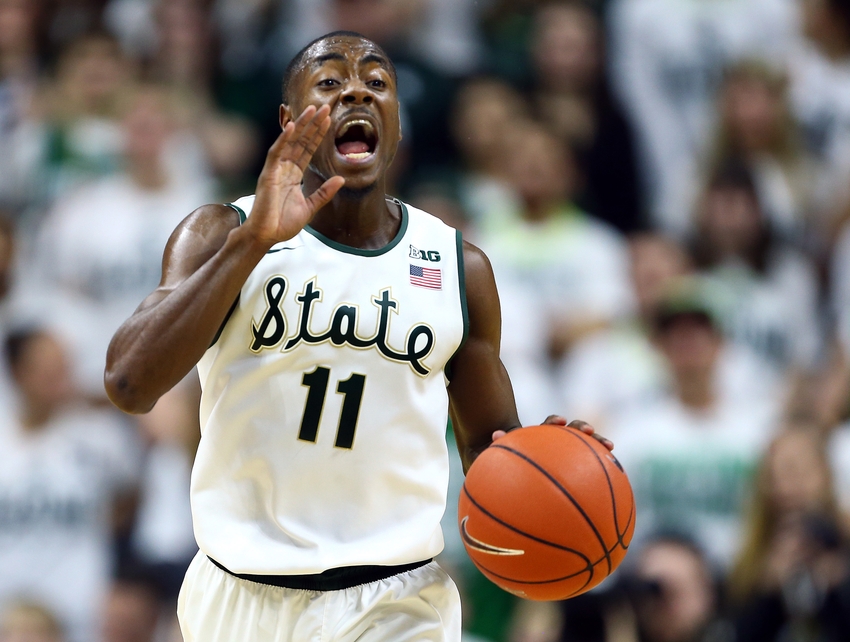 Take a look at our preview and predictions for Michigan State basketball's November schedule.
Tom Izzo has said many times during his tenure as the head coach with Michigan State basketball that he'll play anybody, anytime, anywhere. That statement could not be more true for the upcoming November slate.
The Spartans will play arguably a tougher schedule this month than they ever have before. Arizona, Duke and Kentucky are all on the schedule and that doesn't include a possible matchup with Louisville in the Bahamas.
During his press conference Monday, Izzo was quoted saying that he was "90 percent sure he would have Deyonta Davis this season when he made the schedule."
Obviously Davis decided to turn pro after his lone season in the Green and White, leaving a gaping hole in the front court. Because of that, Izzo brought in 6-foot-9 graduate transfer Ben Carter from UNLV, but unfortunately he suffered a knee injury that will more than likely keep him out the entire season.
Carter's injury wasnt the only hit to the frontcourt. Gavin Schilling also suffered a knee injury, but his is less severe than Carter's and that will keep him on the sidelines possibly until the start of Big Ten play.
With two exhibition games under their belts, the Spartans showed that they can score the ball from the outside with no problem and can get the ball inside down to Miles Bridges, Kenny Goins and Nick Ward. The defensive side of the ball is where the issues were.
The Spartans had issues rebounding the ball against both Northwood and Saginaw Valley State and will need to fix that issue going forward starting this Friday against the 10th-ranked Arizona Wildcats.
Here is the preview and game-by-game predictions for November.
1
Arizona
Wildcats
AP Poll: 10,

Armed Forces Classic
This is a tough first game for Michigan State. It comes against a talented Arizona team led by sophomore guard Allonzo Trier who averaged nearly 15 points a game last season. Although the Wildcats are talented, they also are dealing with injuries and other concerns.
Arizona just lost freshman Ray Smith to a torn ACL, Chance Comanche, who is 6-foot-11, was suspended from the last exhibition game do to academics and Trier also was suspended from that same game due to unknown reasons.
According to azdesertswarm.com, Arizona only had seven scholarship players available for their last exhibition game on Sunday. Comanche is expected to be back for the game against Michigan State which would give them eight. This could be the key to the game because Michigan State has shown the ability to go nine players deep in their two exhibition games without a healthy Josh Langford.
Langford is expected to play Friday against Arizona which will give the Spartans a shooter and a solid defender off the bench. I like the Spartans' chances in this game based solely on how deep Izzo will go on his bench.
Prediction: Win (1-0)
2
Kentucky
Wildcats
AP Poll: 2,

Champions Classic
The last time Michigan State faced Kentucky in the Champions Classic was in 2013 in Chicago and that game was No. 1 Kentucky against No. 2 Michigan State. I was at that game and remember Michigan State controlling the young Wildcats.
Fast forward to 2016 and these two blue bloods meet again. This Kentucky team is loaded, shocking I know, with young talent. Malik Monk is going to be a stud and probably a top-10 pick in the NBA Draft. Kentucky also boasts two freshmen who stand 6-foot-10 which is going to give the Spartans trouble.
If John Calipari is smart, he will start both of those freshmen and just dominate the glass, getting points in the paint at will. But Michigan State always plays well in the Champions Classic and I don't expect anything different. I think it will be a close game but I think the height advantage for Kentucky will be too much.
Prediction: Loss (1-1)
3
Mississippi Valley State
Devils
AP Poll: NR,

East Lansing, MI
The Spartans will return home after two tough games on completely different sides of the country. But what Tom Izzo will like when he returns home to the Breslin Center is the confidence his team will play with after playing against Arizona and Kentucky.
The Spartans will come out fast and with fire and completely dominate Mississippi Valley State. The Devils will be happy to leave East Lansing with a nice fat check and a nice 30 point loss, at the very least.
Prediction: Win (2-1)
4
Florida Gulf Coast
Eagles
AP Poll: NR,

East Lansing, MI
Lob City comes to town. Although this isn't the same "Lob City" that went all the way to the Sweet 16 in 2015. That team was fun to watch and played with nothing to lose during that tournament. FGCU did go 21-14 last season and made it to the NCAA Tournament ultimately losing to North Carolina.
The Eagles only lose two seniors from last year's team which means they return a lot of experience. This game could be close for a while but expect Michigan State to pull away in the second half.
Fun fact: former Michigan Wolverine Ricky Doyle plays for FGCU after transferring from Michigan.
Prediction: Win (3-1)
5
St. John's
Red Storm
AP Poll: NR,

Battle 4 Atlantis
What do you know, Michigan State is traveling again — this time to the Bahamas. First to Hawaii and then to the Bahamas all in one month. That must be terrible. The field at the tournament also features LSU, Louisville, Baylor, VCU and Wichita State.
The first game for the Spartans is against the Red Storm from St. John's. The Red Storm are coming off a — well I'll be nice and just say — down year. Chris Mullin is coming into his second season as head coach looking to improve from last season, which shouldn't be to terribly difficult since they went 8-24 last season — dang, I forgot I was trying to be nice — with a young team at his disposal.
Friendly face Marvin Clark Jr. transferred to St John's but will not be able to play against his former team. Where am I going with this? Oh right, Michigan State should win this game.
Prediction: Win (4-1)
6
Baylor Bears/
VCU Rams
AP Poll: NR,

Battle 4 Atlantis
This game is kind of hard to preview since I don't know who the Spartans will be playing in the second round. Just for fun, lets assume it's VCU because nobody likes Baylor — yes, I'm looking at you Art Briles.
VCU was always a tough team that nobody liked playing against when Shaka Smart was at the helm. Those teams would create so much havoc and force a lot of turnovers, leading to easy points for VCU.
The Rams went 25-11 last season and nearly upset Oklahoma in the second round of the NCAA Tournament. However, they do lose four seniors from last years team including JeQuan Lewis who averaged 11 points per game. I think VCU will give Michigan State trouble but ultimately nobody is better at quick turnarounds than Tom Izzo.
Prediction: Win (5-1)
7
Louisville
Cardinals
AP Poll: 13,

Battle 4 Atlantis
This is the matchup that everyone wants in the championship game in this Battle 4 Atlantis tournament. Louisville is always tough to play against which was evident when these two teams met last year in East Lansing during the Big Ten/ACC challenge.
During that game, the Spartans got off to a less than stellar start and trailed by as many as 13. This year's matchup is going to look a lot different, especially for Michigan State.
Quentin Snider is a good point guard who averaged nearly 10 points a game last season for the Cardinals. Mangok Mathiang is a guy I think could give the Spartans trouble in this matchup. He stands 6-foot-10 and averaged seven points and five rebounds per game last season. His size alone could be a difference maker.
I think Izzo will realize he cannot go toe-to-toe with the size of Louisville and will instead play small ball which will force Rick Pitino to also play small, giving the advantage to the Spartans.
Prediction: Win (6-1)
8
Duke
Blue Devils
AP Poll: 1,

Durham, N.C.
What is the reward for winning the Battle 4 Atlantis tournament? A trip to Cameron Indoor against the No. 1 team in the country — what a nice early Christmas present.
Must Read: MSU Basketball: 5 bold predictions for month of November
The last time Michigan State played Duke was in the Final Four back in 2015 and Duke won by 20. The last time Michigan State played at Cameron Indoor was in 2010 and Duke won by just five.
Michigan State has never won at Cameron Indoor and that first victory won't come this season, either. This Duke team is going to be pretty darn good this season. In fact, they have a guy named Grayson Allen who might be the national player of the year.
Michigan State's 2016 recruiting class was pretty good, but Duke brought in four guys who were ranked in the top 15 in the country, according to 247Sports. Is that good?
They also have a guy by the name of Harry Giles III who many believe could be the No. 1 pick in the NBA Draft. Oh, and they also have another guy who is 6-foot-11 and two other guys who are 6-foot-10.
The Blue Devils also have a guy by the name of Luke Kennard who is a tremendous shooter, averaging 11 points per game last season. Let's hope Michigan State doesn't lose by 40 because it might be possible.
Prediction: Pain, and a loss (6-2)
Overall a 6-2 record after the gauntlet of a November would be a terrific start for Michigan State and would set it up nicely for a good run in December.
This article originally appeared on