Michigan State Basketball: Miles Bridges to miss at least a couple weeks with ankle injury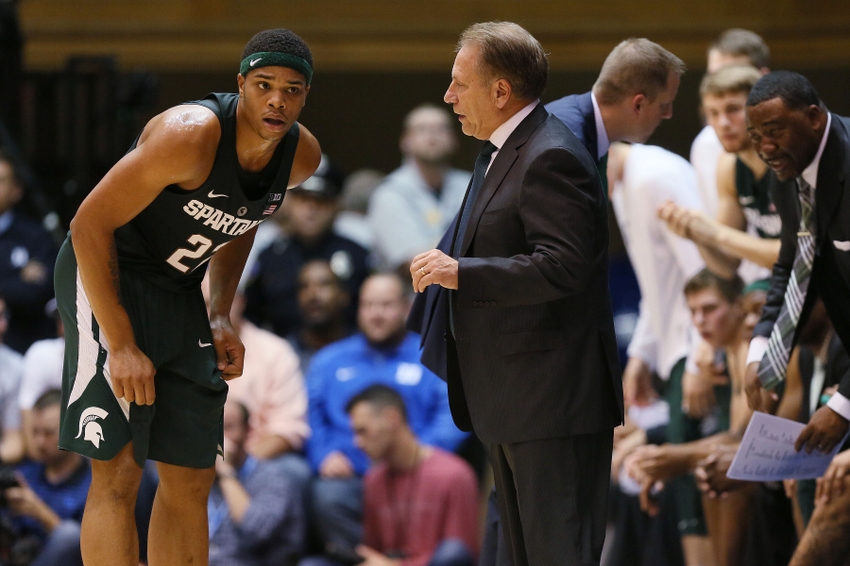 Michigan State basketball's best freshman and top player Miles Bridges won't be in the lineup for at least two weeks.
When is Michigan State going to catch a break?
After losing their two top big men, Ben Carter and Gavin Schilling, to significant knee injuries during the preseason, the Spartans have to deal with yet another key loss.
This time, it's their top freshman and leading scorer, Miles Bridges, who will miss at least a couple of weeks due to an ankle injury that started bothering him after the Spartans' loss to Duke.
"He's gonna be out a couple weeks it looks like," Izzo said. "Kind of don't know exactly what it is yet, but it's been sore and it's kind of on the top, so it's a position where we need to just take care of it. He's going to rest it for at least a couple weeks. That's why he's on crutches. And then it will be a day-to-day evaluation."

Izzo said he's not exactly sure how or when the injury occurred.

"Got sore — I don't know if he twisted it or what — after the Duke game is when he said it really started to bother him," Izzo said. "So we took precautionary X-rays and that. There's no broken bones in it, but he's going to be out for a little bit."
Bridges is averaging 16.6 points, 8.8 rebounds and 2.0 assists per game, while shooting 48 percent from the field overall and 39 percent from downtown. At this point in his career, Bridges is more of a glue-guy. But because the Spartans don't have a true offensive creator and enough veterans, Tom Izzo and company have relied heavily on Bridges as their offensive center piece.
The good news is that over the next two weeks the Spartans play Oral Roberts, Youngstown State and Tennessee Tech. And even if Bridges does take longer than a couple weeks to heal, Michigan State has match-ups against Northeastern and Oakland to close out non-conference play.
MSU will call on Eron Harris (12.9 points) and surprising freshman big man Nick Ward (12.9 points) to step forward.
Izzo will likely be cautious with his top player and athletic freak regardless of his lack of offensive weapons. It is more pivotal that Bridges is ready and fully healthy for the start of conference play on December 27.
On the flip side, it would be more than beneficial if the Spartans could build continuity with their freshman on the floor. One of the main reasons MSU is 4-4 on this young season is the fact that they are young and inexperienced. The best way to develop chemistry and a better feel for the game is to play in actual regular season games.
Even though the Spartans should win all of their buy-games with Bridges on the sideline, it would be helpful if he could continue to learn the tendencies of his teammates and more of the nuances of the college game.
Michigan State hasn't had many opportunities to practice over the first few weeks of the season because of their travel schedule. They won't leave East Lansing until the end of the month, so this would've been one of the few chances for Bridges to receive extra coaching behind the scenes.
Unfortunately, Michigan State will now have to wait until potentially the end of the month to see Bridges in uniform. It just seems like Izzo and the Spartans cannot catch a break.
This article originally appeared on