Michigan State Basketball: Gavin Schilling return by Big Ten opener?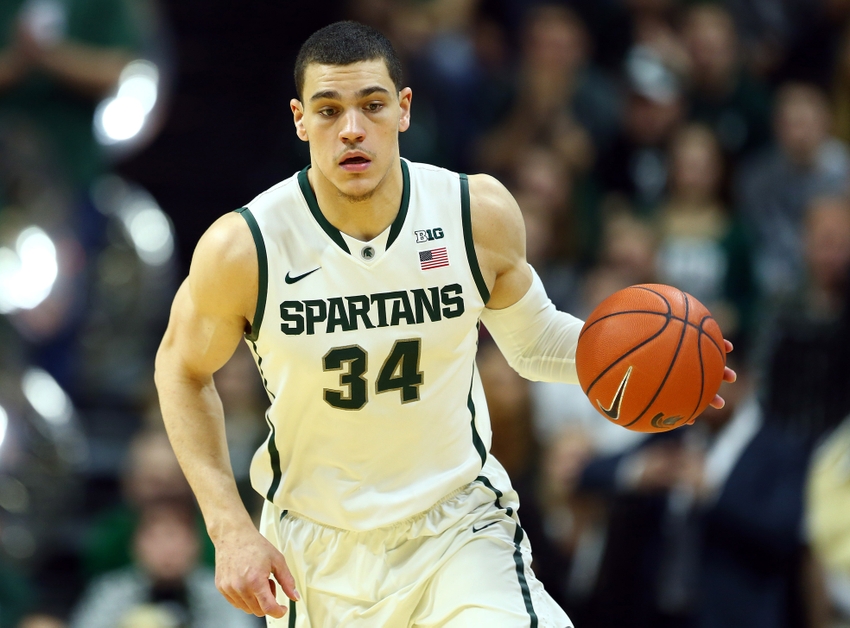 Michigan State basketball coach Tom Izzo is hoping to get Gavin Schilling back by the start of Big Ten play.
Tom Izzo has to be worried about his post play. Losing Ben Carter a few weeks back with what has since been deemed a meniscus injury definitely put a damper on things for Michigan State basketball, but now Gavin Schilling could be out a while.
Must Read: MSU Basketball: 5 bold predictions for month of November
During the week of Michigan State Madness, the senior Spartan big man suffered a knee injury as well and had minor surgery. He has been ruled out for an extended time, but no one really knew how long that meant.
According to Travis Hines at NBCSports.com, Izzo shed some light on the matter this week. He apparently stated that he hoped to have Schilling back by the start of Big Ten play.
Schilling suffered the non-contact injury in October, at which point Michigan State offered no timetable for his return. So while Izzo was less than firm in offering one Tuesday, it does provide more than a little hope that the depleted Spartans will have reinforcements to compete for a Big Ten title.

It seems less likely that Carter will be able to return if his timetable extends much further than Schilling's. The injury, suffered just over a month ago, is the second knee injury suffered in a year by Carter, a UNLV transfer who was expected to help provide depth up front for the Spartans.
Although this is two months from now, Michigan State could have Schilling back for the most important stretch of the season to start Big Ten action on Dec. 27 against Minnesota.
This would be huge considering Kenny Goins, Nick Ward and Miles Bridges will be running on fumes by then.
This article originally appeared on