Michigan State Basketball: Game preview vs. Mississippi Valley State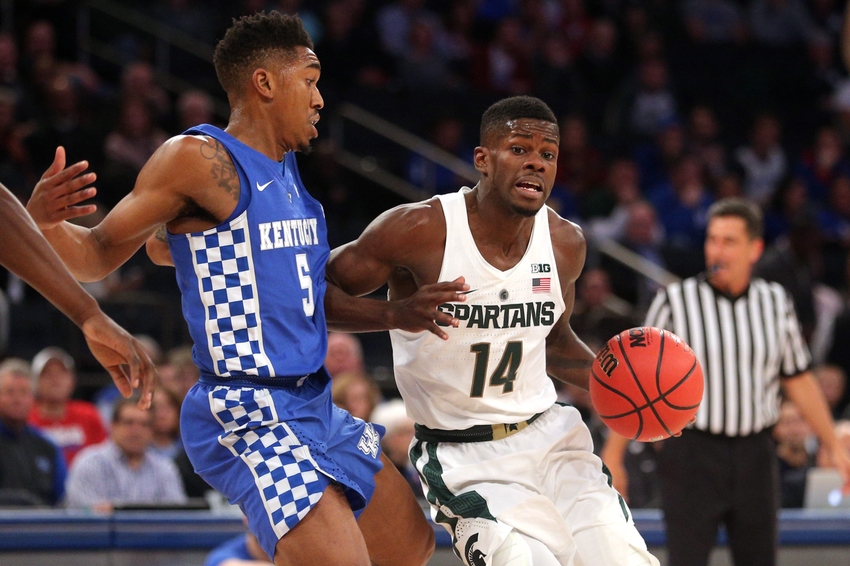 Here's everything you need to know for Michigan State basketball's Friday night matchup against Mississippi Valley State.
It's been a rough start to the season for Michigan State basketball as the Spartans won two exhibition games but have since lost the two regular season contests. Arizona and Kentucky have proven to be tough matchups as the lack of size for Michigan State might continue to be an issue.
Must Read: MSU Basketball: 5 bold predictions for November
Miles Bridges is coming off the worst game of his extremely young collegiate career as he finished with six points, 12 rebounds and nine turnovers on 2-of-11 shooting against Kentucky. Will he be able to rebound against an O-3 team from the SWAC?
For Mississippi Valley State, there are just two players who average more than 10 points per game this season. The first is senior guard Marcus Romain and the other is fellow senior guard Isaac Williams. The two have combined for 23 points per game and 11-of-25 three-point makes. Mississippi Valley State might be equally as poor of a free-throw shooting team as MSU.
Here's how you can watch Friday night's game against MVSU:
Date: Friday, Nov. 18
Time: 7:00 p.m. ET
Location: East Lansing, MI
Venue: Breslin Center
TV: BTN2Go
Live Stream: BTN2Go
Keys to Victory
Winning the battle of the boards will be important yet again and the Spartans just happen to be playing a team that averages just 32 per game. If the Spartans can out-rebound the Delta Devils by a relatively wide margin, this game shouldn't even be close.
Also, Bridges will need to have a bounce-back game and Eron Harris needs to get more involved in the offense. If those two play like they're capable of, Michigan State might just run Mississippi Valley State right out of the Breslin Center.
Prediction
Michigan State is hungry for its first win of the 2016-17 season and it will be up to Bridges to rebound form an otherwise forgettable performance against Kentucky. The Spartans will win the rebound battle by about 11 and Michigan State will win comfortably thanks to the contributions from bench players such as Cassius Winston, Nick Ward and Josh Langford.
Final: Mississippi Valley State 59, Michigan State 83
This article originally appeared on