Michigan State Basketball: Game preview, prediction vs. Duke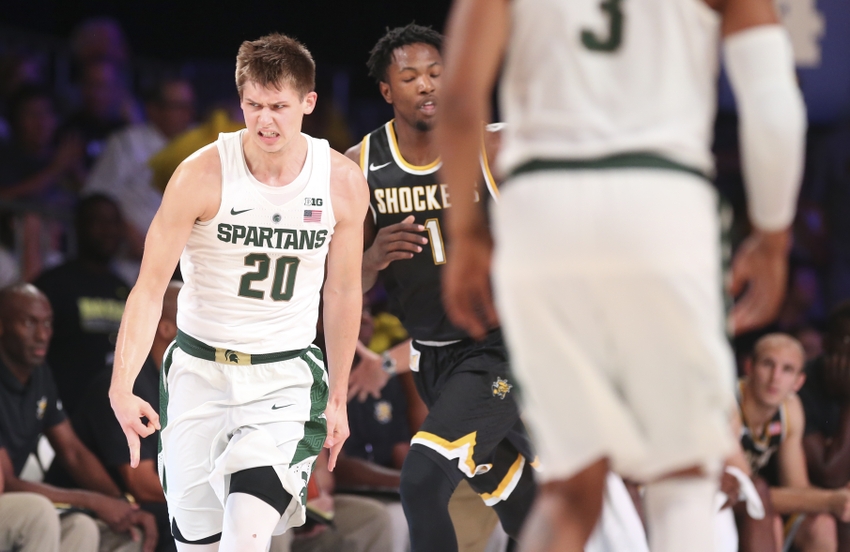 Here's everything you need to know for Michigan State basketball's matchup against Duke on Tuesday night.
Michigan State basketball is going into Tuesday night's game against No. 5 Duke as a major underdog. Not only are the Spartans playing the Blue Devils on the road, but Duke might just have the most explosive team in college basketball despite the injuries that are piling up.
Must Read: MSU Basketball: 10 bold predictions for 2016-17 season
In fact, the Blue Devils could be without four of their top players when the Spartans come to town. The freshman trio of Harry Giles, Jayson Tatum and Marques Bolden have all been ruled out while superstar junior Grayson Allen is questionable. This will work in the Spartans' favor, big time.
Moreover, Michigan State is coming off a tiring road trip in the Bahamas in which it came in third place in the Battle 4 Atlantis, but confidence was accrued in the tourney. Although they lost to Baylor, the Spartans came together as a team to beat Wichita State in the final game.
Tuesday night's game will be the Spartans' toughest of the year, maybe second to the Kentucky game, but it will take an A+ effort to upset the Blue Devils at Cameron Indoor.
Here's how you can watch Tuesday evening's Michigan State basketball game:
Date: Tuesday, Nov. 29
Time: 9:30 p.m. ET
Location: Durham, N.C.
Venue: Cameron Indoor Stadium
TV: ESPN
Live Stream: WatchESPN
Keys to Victory
Hitting the glass hard will be important, especially on the offensive side of the ball which could create second chances. Duke averages 40 rebounds per game, but the Spartans need to be more aggressive on the glass, but not enough to get into foul trouble.
Working the ball inside to Nick Ward, Kenny Goins and Miles Bridges will also be important. Don't settle for three-pointers each trip down. Also, Tum Tum Nairn needs to drive to the basket and utilize his speed and either dish it out to an open shooter or finish at the rim.
Betting Odds
Point Spread: Duke -10.5
Prediction
Michigan State has trouble out-rebounding an aggressive guy like Amile Jefferson and he has a big game in the post. The Spartans can't avoid foul trouble early on, but make a comeback late, only to fall just short. Still, a big confidence booster to keep it within single digits of Duke on the road.
Final: Michigan State 71, Duke 76
This article originally appeared on