Michigan State Basketball: Game preview, prediction vs. Arizona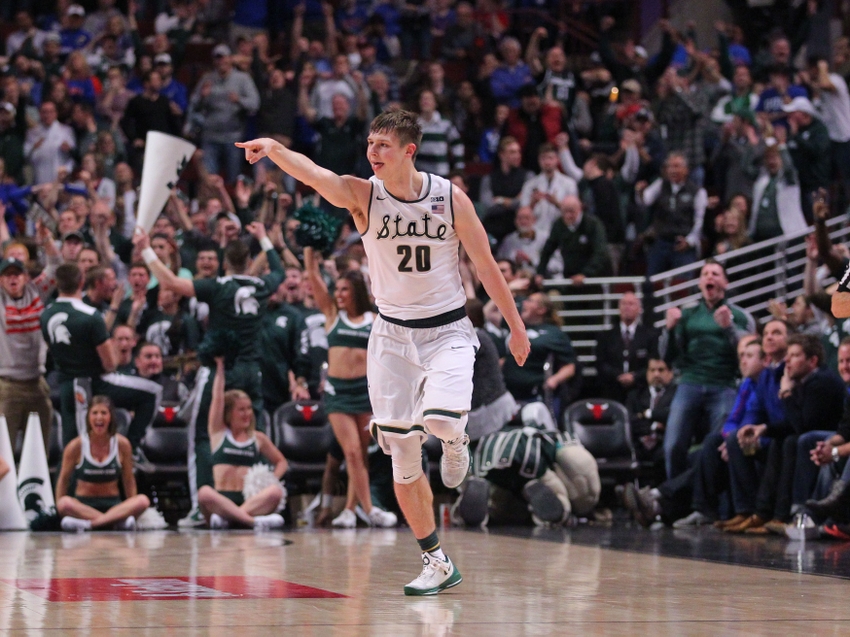 Michigan State basketball will open the season with a tough matchup against No. 10 Arizona.
How will Michigan State basketball put a devastating end to the 2015-16 season behind it? The Spartans were eliminated in the first round of the NCAA Tournament a season ago and are looking to move on. Opening the season against No. 10 Arizona will be a nice way to do so.
The Wildcats are ranked No. 10 in the country and have plenty of young talent while the Spartans are 12th in the AP Poll and are freshman and guard-heavy.
Arizona has lost forward Ray Smith for the year with another knee injury and he announced his retirement from basketball shortly after. Allonzo Trier is also expected to miss the game, which could play in the favor of Michigan State.
On the flip side, Josh Langford has been dealing with a hamstring issue, but is probable against the Wildcats and it would be his first action after missing both exhibition games. Ben Carter and Gavin Schilling are both out with knee injuries, though.
Both sides will be playing at partial-strength, but will that have an effect on the style of play? This will be a must-see game for any casual basketball fan and most definitely those Spartans itching for a relief from football season.
Here's how you can watch Friday night's Michigan State vs Arizona game:
Date: Friday, Nov. 11
Time: 7:00 p.m. ET
Venue: Stan Sherriff Center
Location: Honolulu, HI
TV Info: ESPN
Live Stream: WatchESPN
Keys to Victory
It's not going to be easy, but limiting the Wildcats on the boards will be huge. Sure, it'll be up to Kenny Goins, Nick Ward and Miles Bridges, but if those guys can make sure the rebounding battle isn't lopsided in favor of Arizona, the Spartans will be in good shape.
On the offensive side of the ball, making free throws and limiting turnovers will be huge. The Spartans need to protect the ball and when they get to the line, no more missing one of two, or both, regularly. Free throws could decide this one.
Betting Odds
Point Spread: Michigan State -1.5
Over/Under: 141.5
Prediction
Arizona may have a handful of bigs, but the Spartans are going to use mismatches on the perimeter to exploit the Wildcats' weaknesses. Both teams are young, and it will show. The game won't be the prettiest early on with first-game jitters, but both will ease into a nice contest. This will give Spartan fans flashbacks to last year's game against Kansas and the same result will take place. Miles Bridges has a monster game and the Spartans win narrowly.
Final Score: Michigan State 75, Arizona 71
This article originally appeared on