Michigan State Basketball: Final score predictions vs. Duke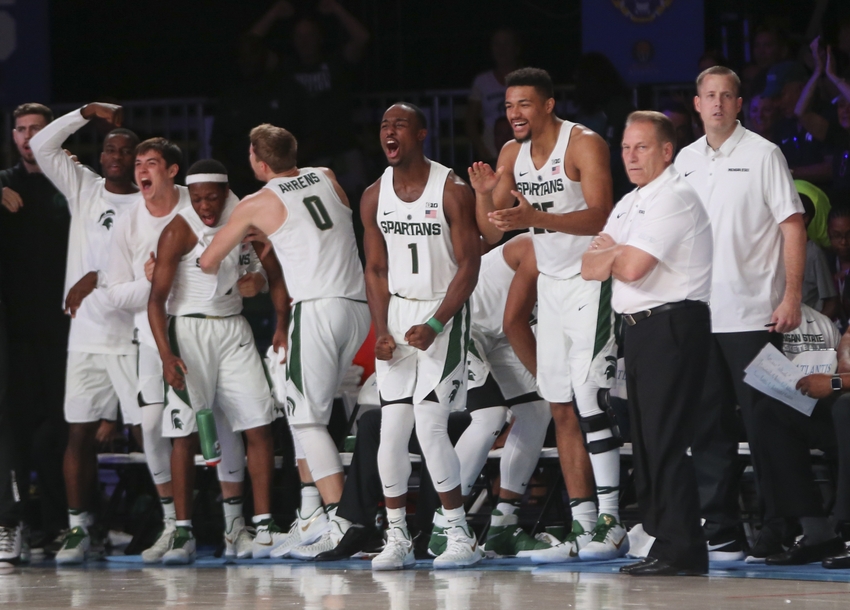 Michigan State basketball is gearing up for a big game at Cameron Indoor on Tuesday and here are our score predictions.
Traveling to Durham, N.C., on Tuesday night won't present Michigan State basketball with an easy task, but an outstanding opportunity. With a young team searching for an identity, a win over No. 5 Duke on the road could go a long way in determining how far the Spartans go in March.
Must Read: MSU Recruiting: 5 bold predictions for November
It's been a while since Michigan State started the season 4-3, but this team is as talented as any Tom Izzo has ever coached, but the problem is in the post. With two big men injured before the season even began, the Spartans knew they'd have to play bigger than they actually were in order to compete.
Now, they'll face their toughest test of the season against a Duke team that is down three talented freshmen and potentially Grayson Allen.
Here are our staff's score predictions for the game.
Connor Muldowney: Miles Bridges will have yet another solid game, but it's going to be Nick Ward who stars for the Spartans on Tuesday night. However, Mike Krzyzewski has Tom Izzo's number and the short-handed Blue Devils will hand the short-handed Spartans their fourth loss in the first month of play. Time to regroup and refocus on the remainder of the non-conference schedule.
Final: Michigan State 71, Duke 76
Andrew Erdman: When I wrote the November schedule preview for Michigan State I said it was possible that MSU could lose this game by 40. With the way Michigan State has been playing and their injury situation that doesn't seem too unreasonable, but Duke also has plenty of injuries.
The freshman trio of Harry Giles, Jayson Tatum and Marques Bolden are all not going to play against the Spartans, which should help. Grayson Allen also left Duke's most recent game with a toe injury and his status for this game is unclear. If Allen can't go for the Blue Devils then Michigan State has a legitimate shot at beating Duke.
Michigan State has to start fast and play solid defense on the perimeter. It also needs to send four guys to the boards to make up for the lack of height they have inside. Miles Bridges is going to go off and drop 25 on the Blue Devils and Eron Harris will break out and score 20 himself. In the end, I think Duke will ultimately end up winning this game but it will be back and forth the entire game.
Final: Michigan State 77, Duke 84
Stephen Robb: Michigan State and Duke take on each other in the ACC/Big Ten Challenge. Michigan State needs more perimeter scorers, while Duke is scoring at will in their new four guard lineup. MSU needs to find its identity and gel together, and it may bleed into the Big Ten season for it to do that. Duke wins this one.
Final: Michigan State 69, Duke 84
This article originally appeared on