Michigan State Basketball: Could Miles Bridges be one of the best players in the country?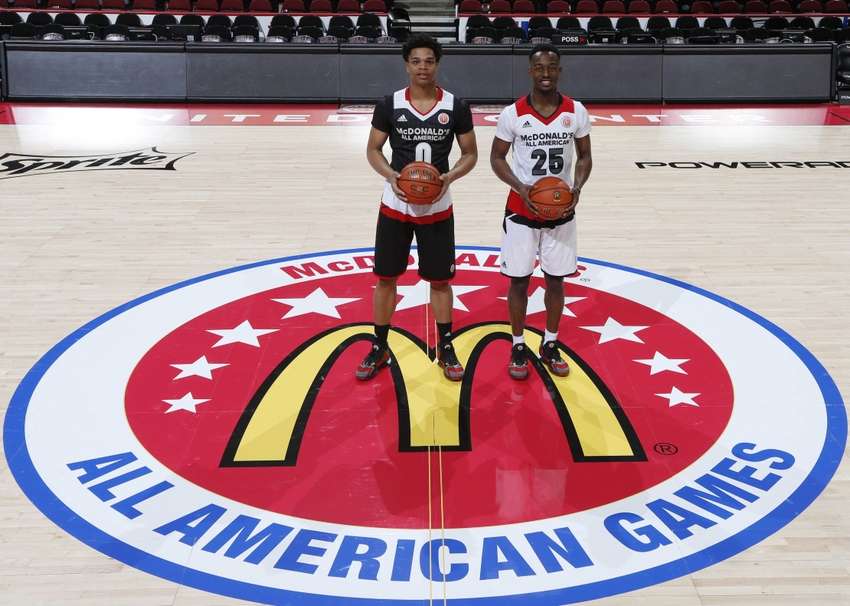 Freshman Miles Bridges will be a dominant force for Michigan State basketball this season.
College basketball season starts this Friday and there are dozens of storylines I am excited about. I want to see if Villanova can defend their title, I'm curious how Duke's super-team will fit together. I'm intrigued by the WCC's two Final Four dark horses. And I'm fascinated by Arizona's Lauri Markkanen and how good he can be.
Despite all these compelling narratives heading into the season (on top of many others), nothing excites me more than, who I think could potentially be the best player in the Big Ten in Michigan State's Miles Bridges.
I'll go ahead and admit that this 12-second video is what got me so excited for him in the first place:
But, there are many reasons as to why he could be one of the best players in the country this season.
Bridges is a 6'7", 230-pound freshman who has the speed and quickness necessary to play on the wing, as well as the power and girth to play on the block.
While his gravity-defying transition dunks are what really stand out, Bridges also might have the most under appreciated skill set in the 2016 recruiting class.
Bridges is an elite finisher with a lightning quick first step and is unstoppable once he gets a step on you due to his strong frame. He is also an underrated passer, as you would be hard-pressed to find a scouting report that doesn't allude to his potential as a facilitator.
While his consistency in this area is a little more questionable, Bridges possesses the intangibles to be a great shooter as well. His jumper is definitely streaky and his form can be inconsistent when pulling up off the dribble, but his overall mechanics are solid and he demonstrates great touch. He also showed a lot of promise that he had improved from behind the arc after going 5-of-5 in the Spartans' preseason scrimmage against Northwood.
Defensively, Bridges might be even more impressive. Even at 6'7", he has the potential to be one of the best rebounders in the Big Ten, and he provides the sort of defensive switching ability that is so critical in today's college basketball landscape.
What he lacks in sheer height down low he makes up for with his strong frame, and even when he gets beat by quicker perimeter players, he can make up the distance with his athleticism.
Like any other 18-year old player, Bridges does have his fair share of deficiencies. Despite his strong preseason shooting performance, his consistency from three is still very much in question. And while he is strong enough to match up with most big men, he only possesses a 6'9″ wingspan, which puts him at a huge disadvantage against taller post players. He was, after all, ranked behind seven other players in last year's ESPN top 100 rankings for the class of 2016.
That being said, very few of the players ranked ahead of Bridges present the sort of upside that he does, and almost none of them have the opportunity to showcase their skills the way he will.
The Spartans lost four of their five leading scorers from last season, including 2016 AP Player of the Year and eventual NBA lottery pick, Denzel Valentine. Returning senior Eron Harris will be asked to take on much bigger roles, and five-star recruit Josh Langford, as well as four-star recruits Cassius Winston and Nick Ward, will need to step up as well. But none of these players are as talented, nor possess as high a ceiling, as does Miles Bridges.
If Michigan State is a top three team in the Big Ten, and Bridges comes anywhere close to reaching his potential, expect to see him in the middle of the race for the Naismith Award in March. And don't be surprised if he leads the Spartans to the Final Four in April.
More from Busting Brackets
This article originally appeared on