Michigan State Basketball: 5 takeaways from Kentucky loss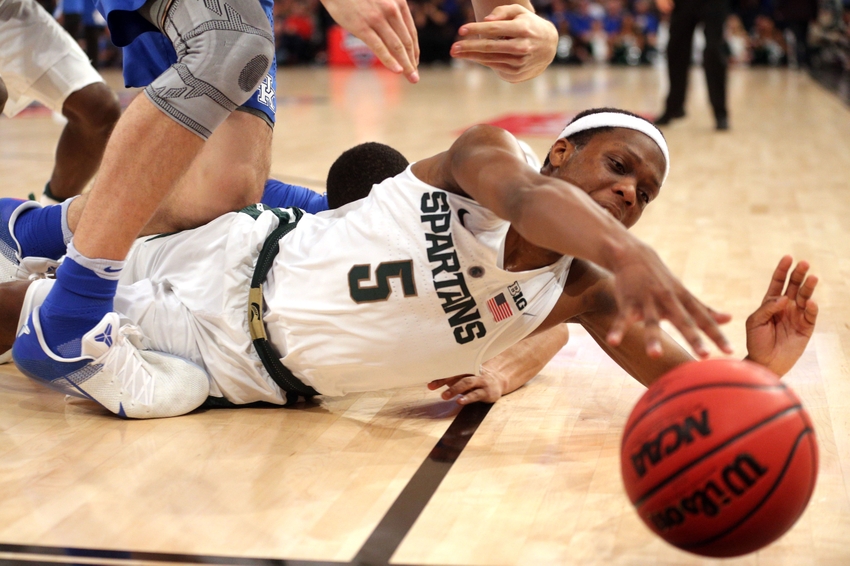 Here are the five biggest takeaways from Michigan State basketball's loss to Kentucky on Tuesday.
Tom Izzo admitted after the loss on Tuesday night to Kentucky that he was embarrassed with how unprepared the Michigan State basketball team was. He thought he had spend enough time getting these guys ready for a big matchup against the No. 2 Wildcats, but the Spartans fell flat and couldn't make shots all day long.
Not much went in the Spartans' favor as they couldn't catch up after falling behind by double digits in the first half. The game was tied at 12 early on, but Michigan State fell apart and it was clear that growing pains had something to do with it. Growing pains and the exhaustion of traveling thousands of miles over the part week.
Michigan State comes back to the Breslin on Friday against Mississippi Valley State and that should be a nice bounce back game after starting the season 0-2.
We did learn some things about this team from that 21-point loss to Kentucky, though. Here are the five biggest takeaways from the defeat.
5. Defense needs improvement
Recording zero steals throughout an entire game is tough to do. Even a loose ball finds its way into the hands of even the worst defensive teams. Still, the Spartans have players who can defend, such as Miles Bridges, Tum Tum Nairn and Eron Harris, but have yet to live up to the expectations.
Allowing 69 points to Kentucky isn't all that bad, but it could have easily been worse if the Wildcats could make 50 percent of their shots. It's hard to believe that the Wildcats shot just 38 percent from the floor and 33 percent from three-point range and still won by 21.
Well, Malik Monk made all seven of Kentucky's three-pointers as every other player combined to shoot 0-for-10 from three-point range. There were too many open looks from all over the court and the Spartans lucked out that Kentucky wasn't able to fully take advantage.
This defense looked lost in the second half and that's something that needs to be corrected moving forward.
4. Freshmen provide big boost off bench
The freshmen coming off the bench in the first two games have been thoroughly impressive. Sure, you have Miles Bridges who could be the best player in the country in the starting lineup, but his three fellow freshmen have been impressing off the pine.
In a game which Bridges struggles the way he did, turning the ball over nine times and picking up three fouls while shooting just 2-of-11 from the floor, it's nice to have some fresh legs come in off the bench to provide a spark.
Starting with Nick Ward, the first-year big man has shown flashes of post dominance through two games. He has been compared to a poor man's Zach Randolph, and for good reason. He's strong and has nice moves and once he gets in better shape, he'll be able to play 20-25 minutes per game. Ward finished with eight points and six rebounds in 15 minutes.
Cassius Winston also played well and tied for the team lead in points, nine, to go along with a couple of assists. This team has a long way to go to match last year's elite passing team, but if Cassius keeps improving, it'll get there.
Lastly, Josh Langford is still not quite at 100 percent it seems and he still played well on Tuesday. In fact, he finished with five points and five rebounds off the bench.
What a luxury it is to have these three come off the bench.
3. MSU holding its own on the boards
This is where I have to give Michigan State credit through the first two games. Against an Arizona team that was much larger in the post than the Spartans, Michigan State tied the Wildcats on the glass. The two teams were very equal in that regard and that was a good sign for the Spartans.
Against Kentucky, the Spartans won the battle on the boards. While it didn't ultimately matter seeing as Michigan State lost by more than 20 points, it's still a positive to take away from an otherwise tough game.
Miles Bridges finished with 12 rebounds which didn't make up for his nine turnovers, but showed that he might be the Spartans' leader on the boards. Kenny Goins grabbed eight rebounds as well and played much larger than his 6-foot-6 frame and lastly, Nick Ward had eight rebounds, too.
Those three guys will be looked at to dominate the glass for the Spartans throughout the non-conference schedule or until Gavin Schilling comes back and combining for 28 is impressive.
Overall, the Spartans finished with 44 rebounds (13 offensive) to Kentucky's 40.
2. Eron Harris has been a disappearing act
I remember hearing about how Eron Harris looked like the top performer at Michigan State Madness back in October and I formed my own opinion on him after watching him last year and through the first two exhibition games: he was going to be a star.
However, he's been more of a magician so far through the first two games of the season, pulling off an incredible disappearing act. In fact, he scored five points early against Arizona last Friday before disappearing and finishing with only seven points and he scored just two against Kentucky on Tuesday.
It's never a good sign when your starting shooting guard and senior perceived captain is sitting on the bench when you're down by double digits. Usually that's the time in the game when you need him to step up, but he was clearly not on the good side of Izzo versus Kentucky.
Harris played poorly and after he scored those two points, he disappeared never to be heard from again. He finished the game with more turnovers, three, than he had points. That's unacceptable for the player who is supposed to lead the team.
1. Turnovers, poor shooting doomed Spartans
Another game with a ridiculous amount of turnovers and another Spartan loss. Michigan State has now dropped consecutive games and is averaging 18.5 turnovers in those two defeats.
Must Read: MSU Basketball: Game-by-game predictions for November
It was assumed that Izzo and Co. would clean things up after recording 18 turnovers in a two-point loss to Arizona to start the season, but the Spartans came back and finished with 19 against Kentucky, leading to a blowout defeat.
Miles Bridges couldn't get anything going as he was both a turnover machine and poor shooter all night. He had nine turnovers and shot just 2-for-11 from the floor, even missing a dunk in the second half.
Michigan State needs to clean up its half-court offense and run plays without looking like a frantic high school team. The Spartans are too talented to turn the ball over 19 times in a single game and they will learn from this loss.
As for the poor shooting, it seemed like no one could get anything going from long-range nor inside the arc. The Spartans shot just 33 percent from the floor and 5-for-28 from three-point land. Turnovers and poor shooting led to this ugly loss.
This article originally appeared on