Michigan State Basketball: 5 bold predictions for November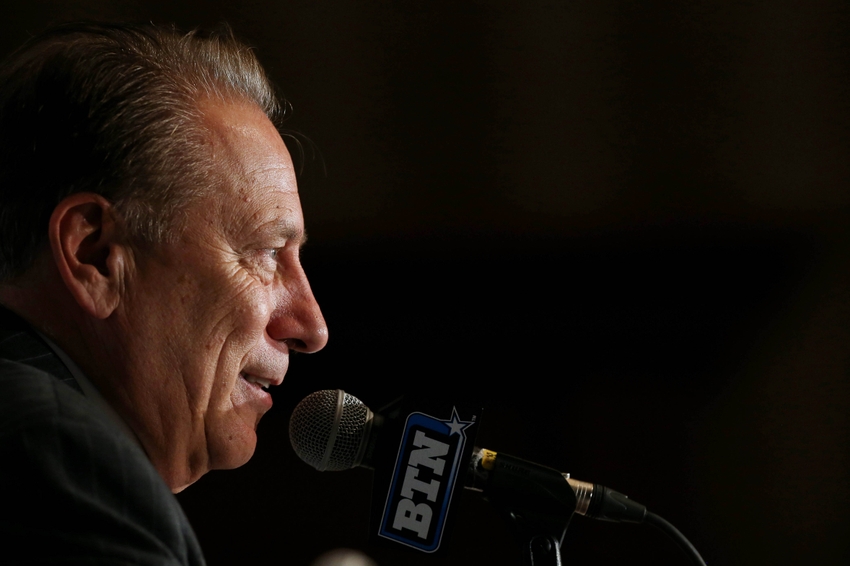 Michigan State basketball begins this month and here are five bold predictions for November.
With football season winding down (thankfully), Michigan State basketball season is set to officially begin on Nov. 11 when the Spartans travel to Hawaii to take on Arizona in the Armed Forces Classic. It will be a heck of a way to kick off the regular season and definitely a tough test to get the Spartans ready for December, January and February.
Tom Izzo schedules these tough opponents early on and the Wildcats aren't even the toughest on the schedule through the first month. Michigan State will face Arizona, potentially Louisville and also Duke.
Despite the tough schedule looming, this team has plenty of talent to get the job done and win 2-3 of those games. With that, let's take a look at the five bold predictions for the month of November in terms of Michigan State basketball.
5. Tum Tum becomes more offensive
It's hard to believe that a guy who has never averaged more than 2.8 points per game in his career will be more offensive in his third collegiate season, but the Spartans will need more out of Tum Tum Nairn in 2016-17.
With Denzel Valentine and Bryn Forbes off to the NBA, the Spartans are going to need a point guard who can both distribute the ball and score. No, he's never going to be a guy who knocks down threes consistently, or at least I doubt it, but Tum needs to drive to the basket more and finish at the rim.
Through the first two exhibition games, he has been quiet on the offensive side of things, but he's shown flashes of what he's able to do. Chances are he's saving his energy for the real games, but he has finished some drives at the rim and he's even made some long jumpers.
Defenses aren't going to respect him, giving him big-time space at the top of the key, so he will make them pay with some drives to the hoop and maybe even a couple of jumpers per game. Either way, Tum Tum is going to be much more offensive this month than we are used to seeing.
4. The defense will struggle
Through two exhibition games against Northwood and Saginaw Valley State, the Spartans are allowing 73 points per game. That's not something Izzo is happy with and you know he will be harping on defense at practice all week, leading up to next week's game against Arizona.
However, playing high-powered teams like Arizona, Louisville, Baylor, Duke and Kentucky will really wear down Michigan State's defense.
Against both of its early opponents thus far, Michigan State just hasn't had that defensive edge, and it might be due to the fact that the Spartans don't have many bigs. Nick Ward isn't in the best shape yet and his minutes will be monitored and Kenny Goins is more of a stretch-four than anything and he's going to initially struggle down low.
Kyle Ahrens and Matt Van Dyk won't see very big minutes in the post as Miles Bridges will likely have to play a lot of power forward. It's going to be a struggle defensively for these Spartans until they can get Gavin Schilling back (hopefully by Big Ten play).
Defending against the three-pointer was also an issue on Wednesday night against Saginaw Valley State, so that might cause some defensive lapses through the first month as well.
3. Josh Langford will prove to be MSU's most complete player
Everyone, at this point, has heard about how good Josh Langford really is. I've heard everything from 'he's going to be the team's best overall player' to 'he's the best defender for the Spartans.'
Unfortunately, we have yet to see the freshman two-guard play a single minute since he's been out for the first two exhibition games with an injury. He's expected to be back for the Arizona game, but Izzo didn't want to rush him through the injury and cause it to worsen.
The McDonald's All-American has been playing some impressive basketball over his high school career and he's been earning high praise from just about everyone. He has a high basketball IQ, can run, can pass, can shoot and he's an excellent defender.
If he lives up to the hype, which I believe he will, he's going to prove to be the most complete player on Michigan State through the first month, and maybe even beyond.
You have guys like Cassius Winston who can pass and shoot, Miles Bridges who can defend and score from anywhere and Nick Ward who can body guys in the post. This freshman will be able to do a little of everything.
We have yet to see the Spartans' most complete player in action.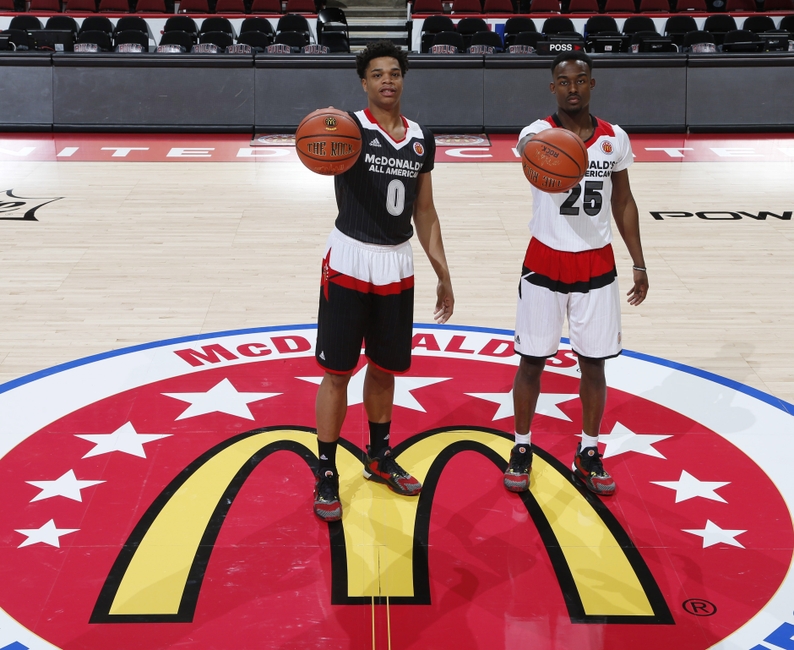 2. Miles Bridges leads team in scoring
If you've had the pleasure of watching the first two exhibition games of the year, you'd know that Miles Bridges is not only making it know he's going to be good, but he could potentially be this team's top scorer.
Bridges does things that no Michigan State player in quite some time has been able to: score from anywhere with ease. Sure, Denzel Valentine was an elite scorer and could shoot as well as drive, but Bridges is a much more effective player when driving to the basket.
One thing is for sure, he's not afraid to put the ball on the ground and take it to the hole, hoping for an and-one, but finishing with two points regardless. Not only that, but he's a much better shooter than people expected. His three-point shot is clean and he's been very accurate early on.
Through those first two exhibitions, he's averaging 26.5 points per game and I don't expect that to change much in regular season action. His points per game will go down slightly, but he's going to lead MSU in scoring with Eron Harris in second and a surprise with Cassius Winston third.
The freshmen on this team are unbelievable, and it all starts with Bridges. The kid is going to be a national player of the year candidate.
1. Spartans finish opening month with 2-3 losses
Yes, this might be the most talented team in the Tom Izzo era, despite losing guys like Schilling and Ben Carter for an extended period of time, but it will take some time for these young guys to get acclimated with the college game.
Must Read: MSU Football: 5 bold predictions for November
I get it, they've already played a couple of exhibition games, so they should be used to the speed already, right? Wrong. Playing Northwood is an entirely different animal than playing Duke, Arizona, Kentucky and potentially Louisville.
Young teams are almost always struggling early on, but the Spartans set up this tough stretch in the month of November in order to success in the final 3-4 months of the year, making a deep run in March. Michigan State did the same thing last year, but unfortunately, there weren't enough tough games early on to get them ready for March.
Don't panic after a 2-3 loss start to the season, though, Spartan fans. It's probably going to happen and Michigan State might drop in the AP Poll quite a bit, but patience is a virtue. This team will be back and, quite honestly, the best team in the Big Ten by the end of the year.
I could see the Spartans beating Arizona, losing to Kentucky and taking care of Mississippi Valley State before the Battle 4 Atlantis. They will then beat FGCU, St. John's and Baylor before losing to Louisville in the title game. They'll close out the month with a loss to Duke in Durham.
Still, a very good team is starting to blossom.
This article originally appeared on