Michigan State Basketball: 5 bold predictions for December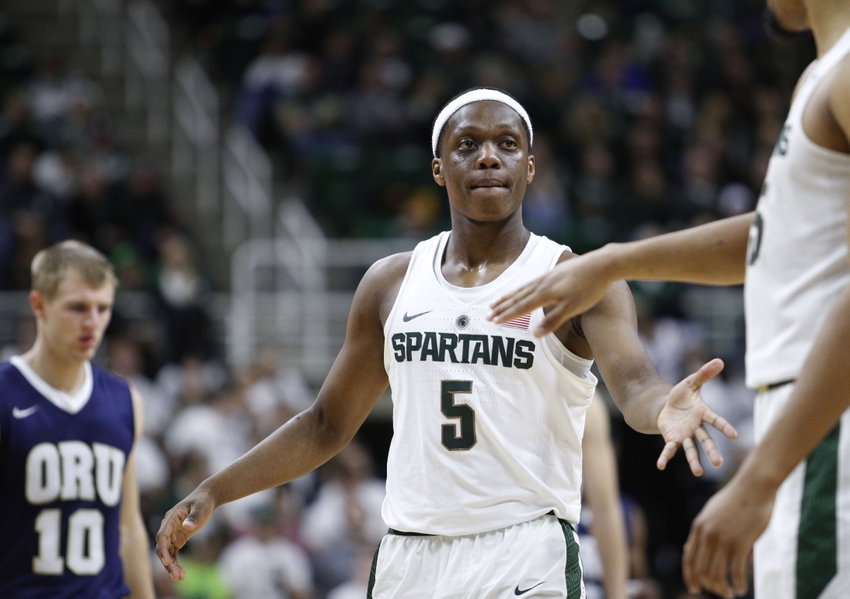 Michigan State basketball is entering a crucial month of December and here are five bold predictions.
The month of December is more important for Michigan State basketball than people truly understand. The Spartans are currently playing without three big men who went down with injuries and this is the time for them to prove they can win without depth in the post.
Miles Bridges was the latest to go down with an injury and that hurts big time. The freshman sensation has been the Spartans do-everything player this season and he will be out for at least 2-3 weeks, according to Tom Izzo.
With Bridges, Gavin Schilling and Ben Carter all on the mend, the Spartans face a slate of medial non-conference foes as well as Minnesota, on the road, and Northwestern at home to finish off the month.
Let's take a look at the bold predictions we came up with for Michigan State basketball in the month of December.
5. Gavin Schilling makes progress
Tom Izzo made a statement last week that he's not entirely sure that Gavin Schilling will return this season. And if that's the case, the Spartans could use a medical redshirt on him to bring Schilling back for 2017-18.
I don't see him missing the entire year, though. The lack of depth in the post has been a real issue this year and Izzo will notice his team fatiguing, progressively, because of it.
While it would make sense to just redshirt him and bring him back next year if he's not ready to go until mid-to-late January, there's a chance his minutes wouldn't even be worth it next season. Michigan State needs help this year more than ever, whether it's in January or even February with a grueling Big Ten schedule.
Also, there are at least two big men coming in with next year's recruiting class — possibly three, pending the decision of five-star center Brandon McCoy.
Schilling is going to make some major progress this month and work his way back into playing shape. I'd be surprised if he missed the entire season.
4. Miles Bridges returns by Oakland game better than before
Not having Miles Bridges to rely on is something Michigan State is still getting used to. Even Cassius Winston stated that everyone has to be on top of their game that much more knowing that he isn't there to bail them out.
Izzo stated that he will likely be out 2-3 weeks with a sore ankle, and that was a couple of days ago. In my opinion, he will be back, at the latest, by the Oakland game on Dec. 21 in East Lansing. You can tell it's killing this kid to watch his team and knowing that he can't be out there with them.
According to Jeremy Warnemuende of 247Sports, Izzo has spoken to Bridges about the opportunity to take the game in from the bench as a leader.
"When I left, he was still in the locker room, and I told him that this is his chance to be a leader," Izzo said of his star freshman. "This is his chance because you never see it the same from the inside-out as from the outside-in like when you're sitting there, dying to be in there, watching some guys maybe not do what they need to do."
After watching a few weeks of basketball and figuring out the dos and don'ts of the game, Bridges will come back and be better than ever. Is that possible? It's scary to think so, but yes, he can cut down mistakes and make better decisions.
3. Nick Ward averages a double-double
Nick Ward has been a monster in the post for the undersized Spartans this season. The true freshman big man is exceeding expectations and playing like a blue chip recruit. Remember when Caleb Swanigan committed to MSU last year and the expectations were sky-high? Well, Ward is playing like what we once expected out of Swanigan.
The Ohio-native and former four-star recruit is physical and plays much bigger than his 6-foot-8 frame. Sure, he could afford to get in better shape so he can surpass the 20 minutes per game mark, but he just came off a 26-minute performance against Oral Roberts.
There's a striking correlation between increased minutes and increased production for Ward this season. In the five games in which he has played at least 15 minutes, he's averaging 14 points, 6.4 rebounds and 1.6 blocks per game. In the four in which he has failed to reach 15 minutes, he's averaging 9.5 points, 5.5 rebounds and 1.8 blocks.
Sure, it's obvious that the more time he plays, the more production he's going to have, but this just proves that he's never complacent and he's always striving to get better.
During the month of December, he's going to average a double-double, and he's already on his way with a 24-point, 10-rebound performance against Oral Roberts.
2. Cassius Winston cracks starting lineup
Cassius Winston is coming off his best game as a Spartan and, in my opinion, he's just a couple of weeks away from cracking the starting lineup.
According to Jeremy Warnemuende of 247Sports, Winston had a good talk with Izzo the day before the Oral Roberts game and things seemed to click with him.
"I spent two hours in a parking lot with Cassius yesterday; it was awesome," Izzo said. "It was the most fun I had in six months. Just me and him talking in a parking lot, all the workers coming by. It was fun."

For Winston, it was enlightening.

"(Izzo) picked me up from my dorm, and we drove around and just talked in the car about goals in my future, things I need to improve now and where I should be now and where I'm at," Winston said. "All those things really put it in perspective for things I need to do now to accomplish my future goals."
This is the type of thing that can happen before a player truly breaks out and becomes himself at the collegiate level. It seemed like Winston was slowing things down against Oral Roberts, finishing with a career high 15 points and nine assists.
Winston will be in the starting lineup over Tum Tum Nairn by the end of the month. Not knocking Nairn, but Cassius provides more of an offensive spark and Tum Tum would do well coming off the bench.
1. Michigan State goes 7-0
Michigan State has already started the month with a victory, albeit a slim one, against 1-7 Oral Roberts and the Spartans have six games remaining in December. I'd be shocked if this team lost again for the rest of the month even with the shaky performance against Oral Roberts.
Must Read: MSU Recruiting: 5 bold predictions for month of December
In my opinion, the Spartans can only get better. With Bridges out, this team is still figuring out how to score, defend and rebound without him. This is reminiscent of the loss of Denzel Valentine last season around this time. Michigan State had to figure out other scoring options.
That's only going to help the Spartans.
With Bridges out 2-3 weeks, likely back by the Oakland game, the Spartans will win all three of the games without him. He will help engineer a victory in his first game back against the Grizzlies and the Spartans will be 9-4 heading into Big Ten play.
The first game happens to be a tough road contest against Minnesota, but Michigan State will have too much talent for the young Gophers to make up for. While Amir Coffey is the real deal, the Spartans will sneak away with a three-point victory.
After that, it will be Northwestern giving the Spartans a test. Don't be surprised to see this one go down to the wire even though Michigan State is at home. The Wildcats always play Michigan State tough at the Breslin Center.
Michigan State will end the month 7-0 and improve to 11-4 on the year heading into January.
This article originally appeared on