Michigan State Basketball: 3 things we learned vs St. John's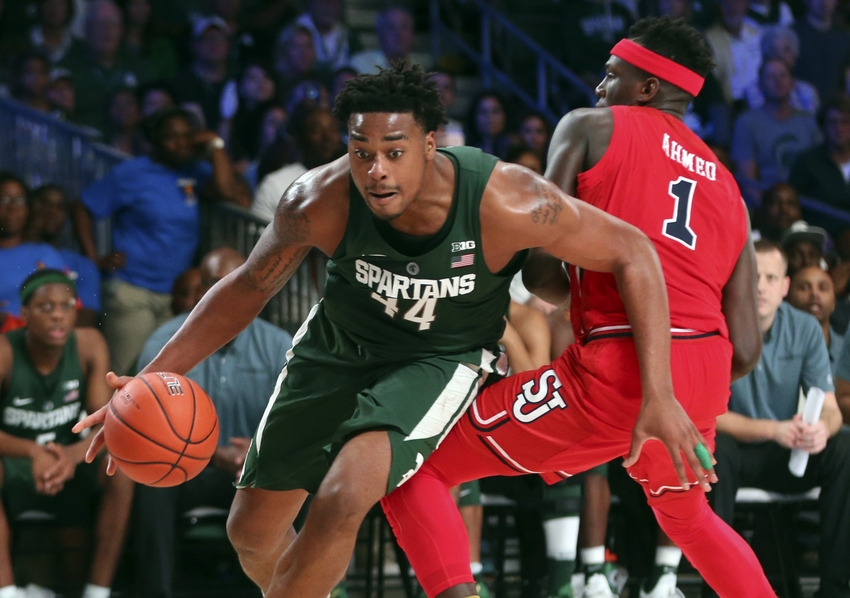 Here are three things we learned from Michigan State basketball's big win over St. John's on Wednesday.

62

73
Rebounding keyed in a big Michigan State basketball victory over St. John's on Wednesday night as the Spartans turned things around after their worst performance on the boards this year. In fact, the Spartans won the battle on the glass, 53-33.
Must Read: MSU Recruiting: 5 bold predictions for November
The Spartans got all of that production on the glass even without much help from Kenny Goins who couldn't get anything going for the second straight game. His struggles to stay out of could trouble and stay effective might lead to a spot on the bench to start games.
St. John's played the Spartans tough for most of the game, but Michigan State pulled away in the final 10 minutes as it asserted its dominance in the talent department.
Here are three things we learned from the victory.
1. Tum Tum Nairn can be a difference-maker
Believe it or not, Tum Tum Nairn can have a huge impact on the game with not only his leadership, but his ability to fire up an offense. His speed can make a difference, and he proved that with his ability to keep St. John's on its toes all game.
Just check out this incredible play he made:
This is the Tum Tum everyone has been wanting to see and it'll be interesting to watch against Baylor on Thursday to see if he returns. The junior point guard can change the game if he wants to be a force on offense. He finished with 13 points and made 3-of-4 three-pointers.
2. Miles Bridges is a man among boys
Is this really a surprise anymore? Miles Bridges continues to be an unstoppable force for the Spartans and he finished with another double-double against the Red Storm on Wednesday. He finished with a game-high 22 points and 14 rebounds. He just looks like a monster on the floor compared to everyone else and he stepped up when Goins was struggling.
3. Nick Ward is blossoming as a star post player
There may not be a bigger surprise for Michigan State this season through five games than freshman big man Nick Ward. If he continues to get better and play as aggressive as he did on Wednesday, he's going to be a starter in no time.
The numbers he put up against St. John's were ridiculous. The impact he had on the game in just 12 minutes was insane. He finished with nine points, 10 rebounds and three blocks in just 12 minutes, which was the same amount of time Matt Van Dyk played. Give this man more minutes.
This article originally appeared on