Michigan State Basketball: 3 things we learned vs. FGCU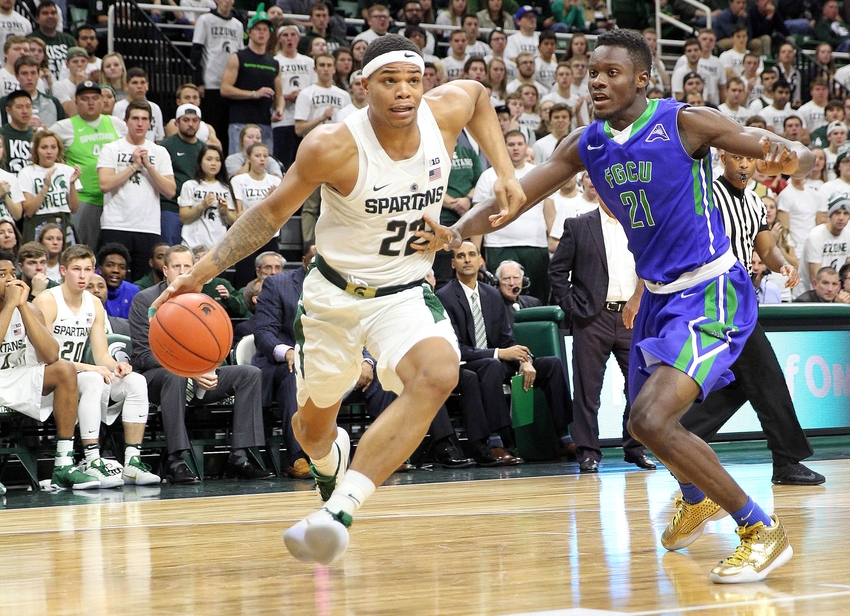 What did we learn about Michigan State basketball from its one-point controversial win over Florida Gulf Coast?
Escaping with a win doesn't even begin to describe what happened to Michigan State basketball on Sunday night at the Breslin Center. One of the ugliest games you'll see a Tom Izzo-coached team play on defense and on the boards, the Spartans really snuck out a win, thanks to some controversial refereeing.
Must Read: MSU Basketball: 5 bold predictions for November
Michigan State had a one-point lead with 1.6 seconds remaining and an official accidentally started the clock via his precision timing belt and the buzzer sounded before a full-court pass was even received by FGCU. The gaffe helped the Spartans come out on top, but the shot was missed anyways.
Overall, it wasn't the ideal performance Izzo was looking for before the Battle 4 Atlantis this week in the Bahamas.
Here are three things we learned from the slim victory.
1. Eron Harris is coming into his own
This was one of the only positives from the game. Michigan State's shooting was impressive, highlighted by senior guard Eron Harris. After a mediocre start to the season, Harris has come on strong over the past two games. He put up 19 points against Mississippi Valley State and then 31 against FGCU.
It could be argued that he was the main reason why the Spartans were actually in the game. In fact, was 6-of-6 from three-point range and 10-of-15 from the field. He turned the ball over just once, but his free throw shooting was inconsistent.
2. Defense, rebounding need major work
How can a team with so much talent and athleticism be so mediocre on the defensive side of the ball and get out-rebounded 41-29? Florida Gulf Coast averaged just 32 rebounds per game coming into this one and it was not particularly strong on the boars. However, the Eagles seemed to grab any offensive board they wanted and it led to plenty of second-chance opportunities.
Defensively, the Spartans were like Swiss cheese for most of the game. Too many easy drives to the basket and the perimeter defense was lackluster, at best. The Spartans got lost on picks and screens too often and that led to open three-point shots. The defense needs to tighten up.
3. Free throws, free throws, free throws
Unbelievable. Michigan State, for about the third straight season, just can't seem to figure out how to make free throws consistently. The Spartans made just 19-of-33 from the line and one of the main culprits of the poor shooting from the charity stripe was Harris. He is an 80 percent shooter normally, but made just 5-of-10. The poor shooting from the line nearly cost the Spartans a win.
This article originally appeared on