Michigan State Basketball: 3 things we learned vs. Arizona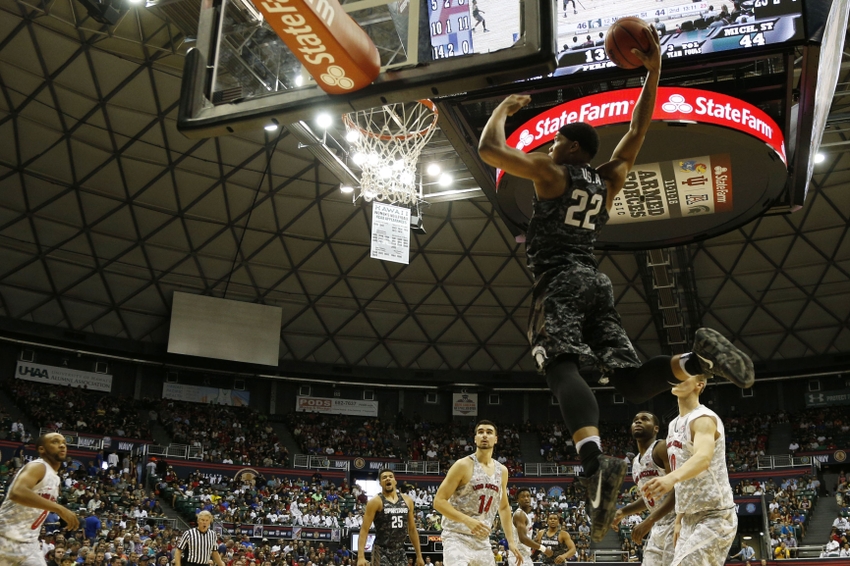 Michigan State basketball opened its season with a loss against No. 10 Arizona on Friday night, and here's what we learned.
Opening the season on Friday night, Michigan State basketball fell just short of an impressive victory against No. 10 Arizona at the Armed Forces Classic in Honolulu, Hawaii. Tom Izzo has his best crop of freshmen ever and he is going to need to make sure they keep growing and getting better.

63

65
Youth was apparent on Friday for both sides as sloppy play reigned supreme. Still, there were some positives for the Spartans and Izzo admitted after the game that they can build on this game.
Surprisingly, the size issue didn't play a key role even though Arizona had four guys on the roster that were taller than anyone healthy Michigan State had. The Spartans and Wildcats were deadlocked at 34 rebounds apiece.
Let's take a look at what else we learned from the game.
1. Miles Bridges is the real deal
Whoa. I mean, this kid is unbelievable and the hype was definitely lived up to in his first real collegiate game. Putting up big numbers against SVSU and Northwood is one thing, but doing it against the 10th-ranked team in the nation is impressive. Just look at this:
Truthfully, the freshman did make some mistakes, turning the ball over four times and taking silly threes, but he was the top performer for either side. He finished with 21 points, seven rebounds, two assists and a steal. Stat sheet stuffer supreme. Oh yeah, and he didn't even play his best game.
2. Eron Harris needs to be more involved
One of the most disappointing aspects of Friday's loss was the lack of involvement from senior guard Eron Harris. He was in some foul trouble, as was most of the team, and played just 20 minutes. He finished with seven points and two rebounds, but his four turnovers and three fouls muddied that stat line. In order for Michigan State to go from a good team to an elite one this season, he will need to be more involved on both sides of the ball.
3. The team has plenty of growing to do
Turnovers, fouls, poor defense, missed free throws, poor shot selection. Jay Bilas even made the comment during the game that the Spartans were playing very young after racing out to that big 17-2 lead. In fact, they allowed a 17-2 run right after and turnovers played a major role in that.
The Spartans are as talented as any team in the country, but they're going to need to mature quickly, and games like this against top-ranked teams will be great for growth.
This article originally appeared on