Michigan Basketball: What To Make Of Performance Against UCLA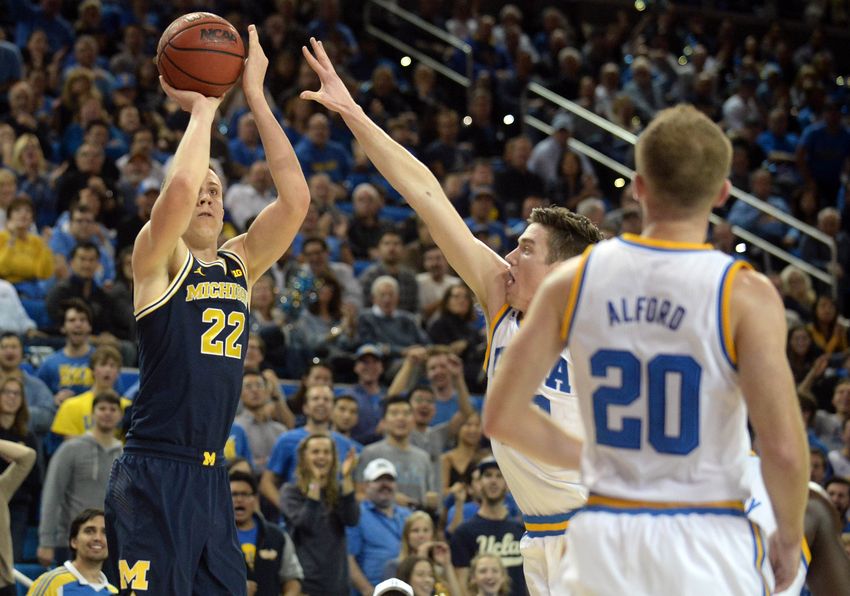 For a little more than 30 minutes on Saturday night, Michigan basketball looked like an unstoppable machine. What does that mean going forward?
It was a hectic Saturday night for people who simultaneously wanted Jabrill Peppers to win the Heisman Trophy and Michigan basketball to upset UCLA on the road.
Neither of those things happened, but they were developing at the same time.
While watching Peppers sit among four of the other best players college football had to offer this season, the Wolverines were on the West Coast taking on what's been one of the most efficient offensive attacks in the country.
Including their 102-84 win over Michigan, the Bruins have an offensive efficiency of 121.3 (No. 3), an effective field goal percentage of 65 percent (No. 1) and a turnover rate of 16 percent (No. 13). On top of all that, no team has a better shooting percentage from inside or outside the 3-point line, where UCLA makes 61.6 and 47.1 percent of its shots, respectively.
That's what Michigan dealt with—and handled—until just under 8 minutes to play in the second half. The Bruins, up 77-72, went on a tear for the remainder of the game, outscoring the Wolverines 25-12.
UCLA Basketball: Bruins drop 102 in victory over Michigan
The individual performances for Michigan were spectacular. Duncan Robinson shot 4 of 8 and had 13 points. Moritz Wagner was an efficient 3 of 4 and had 11 points. Muhammad-Ali Abdur-Rahkman also had 11 points on 4-of-11 shooting. Mark Donnal was a perfect 5 of 5 from the floor (including 2 of 2 from behind the arc) and had 12 points. Zak Irvin led the Wolverines with 18 points on 7-of-14 shooting.
Michigan made 12 3-pointers in a first half that was lightyears beyond what most were expecting from the visitors. Unfortunately for the Wolverines, UCLA also had about as good of a half as can be played, hitting 10 3-pointers of its own.
According to KenPom, when Michigan scored to go up 48-41 late in the first half, it had a 55 percent chance of winning.
The point has been demonstrated: Michigan had a terrific first half, and it was done over 2,200 miles away from home against the No. 2 team in the nation.
UCLA sustained its success—the Bruins shot an even better 74.1 percent in the second half—while the Wolverines withered away, only hitting two more 3-pointers. (Michigan's record for 3-pointers made in a game is 17, which happened last season against Bryant.)
The tempting thing to do here is look at the first half and note how well the Wolverines played against a good team. Perhaps this performance can negate some of the awful things witnessed against Virginia Tech and South Carolina.
There's always that faction of fans that wants John Beilein out as the head coach. As one fan seemed to argue in our Twitter mentions after the game, Michigan not being able to play with UCLA for a full 60 minutes was enough to flip the table and hire someone else.
There's a middle ground between Michigan hovering above itself, playing the basketball of the gods, and saying Beilein needs to be fired. That's probably where Michigan is.
As much as it might hurt to face up to the reality of it, the Wolverines probably aren't going to shoot 12 of 16 in 30 minutes from 3-point land again this season. On the flip side, it's plausible that Michigan will eventually ran out of gas to another quality opponent like Wisconsin or Indiana or Purdue.
It's hard to put a finger on what Michigan's equilibrium is at this point. Just before this game, the Wolverines won a very ugly game against Texas. Then four days later they look like they did against UCLA. The same dramatic swing happened (in reverse order) earlier this season, when Michigan had a strong game against SMU and then shot 7.7 percent from 3 against South Carolina.
This performance against the Bruins did not offer a look at the new and improved Michigan to come. If anything, maybe it was a glimpse at the Wolverines' potential; it just happened to be against a better team.
Michigan isn't 50-points-a-half good, and it's certainly not fire-John-Beilein bad. Ten games into this season, it's literally seen the highest of highs and the lowest of lows, something that may come to pay off down the road.
This article originally appeared on