Michigan Basketball: DJ Wilson stands out thanks to shorts, game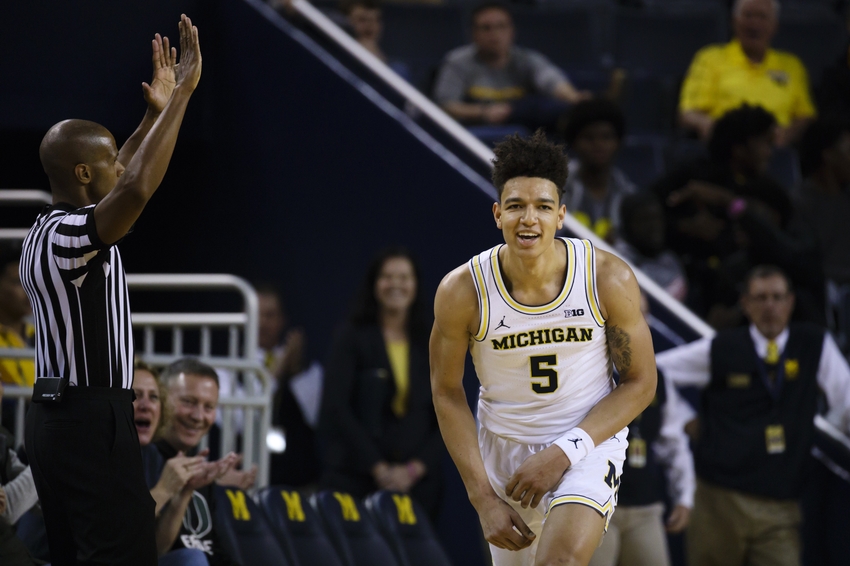 Michigan basketball player D.J. Wilson is turning heads with his shorts and his game.
Michigan basketball's D.J. Wilson has been primed for a breakout year.
Some speculate the change of uniforms has done the big man well. Not only is Michigan basketball now outfitted in Jordan apparel, the forward is going back to basketball's roots with short shorts.
At a school where the Fab Five brought the baggy shorts revolution to college ball, Wilson is now a pioneer in his own right. He doesn't look at as anything special, telling the Detroit Free Press' Mark Snyder: "In my street wear and stuff like that if I wear shorts, I usually wear higher shorts above my knees or whatever." But whether its the shorts or simply opportunity, Wilson is making the most of his junior year.
The former three-star from Sacramento has always been a tantalizing prospect, 6-9 with hair and arms that make him seem exponentially bigger. Michigan fans had been hoping to see the smooth jumper and effortless dunks on display in some of his high school highlight tapes. Wolverine faithful pictured a bigger Glenn Robinson III, one who could also block shots.
Yet in his freshman year, Wilson failed to crack the rotation as the Wolverines plummeted to a 16-16 record. He was an afterthought on a deep bench of young players. This trend continued into his sophomore season, as Wilson sat behind both big men and wing players. His future was uncertain going into the off-season. Then he watched as wings Kameron Chatman and Aubrey Dawkins, along with big man Ricky Doyle, transfer from Michigan. John Beilein had to fall back on his experience, and now Wilson is averaging 28 minutes a game.
In those 28 minutes, Wilson is averaging around 9 points, 11 boards, and 3 blocks.
The points are an added bonus, supplementing the guard heavy attack of Zak Irvin, Derrick Walton, and Muhammad Ali Abdur-Rahkman (averaging 14, 11, and 11 points respectively). Wilson has recently shown an improved three point stroke, though he'll need to work on his sub 30% average.
However, despite the offensive impact, his ability on the other end of the floor is the most noticeable.
A major focus for Beilein in the offseason was improving Michigan's defense, as evidenced by hiring former Wright State coach Billy Donlon.
Wilson is a major part of the overhaul, adding a shot blocking presence Michigan has lacked for the majority of Beilein's tenure. Said Marquette coach Steve Wojciechowski: "He gives them a different dimension for him to protect the rim like he does."
But perhaps most impressive is the number of boards Wilson is swiping down. He snagged 14 against Marquette, the most since human pinball Mitch McGary did it in 2013.
Michigan hasn't had a go to board man since Jordan Morgan, and Wilson's athleticism suggests he will be continue to be a factor on the glass.
Said teammate Zak Irvin: "Fourteen rebounds? That's special. And to get four of those on the offensive end as well, giving us extra possessions, that's huge." Not only will he able to get the boards, it's what he does after collecting that will wow fans:
Michigan plays SMU tonight at 7 on ESPN. Wilson will have to contend with bouncy combo forward Semi Ojeleye, a transfer from Duke who averages 9 boards a game. It will be another chance for Michigan and Wilson to establish themselves on a national stage, with the game held at Madison Square Garden.
This article originally appeared on