Michigan Basketball: Can the Wolverines Hang with UCLA?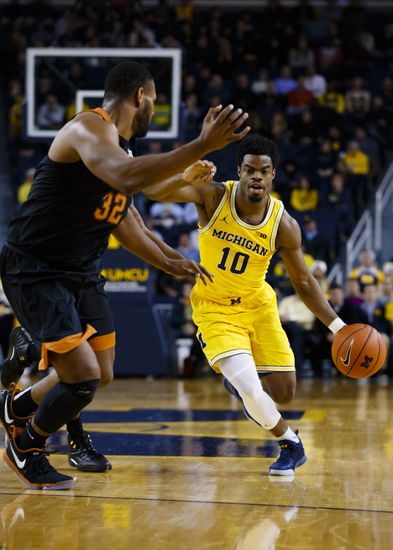 Michigan basketball has beat some quality teams this season, but can the Wolverines hang with the second-ranked UCLA Bruins?
Through nine games, Michigan basketball team has had some ups and downs. The Wolverines have some good wins and ugly losses.
At times, Michigan basketball has looked formidable, like when it cruised to wins over Marquette (No.36) and SMU (44) two teams ranked in the top 50 of the Kenpom rankings.
Yet, the Wolverines also looked bad in a road loss to South Carolina (32), another top-40 team and blew a big lead in another loss to Virginia Tech (35).
On Tuesday, the Wolverines beat Texas (70), another solid team, but didn't look particularly impressive doing it.
So, with the second-ranked UCLA looming Saturday, what does it all mean and can Michigan hang with the Bruins?
For starters, Michigan shouldn't apologize about winning, even if its ugly. The Wolverines have played five top-70 teams and so far, they are 3-2.
That's nothing to be ashamed about. All those wins will help the resume, but as far as determining how good Michigan can be, Saturday's game at Pauley Pavilion will be a better measuring stick.
Michigan Basketball: No Consistent X-Factor This Season
The Bruins are an elite team, especially on offense, where they rank third in the country according to KenPom. Their defense isn't great (96th), but part of that may be due to the fast pace they play at.
Incredibly, UCLA averages 97 points per game and has six, yes six players, who score more than 11 points per game.
Isaac Hamilton, a 6-foot-5 guard, is the leading scorer at 18.3 a game, but he's not the only stellar guard as Lonzo Ball, who averages 14.6 points and 9.3 assists per game joins him. Bryce Alford is also darn good and averages 15.3.
TJ Left, a freshman like Ball, also averages 17.9 points per game and more than nine rebounds inside.
In short, the Bruins are loaded. They have great guards, great athleticism and good play inside. They are also coming off a road win over Kentucky, so right now, they are playing as well as anybody.
Beating UCLA or even keeping it close, will be a challenge for Michigan basketball. But if the Wolverines are who we think they can be, they will be up for it.
Derrick Walton and Zak Irvin, the Wolverines top scorers with both need big games. When they play well, Michigan generally does too.
Ready to make the trek to west coast! Before we do, watch what @JohnBeilein said to beat writers before UCLA game https://t.co/TuF8454BLn

— Michigan Basketball (@umichbball) December 8, 2016
Yet, the Wolverines are also going to need to gigantic efforts from D.J. Wilson and Moritz Wagner inside, as well as some timely shooting from Duncan Robinson.
According to Kenpom, Michigan has been a balanced team, ranking 30th in offense and 34th in defense. But the Wolverines will need to do better than the 69 points a game they've been averaging, if they are going to upset UCLA.
The game may look like a mismatch and in some ways it is. Michigan doesn't have the athletes or the NBA prospects UCLA does. But the Wolverines do have skilled players and a wide-open game like this could bring their offensive talent to the forefront.
The defense, on the other hand, will get a chance to prove that under the direction of Billy Donlon, it really has taken a step forward.
A loss against UCLA wouldn't hurt UM, so really, it's a win-win situation. If the Wolverines win, great. But even in a loss, just by playing an elite team, they can find out a lot about themselves and how good they really are heading into Big-Ten play.
This article originally appeared on