Michigan Basketball: 3 Takeaways From Loss to UCLA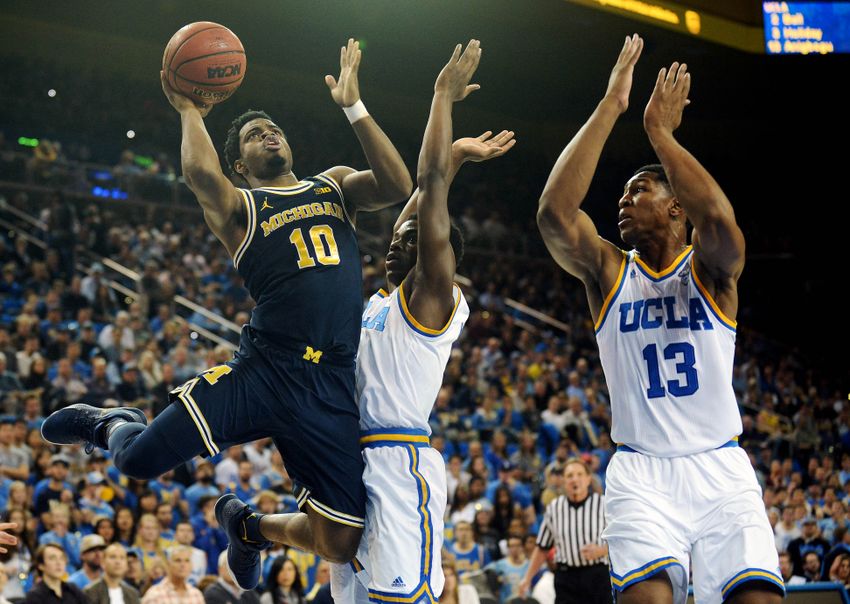 Michigan basketball stayed competitive against No. 2 UCLA for over 30 minutes, but couldn't keep it together down the stretch, eventually losing 102-84. Here's what we took away from the loss.
Losing games is bad. Losing them by 18 is even worse. Falling apart in the second half after a smoking hot first half doesn't help things. A team giving up almost double its average points allowed per game is terrible.
Yet in the aftermath of Michigan basketball's 102-84 loss to the No. 2 UCLA Bruins, it's hard to be too negative. It's about as good as you can feel after an 18-point loss. It still stings and there are definite things to work on, but the game was actually filled with positives for Michigan.
The first half was probably the best half of basketball Michigan's played this season so far. The Wolverines were 12-15 from three, and equally efficient from the inside. They led for the final minutes of the half, before Lonzo Ball made a looooong three-pointer to tie it up going into the break.
Michigan came out a little cold. The Wolverines didn't have the same shooting touch as they did in the first half. They were still good enough to finish up with 50 percent shooting overall and 53.8 percent shooting from behind the arc, but that wasn't enough to overcome perhaps the nation's best offense.
UCLA had a monster game. The Bruins shot a whopping 67.2 percent from the field. They made 15 of 24 three-pointers. If they shot even a little better than 50 percent from the free throw line the game would've been even more out of hand.
If Michigan played like this against South Carolina or Virginia Tech, it would've won those games easily. If it played any game on the schedule like it played tonight, it would be a win probably 90 percent of the time. Against a team like UCLA with such an electrifying offense and tempo, it wasn't good enough.
Here are our takeaways from Michigan's 102-84 loss to UCLA.
Tempo was the key
Quite a few things could've gone better for Michigan in this game. Michigan had some complete defensive breakdowns that opened things up for UCLA. Zak Irvin was mostly "Good Zak Irvin" but he resorted to his trademark heroball on occasion. D.J. Wilson and Moritz Wagner got in foul trouble early in the second half, when the Wolverines needed them most.
If those things were fixed, Michigan still would've lost, because there was one key to winning this game, and it was tempo. Before this game, UCLA was ranked in the top 10 in adjusted tempo. Michigan was (and still is) ranked in the bottom 10.
Michigan does best when it runs its offense, makes shots, and keeps things in half court. The Wolverines like to take their time setting things up. UCLA does not. The Bruins like shoving it down opponents' throats again and again.
The Wolverines aren't built for the kind of tempo UCLA brings to the table. That's why things got so quickly out of hand in the second half. In the first half, things remained in half-court offense for both teams. In the second half, Michigan started missing shots, UCLA would rebound and make quick buckets right away. This tired Michigan out and led to problems in communication and defense.
MAAR had a low key good game
Muhammad-Ali Abdur-Rahkman's stat sheet  didn't reflect how good of a game he had. 11 points on 4-for-11 shooting isn't impressive at all. He didn't grab a lot of rebounds and he only had two assists.
Yet in the second half when things started getting out of reach for Michigan, Abdur-Rahkman was the reason why the score remained within 10. Of the guards on this team, he's probably the most consistent at getting to the rim well. It didn't always end up in points for him, but it kept the offense flowing when shooting started to get cold.
MAAR plays confident and with energy even thought he's not the biggest guy on the court. He goes harder to the basket than any of the other guards or wings, even those that have a considerable size advantage. Outside of the bigs, this is the man you want getting penetration on offense.
Irvin was probably the biggest highlight for the Wolverines with his hot shooting, but don't sleep on Rahk to keep the team alive when it needs it.
Beilein is still the answer
This conversation seems to happen after every Michigan loss (and even after some wins). After struggling in the aftermath of the Final Four and Elite Eight teams, John Beilein has come under fire quite a bit for the job he is doing with this team.
Many of the criticisms are fair. While it hasn't been as prevalent this season, the Beilein "auto-bench" has gotten the team in unnecessary trouble in the past. Beilein's teams struggle often defensively. For better or worse, his teams often live and die by the three-pointer. He gets flack for not getting top recruits.
Yet at this point in time, there's no better answer for Michigan. Beilein is still a heck of a coach who's been successful, and he often makes the most with whatever he's given. He's still the guy who took Michigan from those awful Amaker teams to the Final Four.
Michigan under Beilein doesn't recruit like Kentucky, Duke or Kansas. It likely never will, and there are reasons for that, whether it be pedigree of program, likelihood of winning a championship or recruiting techniques that might be in a bit more of a grey area than Beilein likes to do things.
The defensive issues are being addressed with the addition of Billy Donlon to the coaching staff. Even in a game like this where Michigan allowed 100+ points, it was more because of the exceptional shooting of UCLA than Michigan's defense (though there were occasional breakdowns). Many of the Bruins' shots were just good makes, and they were often contested.
You could point to Beilein's slow offensive pace that cost him tonight being a killer, but that's what's worked best for him. Those Final Four and Elite Eight teams with historically great offenses? That was the same offensive system, with the same slow pace.
Finally, there's just not an answer that would improve Michigan right now. If there's a hot coaching prospect, Michigan's not the most ideal destination. The basketball program just doesn't have the national appeal as the football program does. The hoops equivalent of Jim Harbaugh isn't walking through that door. If Michigan gets rid of Beilein, they're likely taking a chance on somebody that is significantly less proven. That could be disastrous.
Michigan has its flaws with Beilein, but kicking him to the curb is not the answer. I understand that we want to be contenders now, but college basketball is a fickle game and sometimes getting back to success takes patience and trust in a coach. Beilein is a coach you can trust.
This article originally appeared on