Miami Hurricanes vs Penn Quakers Hoops Game Info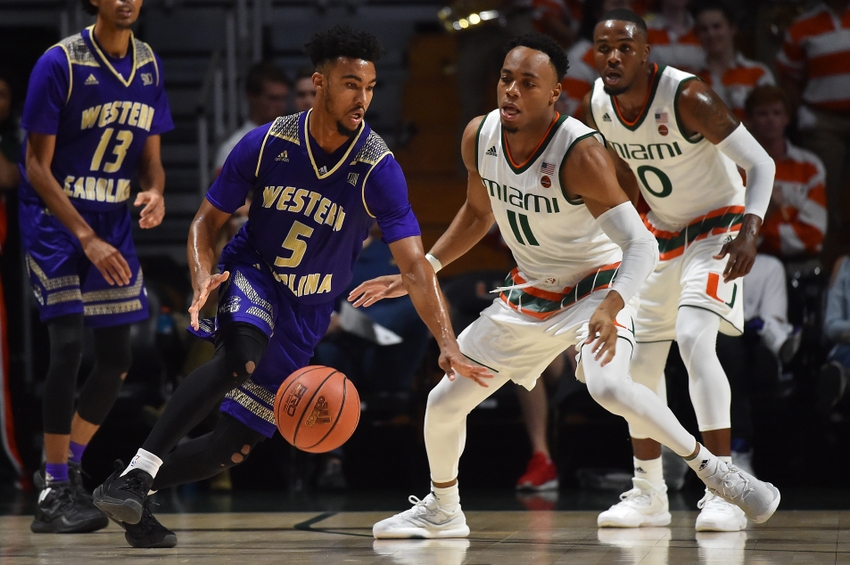 The Miami Hurricanes return home after a resounding 94-56 victory at North Florida Wednesday to host the Penn Quakers. Penn won their opener 67-50 at Robert Morris and is 1-0 on the season.
The Hurricanes have been dominant through their first two games as they prepare for Stanford and the Advocare Classic that begins in Orlando on Thanksgiving. They have averaged 93 points per game in their first two games and have given up an average of 49.5 points per game.
The Hurricanes have had five players in double figures in each of their last two games. Five players average double figures and eight average at least seven points per game. Ja'Quan Newton leads the way at 14.5 points per game. Freshman Dewan Huell has been outstanding at 14.0 PPG and 7.5 RPG.
Miami's defense has been exceptional through the first two games. They are in the top ten nationally in several defensive categories. Their 49.5 points per game allowed rank fourth nationally and their 29.7 field goal percentage allowed is sixth.
Today's game in the ninth all-time between Miami and Penn. The Hurricanes have won five of the previous eight games and are 2-0 since reinstating basketball in 1985. The last time Penn beat Miami was a 67-54 victory in 1953. The most recent meeting was an 88-62 Miami win in 2008.
This is also the ninth career meeting between Miami Head Coach Jim Larranaga  and Penn Head Coach Steve Donahue. Larranaga and the Hurricanes were 8-0 against Donahue when he was at Boston College. This is Donahue's second season at Penn. The Quakers were 11-17 last season.
The Quakers have their own Freshman up front who has been productive. A.J. Brodeur, a 6'8 Forward scored 23 points and had 11 rebounds in his first college game. He is the first Penn player to have a double-double in his collegiate debut.
Senior Guard Matt Howard is the Quakers leading returning scorer from a season ago. He had 15 points and ten rebounds in the opener. He was 2-4 on his three-point attempts, but just 3-8 from the free throw line. Brodeur and Howard were the only Quakers in double figures. Sophomores Jackson Donahue and Max Rothschild chipped in with eight apiece.
Penn is an experienced team. They return 78.8 percent of their scoring from last season. The Quakers were picked fourth in the Ivy League preseason poll.
The Quakers defense played well against Robert Morris. The Colonials shot 34.1 percent from the floor and 17.6 percent on threes. Penn outrebounded Robert Morris 44-26. The Quakers offense was efficient inside the arc, shooting 56.8 percent, they made only five of 18 threes.
The Quakers have had moderate success against the ACC with a 65-94 all-time record. Their last win against an ACC school was 15 years ago today at Georgia Tech. One of the biggest wins in school history was an upset of number one seed North Carolina in the 1979 NCAA Tournament.
Game Information
SETTING THE SCENE DATE Saturday, Nov. 19, 2016 TIME 4 p.m. LOCATION Watsco Center | Coral Gables, Fla.
MIAMI HURRICANES (2-0)
Head Coach: Jim Larrañaga 2013 & 2016 ACC Coach of the Year Record at Miami: 120-57, sixth season ACC Record at Miami: 54-34 Career Record: 590-391, 33rd season Alma Mater: Providence, 1971
PENN QUAKERS (1-0) Head Coach: Steve Donahue Alma Mater: Ursinus '84 Record at UNF: 12-17, second season Career Record: 212-231, 16th season vs.
BROADCASTS Television: None. Radio: 1360 WKAT / 99.9 FM HD2 – Kevin Rogers Online: ACC Network Extra – Ted Sarandis and Mike Jarvis, Jr.
SERIES All-time: Miami leads 5-3 Under Coach Larrañaga: 0-0 Home: 4-3 Away: 0-0 Neutral: 1-0 Last matchup: Jan. 2, 2008. Miami won, 88-62. Coach L all-time vs. Penn: 0-0 POLLS Miami – AP: RV USA Today: RV Penn – AP: NR USA Today: NR
This article originally appeared on