Miami Hurricanes Host Rutgers in Big Ten-ACC Challenge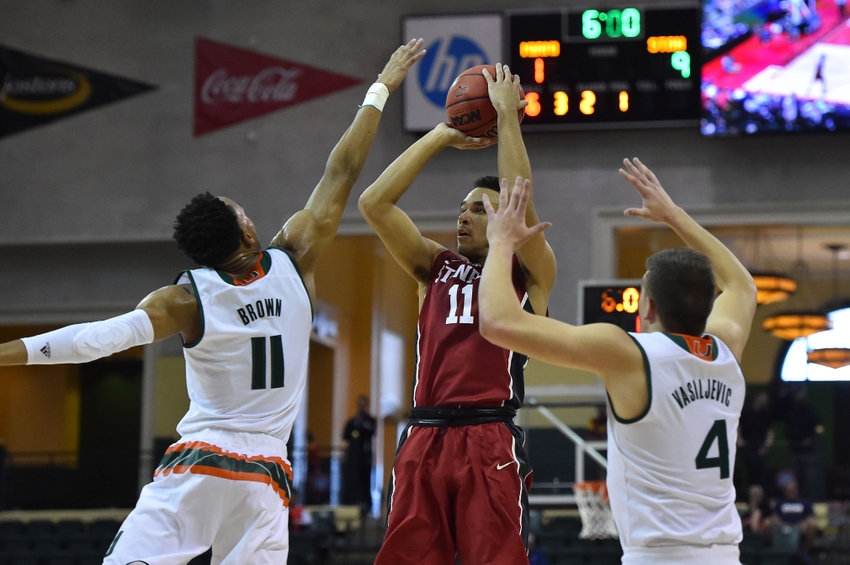 The Miami Hurricanes will host the Rutgers Scarlet Knights Wednesday night in the Big Ten ACC Challenge. The Hurricanes have a 4-5 record in the Challenge, including 3-1 at home.
Miami and Rutgers have played 14 times, with the Hurricanes holding a 9-5 advantage. Their last meeting occurred in 2011 with Miami winning 72-57 at home. The Hurricanes and Scarlet Knights were both members of the Big East in Basketball from 1995-2004. Miami won seven of their ten Big East meetings. The Hurricanes have won all five meetings in Miami.
The Hurricanes are coming off a fourth place finish in the Advocare Invitational in Orlando. The 'Canes won their opening game in Orlando, 67-53 over Stanford. Their offense took a nose dive in losses to Iowa State and Florida to conclude the tournament.
The Hurricanes scored 56 points in the two losses and shot below 40 percent from the floor and 30 percent on threes against the Cyclones and Gators.
Ja'Quan Newton has been the Hurricanes most consistent player offensive this season. He is the only player that has scored in double figures in all six games. The Junior combo/point guard is averaging 17.2 Points Per Game, three rebounds and three assists per game. He is shooting 50 percent from the floor, 74.1 percent from the line and has an effective field goal percentage of 50.7 percent.
Newton and Senior Wing Davon Reed are the only Hurricanes averaging in double figures. Reed is averaging 11.7 Points and 4.3 rebounds per game. He has struggled from the floor with a 34.4 percent shooting percentage and 32.3 percent on his threes. That's significantly below his career averages of 45.5 and 38.7 percent.
Freshman D.J. Vasiljevic who got off to a blazing start, struggled in Orlando. He averaged 11.6 points per game and made nine of his 18 three point attempts in the first three games. In Orlando, he shot one for eight on three point attempts and scored just eight points in the three games.
Kamari Murphy is leading the Hurricanes with nine rebounds per game and is also averaging Six PPG. Freshmen Bruce Brown and Dewan Huell have also contributed significantly.
Huell contributes 9.5 PPG, 5.3 RPG and is shooting 59 percent from the floor. Brown had been the Hurricanes most versatile player His is averaging 9.3 PPG, 6.0 RPG, 2.3 assists per game and 1.5 steals per game.
Polls
Miami – AP: NR / USA Today: RV / KenPom: 28
Rutgers – AP: RV / USA Today: NR / KenPom: 165
The Hurricanes have been listed among others receiving votes throughout the season. They began the season "ranked" 29th or fourth among other receiving votes. They receiving only four points in this week's USA Today coaching poll, but did not receive any votes in the AP Media Poll.
Rutgers
At 5-0, Rutgers received one point in this week's AP Poll. Due to their strength of schedule, the Hurricanes are 28th in the Ken Pom Ratings. Rutgers only win over a team from one of College Basketball's Power Six Conferences was at DePaul.
Rutgers Head Coach Steve Pikiell is in his first year after 11 seasons with Stony Brook in the American East Conference. Pikiell build the Sea Wolves into an AEC Power. After a 20-67 record in his first three seasons at Stony Brook, he finished with a 192-156 record there.
The Scarlet Knights have received excellent balance offensively this season. Junior DeShawn Freeman leads Rutgers in scoring at 12.8 PPG. Two other players average in double figures, and five average nine or more.
The ACC / Big Ten Challenge
The Hurricanes have won their last two meetings in the ACC-Big Ten Challenge. The 'Canes won 77-72 in overtime last season at Nebraska and defeated number 24 Illinois 70-61 at home in 2014.
Miami has won three of their last four overall in the Challenge. They won 60-49 over Nebraska in 2013 and had their biggest win in the Challenge when they defeated Number 13 Michigan State 67-59 in 2012. Their victories over Illinois and MSU are their only ones over ranked teams in the Challenge.
Game and Broadcast Information:
MIAMI HURRICANES (4-2)
Head Coach: Jim Larrañaga 2013 & 2016 ACC Coach of the Year Record at Miami: 122-59, sixth season ACC Record at Miami: 54-34 Career Record: 592-393, 33rd season
RUTGERS SCARLET KNIGHTS (5-0)
Head Coach: Steve Pikiell Alma Mater: UConn '90 Record at Rutgers: 6-0, first season Career Record: 198-156, 12th season
SETTING THE SCENE DATE Wednesday, Nov. 30, 2016 TIME 7 p.m. LOCATION Watsco Center | Coral Gables, Fla. | ACC-Big Ten Challenge
BROADCASTS
Television: ESPNU – Mark Jones, Cory Alexander
Radio: 560 WQAM – Joe Zagacki Online: Watch ESPN 
Next Game: Saturday December 3 at 5:30 against Wofford in the Hoophall Miami Invitational at America Airlines Arena
More from Canes Warning
This article originally appeared on