Miami Hurricanes Have a Chance to Make Statement At Advocare Invitational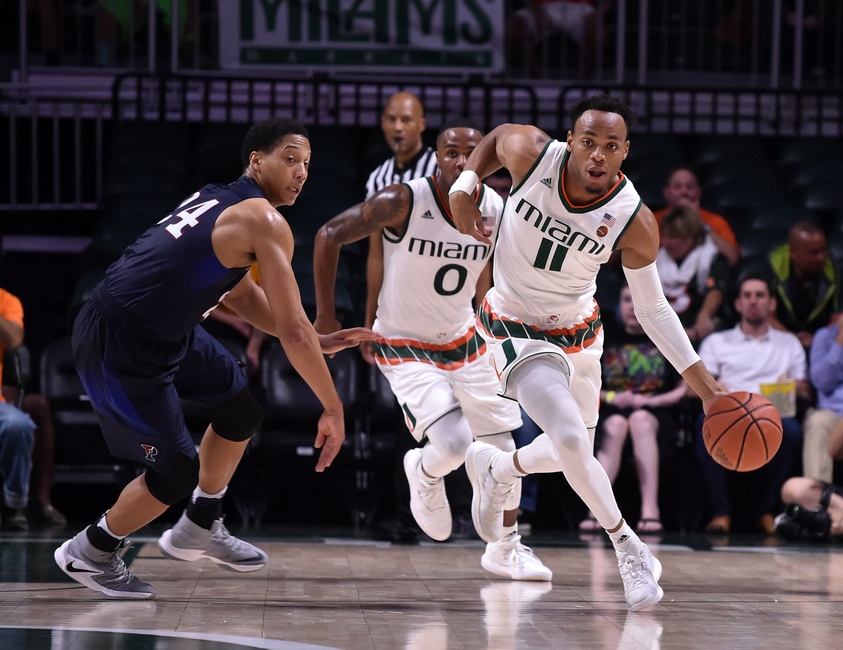 After three relatively easy and not very challenging wins to begin the season, the Miami Hurricanes have a chance to get some impact wins at the Advocare Invitational that commences Thursday in Orlando.
Miami opens with the Tournament with Stanford on Thanksgiving day. The game is a rematch of the 2015 NIT Championship game. The Cardinal defeated the Hurricanes 66-64 in overtime to capture the NIT title.
This will be the Cardinal and Hurricanes fourth meeting with Stanford holding a 2-1 series advantage. Jim Larranaga and the Hurricanes will be facing Stanford's first year Head Coach Jerod Haase for the first time. Haase spent the previous four seasons at Alabama-Birmingham.
Haase was 80-53 in four years in Birmingham. They improved their record each season. The Blazers won the Conference USA Tournament Title in 2015 to earn an NCAA Tournament Berth and the regular season title last year. They lost to Brigham Young in the first round of the NIT last season.
The Hurricanes travel to Orlando after convincing wins over Western Carolina, North Florida and Penn to begin the season. The 'Canes led Penn 28-23 at Halftime, before pulling away in the second half to a 76-64 victory. They led the Quakers by as many as 20 points in the second half.
Live Feed

advocare invitational
Miami has used outstanding balance and exceptional defense to start the season 3-0. The Hurricanes are in the top ten nationally in eight defensive categories. They rank eighth in field goal percentage defense and points allowed. Teams shoot 32.6 percent from the floor and have given up 151 points. The 'Canes 53.7 points per game allowed is sixth nationally.
The Hurricanes balance has been important offensively. Four players average in double figures and three more average at least nine points per game. Point Guard Ja'Quan Newton leads the team with 15.7 points per game and 4.0 assists per game.
Miami's freshmen have made a huge impact. They have contributed 56.2 percent of Miami's scoring in the first three games. Starting Center Ebuka Izundu missed Saturday's game against Penn and he is listed as questionable for Thursday. Freshman Guard Bruce Brown started in his place against the Quakers.
Izundu's absence will also mean more playing time up front for freshmen Dewan Huell and Rodney Miller. Huell has been sensational early in his career. The five star recruit is averaging 13.0 PPG and 6.7 RPG. He is shooting 66.7 percent from the floor, 100 percent from the line and has 10 offensive rebounds.
Stanford travels to Orlando 4-0 after victories over Harvard in Shanghai, Cal State Northridge, Weber State and Colorado State. The Cardinal has also relied on its defense. Teams shoot 34.4 percent from the floor and 23.1 percent on threes. That ranks 13th and 53rd nationally.
Junior Forward Reid Travis leads the Cardinal attack. He is averaging 19.0 ppg, 10.5 rpg and shoots 59 percent from the floor. Junior wing Dorian Pickens is the only other Cardinal to average double figures at 13.3 PPG and he is making 50 percent of his three point attempts.
Game Information
Date: Thursday, Nov. 24, 2016
Time: 2:30 p.m. EST
Location: HP Field House | Orlando, Fla. | AdvoCare Invitational
Broadcasts
Television: ESPN2 – Roy Philpott and Tim Welsh
Radio: 560 WQAM – Joe Zagacki Sirius/XM/Internet: 81
Online: Watch ESPN
Series
All-time: Miami trails, 2-1
Since rebirth in 1985-86: 1-2
Home: 0-0
Away: 0-1
Neutral: 1-1
Last Matchup: April 2, 2015. Miami lost 66-64 (OT). Championship game of NIT
Under Coach Larrañaga: 0-1
Coach L all-time vs. Stanford: 0-1
Tournament Bracket
The Advocare Invitational is an eight team tournament. Iowa State and Indiana State share the same side of the bracket as the Hurricanes and Cardinal. The other side of the bracket features night games. Gonzaga will face Quinnipiac and Seton Hall and Florida will finish the first day of play.
The Hurricanes potentially have some big chances to boost their NCAA resume with wins in Orlando. A win over Stanford followed by a likely match-up with Iowa State and then either Gonzaga or the Gators would go a long way towards helping their profile come March. Miami's next game will be Friday at either 11am or 1pm.
This article originally appeared on