Miami Hurricanes Drop to an 8 Seed in Latest Bracket Matrix Ratings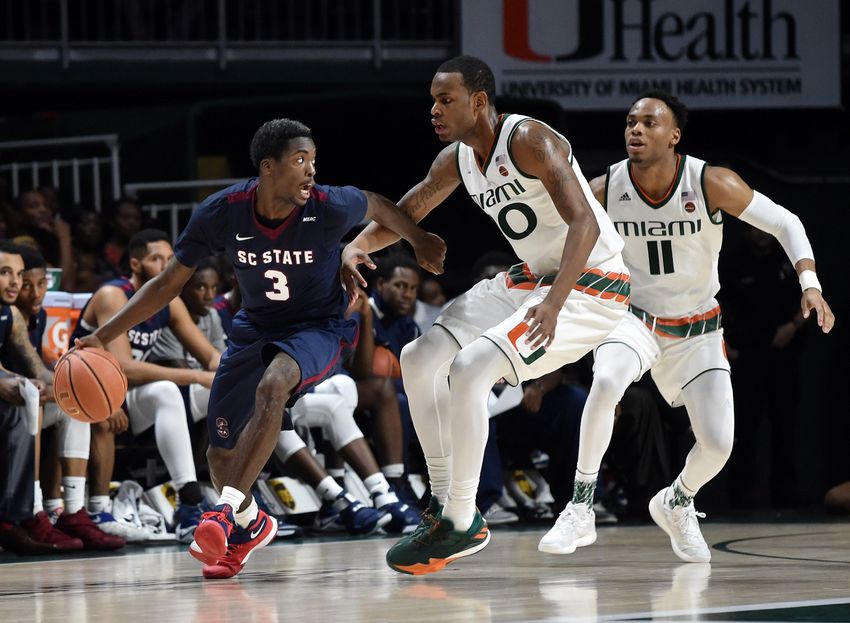 The Miami Hurricanes have dropped from a seven seed to an eight in the latest NCAA Tournament Consensus Bracket Projections according to the Bracket Matrix.
The Matrix defines itself as "The Bracket Matrix tries to collect most Bracketologists' opinions of how the NCAA Men's Basketball tournament bracket will look like each year.  This page measures how closely each Bracketologist matched the work of the selection committee. This emphasizes seeding as much as picking the correct teams in the field."
Half of the Bracket sites have posted updates in the past week. The most recent update via the Matrix is December 3, but some of the sites have more recent update if you go directly to their webpage.
The Hurricanes highest ranking is a fifth seed by the website the All Important Charlie Power and they are left out of the NCAA Tournament entirely by four different sites. Power has not updated his site since November 26. That was before Miami's loss to Florida at the Advocare Invitational.
ESPN's eminent Bracketologist Joe Lundardi's most recent Bracket was posted December 8. He has the Hurricanes as an ninth seed in the East against Rhode Island. He has a possible rematch of last year's Sweet 16 game waiting with Villanova in the second round.
Canes Warning's partner site Busting Brackets has the 'Canes as an eight seed playing USC with the winner of Kansas and UC Irvine awaiting in the second round.
Miami's last three games before they start ACC Play on December 31 when they host North Carolina State are critical.  The Hurricanes close their non-conference schedule against Florida Atlantic, George Washington and Columbia. Losses in any of those games could potentially be devastating.
The 'Canes are currently 86th in the RPI. That was an improvement from 90th. A loss in anyone of the last three non-conference games would drop them significantly. George Washington and Columbia and FAU rank 152, 236 and 242 in the RPI rankings. The Hurricanes need to keep status quo as much as possible before conference play opens in three weeks.
Florida is listed as a five and Iowa State a six seed in the Matrix. The Gators and Cyclones are the only teams on Miami's non-conference schedule projected to be in the NCAA Tournament field. They are going to have some work to do once conference play starts. If they enter the ACC 10-2 like they should, they would be a good place to begin.
This article originally appeared on