Miami Hurricanes Change Bank United to Watsco Center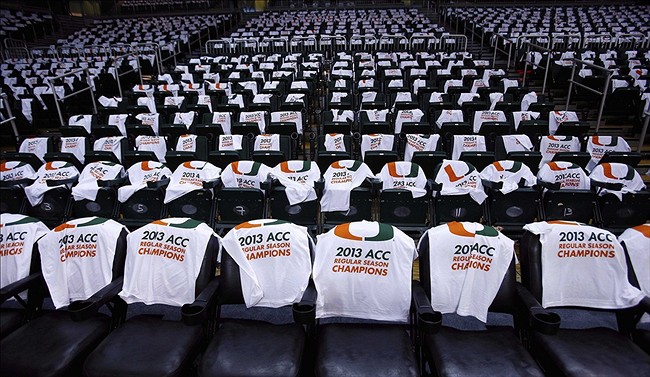 The Miami Hurricanes have announced a new naming rights deal with Miami-based HVAC company Watsco for the school's arena, formerly known as the Bank United Center.
The Arena has been known as the Bank United Center since it opened in 2003 at a cost of $48 million. There has been no indication about the length or cost of the naming rights.
Watsco is a multi-national HVAC distribution company with locations in the United States, Mexico, Puerto Rico and Canada, with exports to Latin America and the Carribean. It was founded in the 1950's and is currently owned Albert Nahmad who bought the company in 1972.
Watsco has been involved with the University since the early 1990's. Their "Watsco's Kids Program" has provided "free access to the performing arts, sports, and other University events" The new naming rights deal will allow the school to make significant upgrades for the Men's and Women's basketball programs.
Head Coach Jim Larranaga told reporters that the upgrades will be completed in two phases. The first phase is $1.7 million and is expected to be completed November 2. Phase two construction will begin after the basketball season is complete. Larranaga had the vision of the upgrades when he was hired and credited Athletic Director Blake James for getting it done.
Want your voice heard? Join the Canes Warning team!
Speaking to  Canesport Coach Jim Larranaga compared the Watsco Center to Delano and other arenas to the Ritz Carlton:
"In the ACC we have some programs that are like the Four Seasons, the Ritz-Carlton…We're more like the Delano, that boutique place. A small private school, beautiful location, a great environment, very different than a large state university that has all the bells and whistles, facilities, 20,000 seat arena."
Canesport is also reporting that new images and graphics will refurbish the practice facility hallways and they will add a players lounge with a gaming center, couches, TVs and a barbershop. The locker room will undergo significant upgrades that will include a new sounds system and custom lockers.
More from Canes Warning
This article originally appeared on