Men's Tennessee Basketball: Three Takeaways from Vols' Exhibition Win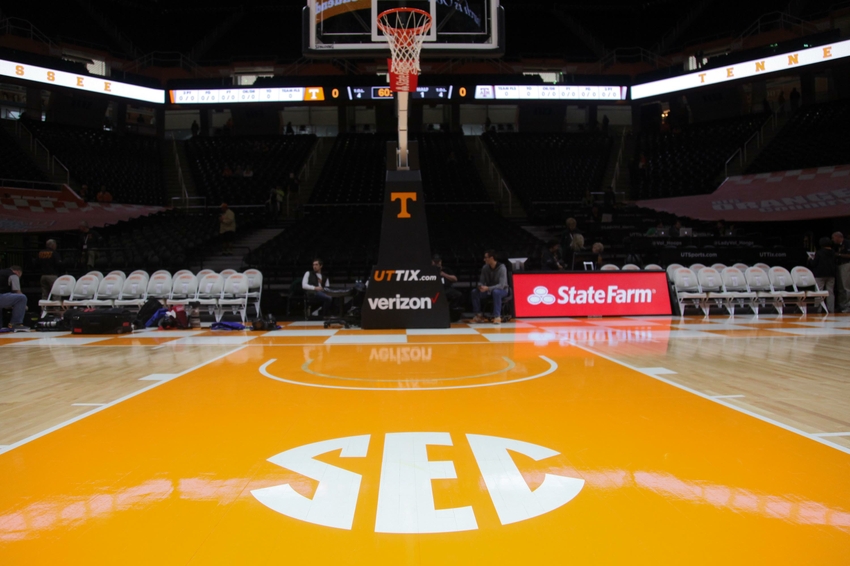 Tennessee basketball defeated Slippery Rock 83-48 in an exhibition game. Here are three things we learned from the Volunteers' victory.
With eight new guys, Rick Barnes's second Tennessee basketball team took the court for the first time Thursday night in an exhibition game against Slippery Rock at Thompson-Boling Arena.
And in the process, the Vols were on cruise control as they scored an 83-48 win against their opponent.
Every newcomer saw quite a bit of action. It was nice to see those new faces and other familiar ones on the court for the first time this year.
Overall, Barnes gave playing time to all 16 players on the roster. It's hard to take too much from an exhibition game, but the Vols did provide a few glimpses of the type of regular season team they'll have.
Here are three things we learned from their victory.
1. Robert Hubbs III finally seems ready for that next step.
Barnes made sure to substitute in and out as much as possible, but when Robert Hubbs III was in the game, he finally looked like the five-star recruit we expected him to be three years ago. Now a senior, he is playing in a system where he looks comfortable, and on Thursday he scored 14 points.
Going 3-4 from the field was one thing. But Hubbs also got to the foul line a lot and went 8-8 on free throws. Doing that in just 11 minutes highlights a new level of aggression that we've been looking for from him. Perhaps he'll finally show it this year.
2. Inside scoring is still an issue.
We knew that the loss of Armani Moore would be an issue. And Admiral Schofield looked decent replacing him, scoring 8 points on 3-5 shooting. But his scoring came from the high post a lot. Meanwhile, the two true bigs on the Vols, Kyle Alexander and Lew Evans, looked mediocre at best.
Alexander did score 5, all on made free throws, and showed a healthy level of aggression. But for the most part, the inside game was nonexistent. The two guys only got six rebounds combined. Barnes needs more help there than he had last year, so that'll have to improve.
3. Defense looks dominant.
Now this was the fun part to watch Thursday night. The Vols were disruptive all game and put on a show for the few fans in attendance. Slippery Rock could never get in a rhythm all night and was highly inefficient.
Tennessee forced 30 turnovers and scored 44 points off of them. Meanwhile, Slippery Rock only had four assists. When you cause 30 turnovers and allow only four assists, you were clearly very disruptive on the perimeter. They also blocked 13 shots in total, keeping anything from happening inside the lane. If this stays consistent all year, Tennessee basketball could be in great shape.
4. Point guard play is looks questionable.
It's just one game, but Rick Barnes still has to figure out his rotation. Jordan Bone was a great scorer with 11 points in 13 minutes, but he had no assists and three turnovers. Kwe Parker only had 2 points, but he had four assists and only one turnover.
Meanwhile, Lamonte Turner, the guy everybody expects to be the star here, was highly inconsistent all game, going 2-6 from the field for 6 points and having no assists and one turnover. The Vols have got to find that consistent guy on offense to keep everybody together, and it'll likely be one of those three players. Unfortunately, they learned nothing about them Thursday.
5. This will be another year of aggressive quickness for the Vols.
If you saw the Vols' suffocating defense, you knew immediately this team would rely on athleticism all year. Rick Barnes focused solely on recruiting quick players who could score off the drive and play suffocating defense.
Adding that to the guys he already has, Barnes will once again be employing that up-tempo system that keeps games chaotic. But he certainly seems to have the personnel this year to be able to do it. So once again, even if the Vols don't make any postseason tournament, they should be fun to watch.
More from All for Tennessee
This article originally appeared on