Creighton guard Maurice Watson suffers knee injury in win over Xavier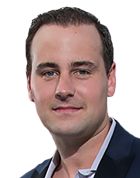 Creighton guard Maurice Watson went down with a knee injury in Creighton's 72-67 win over Xavier on Monday.
Watson, the nation's leader in assists, banged knees with a Xavier player and left the game, only to return minutes later. Shortly after coming back, Watson scored on a crafty lay-up, but landed awkwardly and collapsed to the floor.
Watson didn't return after the second fall and said following the game that he heard his knee pop.
"The second one [I did], but when I got to testing there was no structural ligament damage from the trainer, which is a good sign," Watson said to Creighton Athletics after the game. "Right now I got to live in the training room and get back for my team."
Creighton coach Greg McDermott also said postgame that they wouldn't know the extent of the damage until Watson gets a MRI, which won't happen Monday. He'll see a doctor Tuesday.
Watson averages 13.4 points and 8.8 assists for Creighton, which currently sits at 18-1 and 5-1 in the Big East Conference, ranked No. 7 in the nation.