Maui Invitational: UNC takes on Oklahoma State in second round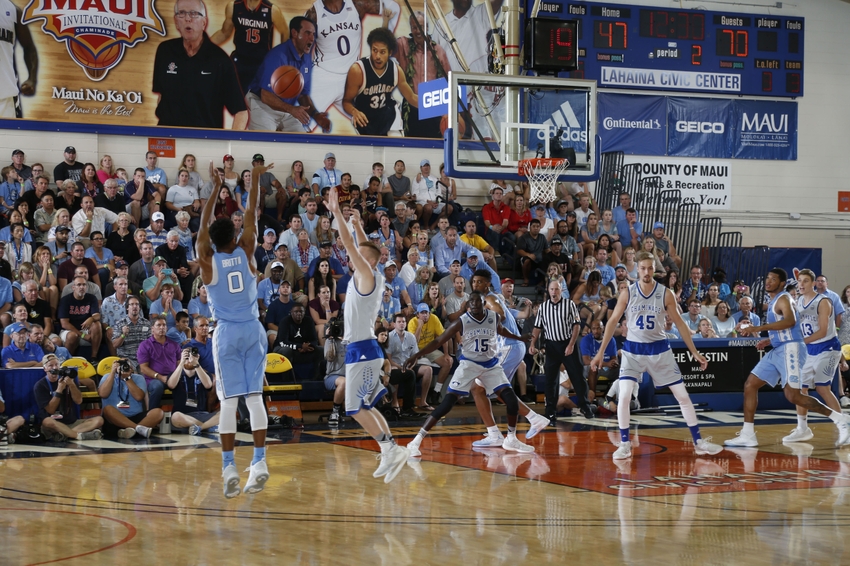 The Oklahoma State Cowboys will be UNC's toughest opponent to date in 2016 and are coming off a nice showing against UCONN
I hope you're not as tired as we are from last night's win over Chaminade.
The North Carolina Tar Heels will be right back on the court less than 24 hours later in Maui as they take on the Oklahoma State Cowboys in the second round. Both teams won their opening games on Monday, with the Tar Heels blowing out the host school.
Oklahoma State took care of a struggling UConn team 98-90 to advance and give the Huskies their third loss on the early season.
The Cowboys will be the Tar Heels toughest matchup to date this season and could give them fits early on.
Guard Jawun Evans can play with any guard in the country and matched Uconn's Jalen Adams by scoring 35 points in the win. Evans was 10-of-26 from the field with six assists and just one turnover for the Cowboys.
While Chaminade tried to rely on the three-pointer early on as they couldn't match up with the Tar Heels size, the Cowboys will take a different approach.
Brad Underwood's team loves to get out and run and will challenge the Tar Heels on the fast break.
Does that sound familiar?
The Tar Heels also love to run and get quick points in transition. This game should be very high scoring with both teams loving to push the ball up the floor.
Oklahoma State is averaging 104.8 points per game this season, a big reason they are out to a 4-0 start. The Tar Heels are averaging 94.4 points per game which is 14th in the country.
Don't count out the three-pointer for the Cowboys either. Phil Forte is shooting 42 percent from beyond the arc, while Jeffery Carroll and Evans have combined to make 12-of-19 attempts.
Head coach Roy Williams knows this quick turnaround game won't be easy.
"We've got a big-time challenge," Williams said. "I told them it's the big leagues tomorrow because Oklahoma State was really, really impressive tonight."
WHAT? Oklahoma State (5-0) vs. UNC (4-0)
WHEN? Tuesday, November  22, at 10:30 p.m. ET
WHERE?  Lahaina, Maui, Hawai'i – Lahaina Civic Center
TV? ESPN. Dan Shulman (play-by-play), Jay Bilas (analyst)
RADIO? Tar Heel Sports Network. Jones Angell (play-by-play), Eric Montross (analyst).
ALL-TIME SERIES? Oklahoma State leads 1-0.
LAST MEETING? Oklahoma A&M def. UNC 43-40 in the NCAA Championship Game.
Check back with Keeping it Heel for postgame coverage and follow us on Twitter for live in-game updates.
More from Keeping It Heel
This article originally appeared on