Maryland Basketball: Terrapins Sneak Past American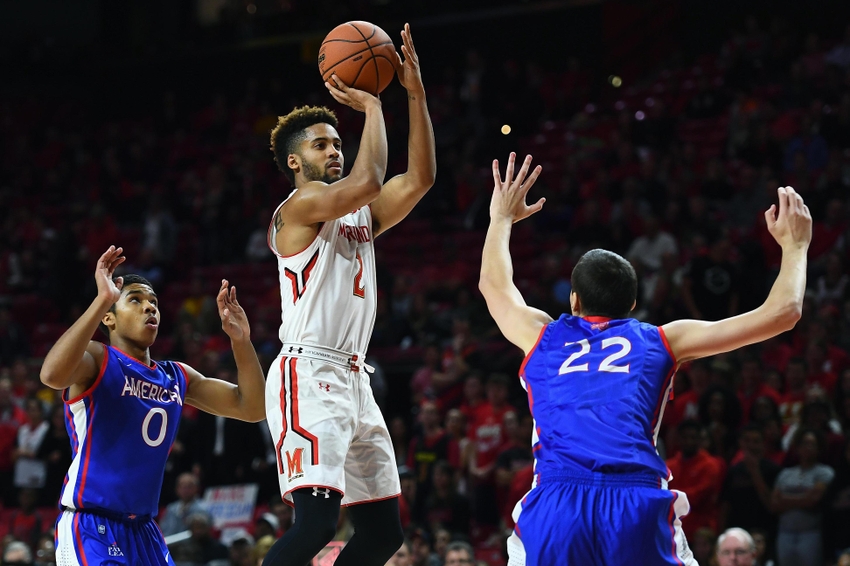 To open up the 2016-17 campaign, the Melo Trimble led Maryland Terrapins were looking to prove their worth against American University.
Trimble is undoubtedly the 25th-ranked Terrapins leader this season, and he took control early. Maryland was able to open up with a 9-4 lead, and Trimble was 4-4 with eight of those nine points.
The game quickly became a struggle, starting with Damonte Dodd, who sat for a majority of the first half due to foul trouble. Dodd played two minutes and was called for two moving screens to put that trouble in perspective.
Maryland constantly found themselves unable to pull away against the Eagles. A game that contained 8 lead changes and 5 ties helped show the positives and negatives.
Freshmen Anthony Cowan and Kevin Huerter both scored key baskets in the second half. Cowan finished with 12 points, including a stretch of 8 in 1:10 of game time. Huerter may have only scored 6 points, but hit a three pointer with 3:03 left to give Maryland some breathing room.
Melo Trimble really proved his place as one of the nation's best finishing with 22 points, 4 assists and 3 rebounds. He really showed that the fearless Trimble from his freshman season has returned. The increase of penetration moves was noticeable in just one game.
The Terrapins face a tough task in their next game, Tuesday November 15th against Georgetown at the Verizon Center.
More from Terrapin Station
This article originally appeared on