Maryland Basketball: Terps sink Seawolves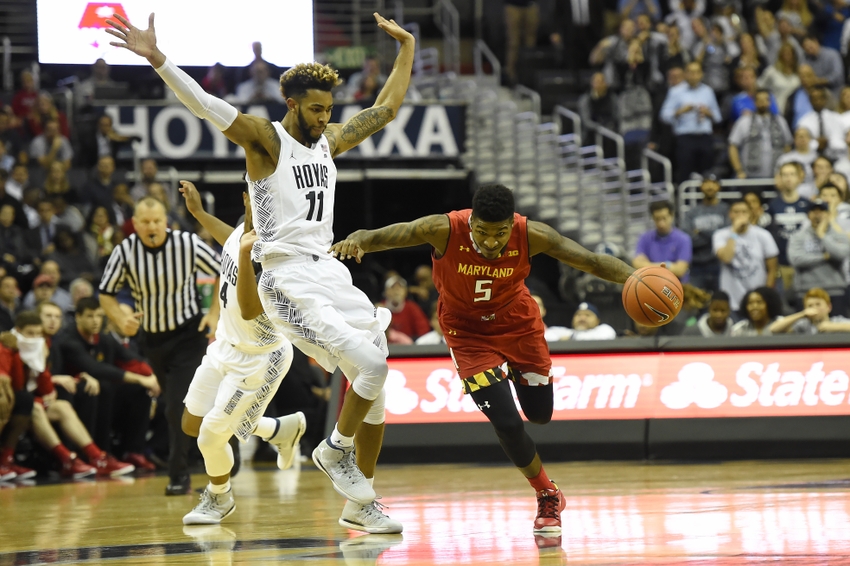 The Maryland basketball team nearly were upset by a very scrappy Towson team on Sunday.
The Terrapins certainly didn't let themselves have a repeat of that performance. In front of a lackluster crowd (14,034), Maryland bounced back with a 77-63 victory over Stony Brook on Tuesday evening.
Melo Trimble continued his high level of play as he scored 21 points (4-of-8 shooting) and grabbed five rebounds for the Terps.
One of the true bright spots was the season debut of forward Michal Cekovsky. The Slovakian big man scored 11 points (5-of-7) despite fouling out of the contest.
"I was really encouraged," coach Mark Turgeon said. "He finished plays around the rim. He could get a little better with his back to the basket. When he had an angle, he was good."
The Terps faced a very tough Stony Brook team that was an automatic qualifier for the NCAA Tournament this past spring. Maryland was given a dose of bad news prior to tip-off when it was announced that Damonte Dodd was out with a concussion.
However, Dion Wiley returned, and Cekovsky made his first appearance all season. Wiley also had a very strong outing with a 13-point effort off the bench.
Cekovsky being dressed and ready for action proved to be helpful early, as Ivan Bender and L.G. Gill racked up three fouls apiece in the first half.
The Terps started off strong from the field, having probably the most efficient half on both ends of the floor all season. Maryland shot 52.4 percent as a team from the field and held Stony Brook to just a 31.4 percent clip.
Maryland has continued to impress everyone with their selflessness as nine players scored by halftime. The team also had 5 assists in the first 20 minutes.
The Seawolves came out firing in the second half, but for the first time all season, Maryland showed they could close out a meaningful game.
Even with Cekovsky fouling out towards the end of the game, Maryland found a way to maintain and extend their lead to 14 points and put an NCAA Tournament team away.
The Terps shot 49 percent as a team from the field and 42 percent from deep. Wiley went 4-of-5 from downtown in his return from a stomach virus that kept him out against Towson.
"I think he played a really good pace offensively tonight," Turgeon said. "Dion's a starter in my mind who's not starting. That doesn't mean that he might not start as the year goes on. We'll see. He's that kind of player for us."
One area that did continue to plague Maryland was rebounding.
The Terps were outrebounded 38-35 and only were able to grab three boards on the offensive glass. The Seawolves were able to secure 12 in that department.
Obviously, having Dodd may have inflated Maryland's numbers a considerable amount.
The Maryland basketball team returns to the hardwood on Friday night when they face Richmond. The game will tip at 9:30 p.m. and will be played at the Barclays Center in Brooklyn as part of the Barclays Center Classic.
More from Terrapin Station
This article originally appeared on