Maryland Basketball: Terps need more bench production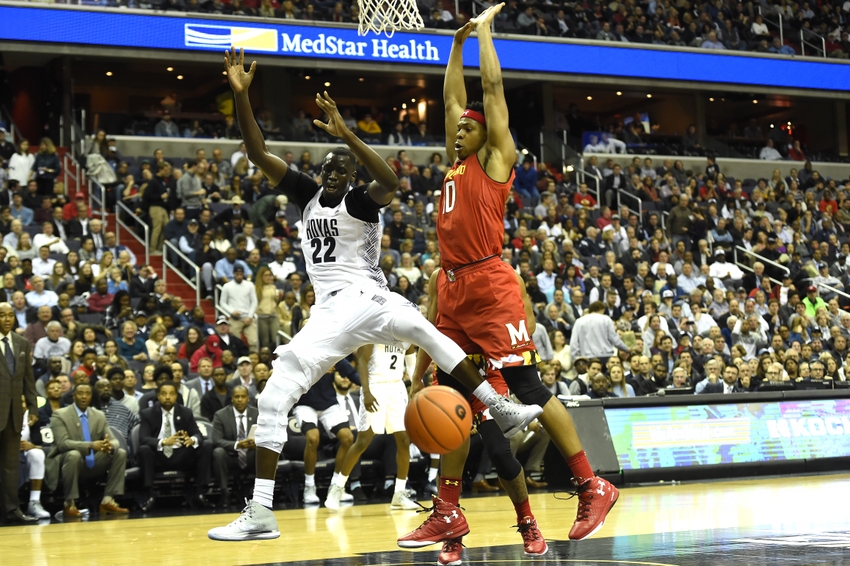 The Maryland basketball team narrowly escaped with a win over Towson on Sunday afternoon.
The Terrapins got production from Melo Trimble and Justin Jackson, but certainly didn't get much help from the team's bench.
The combination of Jaylen Brantley, Ivan Bender, L.G. Gill, and Jared Nickens scored just two points on 1-of-7 shooting from the field. Brantley scored a pair of points on his two field goal attempts.
Among the most alarming of that group is Nickens.
Nickens started in the season opener against American and struggled mightily. The former Westtown School (Pa.) standout didn't score a single point and went 0-of-5 from the field, which included an 0-of-4 performance from beyond the arc.
The New Jersey native has come off the bench in Maryland's other three games. Through all four contest, Nickens is shooting just 12.5 percent (3-of-24) from the field and just 17.6 percent (3-of-17) from three.
Nickens did score eight points against St. Mary's College (Md.) last Thursday. However, he still shot just 22.2 percent from the field and that was against a lesser Division III program.
Obviously, Nickens isn't expected to carry the scoring load for Maryland, but he's supposed to provide instant offense off the bench. When you're shooting under 20 percent from three-point range, that's not going to help coach Mark Turgeon's squad.
Another player is underachieving is forward L.G. Gill.
Gill was brought in as a graduate transfer to help soften the blow of Robert Carter Jr. and Diamond Stone leaving for the professional ranks. He didn't start the first game against American, but he did contribute 11 points and six rebounds off the bench when Damonte Dodd was struggling.
However, Gill was a non-factor against both Georgetown and Towson.
He played just 21 combined minutes in those two games and chipped in a combined two points. He also attempted just three field goals and was merely a blemish on the glass (one rebound).
With the start that Gill got off to, it looked like he would be a huge factor in the Maryland frontcourt. Obviously, Turgeon may not want to start him with Dodd because of foul concerns.
On the other hand, Gill is a high-energy player that can definitely use his athleticism to help defend the basket and attack the glass. The Terps probably have enough scorers in Anthony Cowan, Jackson, and Trimble to carry the load.
However, production from the likes of Gill and Nickens is something that is going to be needed once Big Ten play rolls around. Trimble has been sensational up to this point, but even the star junior will have an off night once in a while.
It'll be interesting to see how Gill and Nickens respond in Maryland's next contest against Stony Brook on Tuesday evening.
More from Terrapin Station
This article originally appeared on