Maryland Basketball: Terps look to bounce back against Stony Brook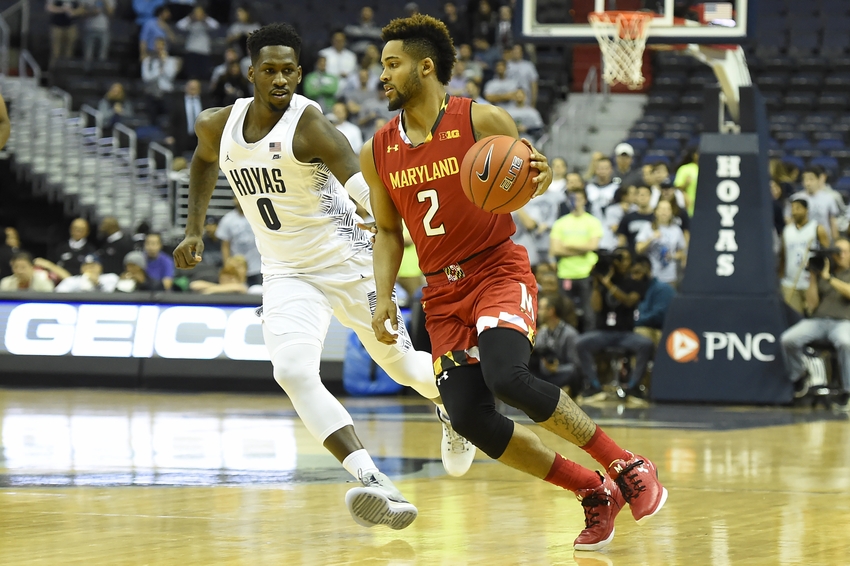 The Maryland basketball team had a close call against Towson on Sunday afternoon.
With that in mind, the Terrapins will look to bounce back in a contest with Stony Brook.
Maryland was given everything that they could handle at the hands of Towson. The Tigers controlled the glass as they held a 46-33 advantage in that department.
It appeared as though Towson was more aggressive on the boards. The Tigers grabbed 17 offensive rebounds and had four players with five or more boards.
Justin Jackson and Melo Trimble carried the scoring load throughout the game. The dynamic duo scored 48 points and grabbed 10 rebounds in a 71-66 Maryland win.
One of the other major storylines was the lack of production from the bench.
The Terps bench made just one of their seven field goal attempts. Jaylen Brantley registered two points as he made one of his two attempts from the floor.
Jared Nickens continued to struggle as he went 0-of-3 and failed to appear in the scoring column. He's shooting just 17.6 percent from beyond the arc, which is the junior's biggest strength.
L.G. Gill followed up a strong performance against St. Mary's College (Md.) with a clunker. He didn't score and recorded just one rebound in 12 minutes against Towson.
Keys to the game
1.) Crash the glass – As was mentioned above, the Terps really struggled on the boards against the Tigers. Maryland looked completely overmatched and Towson's bigs seemed to show more fight on every rebound opportunity. Obviously, it hurts for the Terps to still be without Michal Cekovsky in the frontcourt, but they still need to show more effort.
2.) Force Sea Wolves to the perimeter – Stony Brook may be one of the more one-dimensional teams that Maryland will face all season. The Sea Wolves don't exactly excel from beyond the three-point line. In fact, they only have one player on their roster that shoots above 30 percent from three (Akwasi Yeboah). The Terps are going to have to force the Sea Wolves to settle for jump shots if they want to limited their offensive firepower. If Maryland can clog the paint and limit the amount of high percentage shots, that'll go a long way towards deciding the outcome.
3.) More balanced scoring – Obviously, when you have a guard like Trimble, he's going to carry the scoring load more often than not. However, aside from Anthony Cowan and Jackson, Trimble hasn't had a whole lot of help in the scoring department. The Terps could definitely use some more production from their frontcourt. L.G. Gill struggled against Georgetown and Towson after a very strong season opener against American. If Gill can give Maryland 8-12 points off the bench on a fairly consistent basis, this will be a very dangerous team.
Players to watch
Tyrell Sturdivant (forward) – Sturdivant is a guy that is going to make the majority of his living around the basket. He hasn't attempted a three-point shot up to this point in the season. He also has a presence around the rim as he is averaging 1.5 blocks. This is a forward that is going to try to clash with Maryland's frontcourt and make them work on every possession.
Akwasi Yeboah (guard) – As was mentioned above, Stony Brook doesn't exactly shoot the ball very effectively from the perimeter. However, Yeboah is the one shooter that the Sea Wolves do possess. Through two games, Yeboah is shooting 45.5 percent from beyond the arc and is averaging 10.5 points per contest. The British import has a ton of range and can also rebound the basketball very well (6.5 rebounds-per-game).
Prediction
Much like American and Towson, Stony Brook is a team that Maryland can't afford to take lightly. However, the Sea Wolves can't exactly score from the perimeter nearly as well as both of those teams can.
With that in mind, the Terps could finally get a convincing win against a mid-major opponent. Maryland will actually have some breathing room in this one and will win 72-58.
More from Terrapin Station
This article originally appeared on