Maryland Basketball: Niswander's Notes for Stony Brook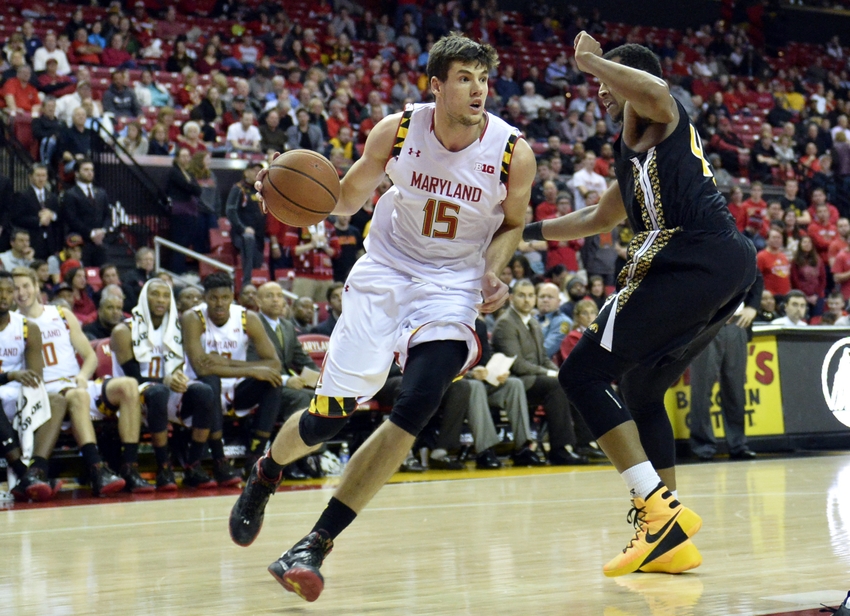 The Maryland basketball team had one of their most complete performances of the young season on Tuesday.
The Terrapins closed out Stony Brook in a game that was never in doubt. They led essentially from midway through the first half until the final buzzer.
Maryland had three players finish in double figures. However, two of those were players that returned from injury in Dion Wiley and Michal Cekovsky.
Here are my notes reflecting back on the game. Let's start with some positives.
Michal Cekovsky makes season debut
Cekovsky made his season debut against Stony Brook coming off the bench for the Terps.
He finished with 11 points on 5-of-7 shooting in 16 minutes. He was the recipient of a couple alley-oop dunks, one of which he received a technical foul for hanging on the rim after.
Cekovsky was able to provide an emotional spark off the bench and run the floor nicely.
He will more than likely be a mainstay in Turgeon's rotation if healthy the rest of the season.
Dion Wiley finding his form and rhythm on offense
Dion Wiley has looked rusty so far this season as he is coming back from his season ending knee injury that kept him sidelined all of last year.
However, he turned his play around against the Seawolves. He finished with 13 points on 4-of-5 shooting. All of his shots came from beyond the arc.
Wiley seemed to have been in a rhythm, catching multiple passes off of screens and nailing the open shot from deep.
Wiley will need to find his shooting stroke as Jared Nickens and Jaylen Brantley have struggled recently to find their touch from deep off the bench for Maryland.
Trimble making his way to the Foul Line
Melo Trimble has looked impressive early on this season.
In Maryland's four games against Division I opponents, Trimble has scored over 20 points in each one. He's also been to the free throw line 46 times in Maryland's five games.
This is a positive sign for Maryland fans because this means Trimble is looking to be aggressive and get to the line and score or create other good looks for his teammates as well.
Trimble's aggressiveness is a positive sign for Maryland's offense to be successful this season.
Now onto some areas of concern for the Terps moving forward. These are problems that need to be fixed as Maryland will begin to face stiffer competition.
The bigs getting into foul trouble
If you have watched every game so far this season, you will know that Damonte Dodd is good for one illegal screen each game.
Cekovsky fouled out in his season debut on Tuesday, picking up five fouls in just 16 minutes of play.
Ivan Bender, Cekovsky, Dodd, and L.G. Gill make up Maryland's frontcourt this season, which is a far cry from last year's superb unit. This is a group that has played undisciplined at times and will need to improve if the Terps want to go on an NCAA Tournament run.
Coach Mark Turgeon may be forced to keeping all four in the rotation each game as each one has picked up at least four fouls in one game so far this season.
Sloppy defense
Maryland needs to show better effort on the defensive end of the court.
Numerous times versus Stony Brook, Maryland defenders failed to hustle back on defense and surrendered easy looks right at the rim. Wiley was slow fighting around screens and closed out late a couple times on his man who he fouled and put at the line.
Surrendering uncontested looks against stiffer competition will spell trouble for the Terps as the opposition's talent level increases.
Rebounding
Maryland has been outrebounded in each of the last three games against Division I opponents by a combined total of 119-102.
This is a major area of concern because Towson and Stony Brook don't have size that Maryland does down low. After all, the Terps do possess seven players that stands at least 6'8.
The Terps can get away with surrendering extra possessions to some of these teams early in the season. In conference play, we could see Maryland basketball lose some winnable games because they failed to simply rebound the ball.
More from Terrapin Station
This article originally appeared on