Maryland Basketball: Melo Trimble's late game heroics lead Terps to win over KSU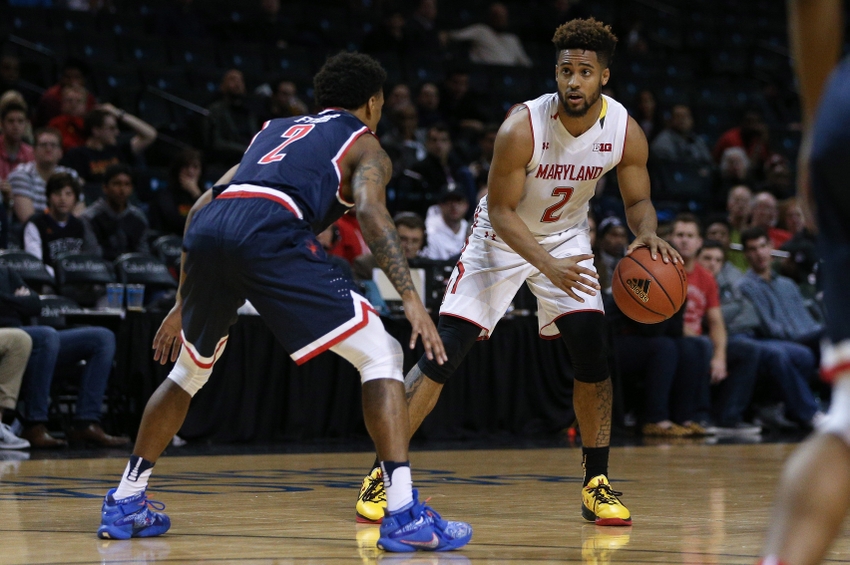 Maryland basketball won the Barclays Center Classic due to their ability to close out Kansas State.

69

68
Maryland versus Kansas State did not have the hype and national television audience that some of the other intriguing non-conference match-ups did. However, this was as good of an early season game as their has been so far in the 2016-17 season.
It also had huge implications for both teams. The Terps were looking for some momentum as they head into a tough two game stretch where they will play Pittsburgh and Oklahoma State in College Park. Meanwhile, the Wildcats of Kansas State were searching for what was their only opportunity for a quality non-conference victory.
Mark Turgeon's team was able to capture the win and the Barclays Center Classic title in Brooklyn on Saturday night. They defeated the Wildcats 69-68 due in part to point guard Melo Trimble's clutch play.
Trimble scored eight of the Terps' final 10 points, including a incredible game winning, left-handed And-1 layup with 6.6 seconds left.
"I've been through that situation since I've been at Maryland," Trimble said postgame regarding his terrific finish at the hoop. "I just know the best decision when the game is going like that is to just go to the basket. Even though we weren't getting calls, I needed to attack the basket and I did that."
This is what Trimble does. He is terrific in late game scenarios and has helped Maryland achieve success down the stretch of games throughout his college career.
Through the first two weeks of the season, the Terps have finished off plenty of close games as they defeated American by five, came back down seven with 1:13 left against Georgetown, squeaked by Towson, came back against Richmond and finally, capped off a game against KSU.
More from Busting Brackets
The Terps (7-0) just know how to close games, and when you have a guard like Trimble, it makes it that much easier.
The point guard was outstanding, but the Terps also got a lift from an unlikely contributor in Michal Cekovsky. The big man, who just recently returned from a foot injury, dropped 16 points, grabbed eight rebounds and had a trio of monster slams in the second half.
Cekovsky had his work cut out for him against Kansas State's D.J. Johnson, who scored a career high 26 points. However, Cekovsky's length and ability to impact shots helped the Terps limit the Wildcats' points in the paint.
"This is the first game all year where we have had everyone healthy," Turgeon said following the win. "We still haven't practiced with a healthy team. With Cekovsky's length, Damonte Dodd's length, and Justin Jackson's length, we were able to protect the rim a little bit."
Kansas State's defense was solid for most of the night, but the Terps only turned ball over eight times and showed off their elite passing ability. Jaylen Brantley, Anthony Cowan, Kevin Huerter and Trimble combined to dish out 10 of Maryland's 14 assists.
Beyond just Johnson, Kansas State was led by Wesley Iwundu (16 points and 11 boards in 40 minutes of action), Barry Brown (13 points) and Kamau Stokes (11 points on 3-of-5 from three). The Wildcats shot 45 percent from the field, but just 27 percent from three.
This game was even for most of the night. There was only a combined 17 turnovers and both teams shot nearly the same percentages from the field. The difference: One team had Melo Trimble and the other team did not.
This article originally appeared on