Maryland Basketball: Melo Trimble's late free throws lift Terps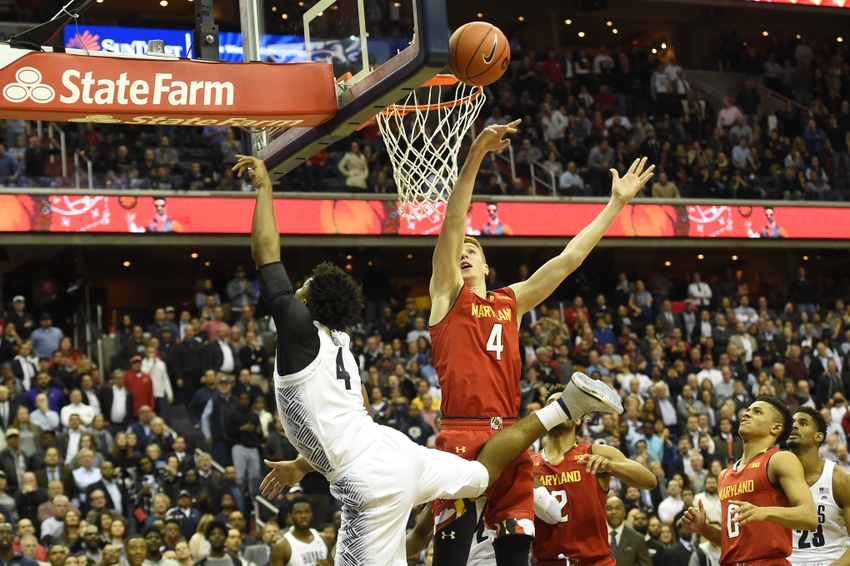 Maryland trailed Georgetown by seven points with 1:07 to go, but that didn't seem to bother Melo Trimble.
Trimble connected on a pair of free throws with 7.6 seconds left to put the Terrapins up 76-75. On the Hoyas ensuing trip down the floor, Jagan Mosely elected to drive to the basket and wanted to finish with left hand.
However, freshman Kevin Huerter had other ideas as he blocked Pryor's shot to give Maryland the heart-pounding victory. Trimble led Maryland with 22 points (7-of-13 shooting) and was one of three Terps that finished in double figures.
Gus Johnson. Bill Raftery. A game coming down to the wire. EPIC FINISH.@TerrapinHoops for the win over Georgetown https://t.co/o43GRfCBh1

— FS1 (@FS1) November 16, 2016
Forward Justin Jackson added 17 points and seven rebounds while guard Anthony Cowan netted 11 points, five assists, and five rebounds.
With 10:12 remaining in the game, Georgetown and Maryland were tied at 47 and it was a back-and-forth affair.
Guard L.J. Peak nailed two free throws to put the Hoyas up two points. Over the next several minutes, Georgetown had an answer for everything that Maryland threw at them.
Trimble converted a gutsy layup to make it a 54-51 game with nine minutes left. However, after the television timeout, Robert Morris transfer guard Rodney Pryor drilled a shot from beyond the arc to extend their lead to 57-51.
The Hoyas led by as many as nine over the final nine minutes before the Terps made their push with 1:07 to go.
It was only fitting that free throws were the deciding factor in the game.
Maryland connected on 77.3 percent (17-of-22) of their free throws while Georgetown hit 88.1 percent (37-of-42) of theirs. Trimble led the Terps as he nailed seven of his nine attempts from the charity stripe.
The pace was very frantic in the early going on at the Verizon Center.
Georgetown utilized the press in the first four minutes to try and force Maryland to make ill-advised passes. It worked to some degree as the Terps turned the ball over three times.
The Hoyas jumped out to a 7-6 lead, but the Terps did have some good ball movement at times. Most notably, Cowan drove towards the basket late in the shot clock and dropped a beautiful pass off to Jackson for the easy layup.
Maryland really found their way out of the Under 16 media timeout. Jackson's layup was the starting point for a 9-0 run that spanned four minutes.
On back-to-back possessions, Huerter hit a stepback three-pointer and Trimble provided one of his own on the ensuing trip down the floor. Maryland was able to jump out to a 14-7 lead.
However, the Hoyas responded with a 9-0 run of their own.
Maryland and Georgetown were tied at 31 at the half. Jackson was sensational around the rim and on the glass.
Resistance at the rim was also one of the key themes on Tuesday evening.
Damonte Dodd blocked four shots and was sensational on the defensive end for Maryland. Huerter also swatted away a pair of shots.
Maryland doesn't have the deepest frontcourt, so it's important for their bigs to defend the paint in a smart manner. Ivan Bender also played well off the bench as he scored nine points and grabbed six rebounds.
This was a game that the Terps fought to win. After being bounced from the Associated Press Top 25 poll on Monday, Maryland could find themselves right back in there as long as they take care of business against Towson on Sunday.
More from Terrapin Station
This article originally appeared on