Maryland Basketball: Melo Trimble could have career year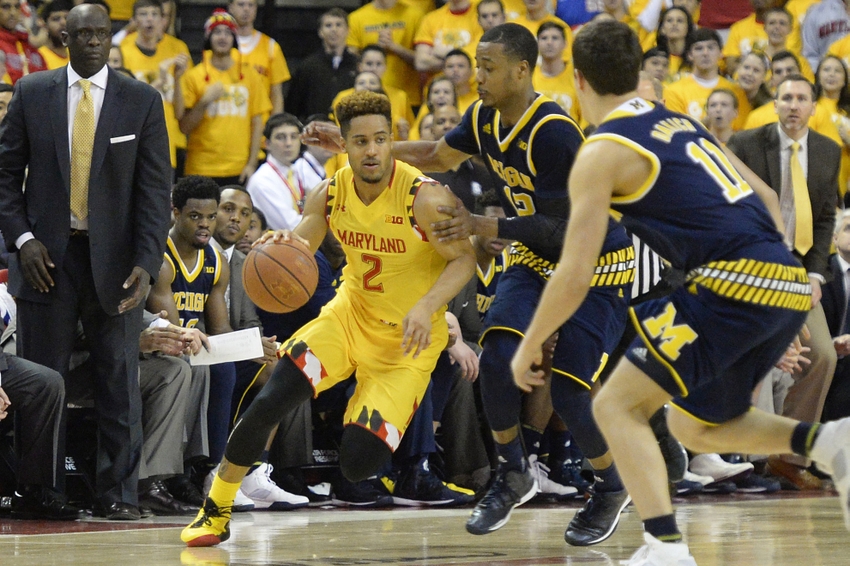 According to some, Melo Trimble had a down year as a sophomore.
However, Trimble could have the best year of his Maryland career during the 2016-17 season.
Trimble is coming off a sophomore campaign in which he averaged 14.8 points/4.9 assists/3.6 rebounds. He shot 41 percent from the field and just 31.5 percent from beyond the arc, which were both career lows.
Trimble was also forced to play a lot of minutes after Dion Wiley went down with a preseason knee injury. Trimble wasn't able to play off the ball very often and was forced to be the main facilitator.
Rasheed Sulaimon served as Maryland's off-the-ball scorer a lot of the time.
Things certainly look like they will be quite a bit different this coming season.
The Terrapins have plenty of depth at point guard with Anthony Cowan and Jaylen Brantley. That should allow Trimble to play off the ball a lot more than he's used to.
According to reports, Cowan has been pushing Trimble incredibly hard in practice.
Trimble will have to get back to the basics of what made him successful as a freshman. He thrives on getting to the rim and playing through contact.
As a sophomore, Trimble averaged 1.8 less free throws per contest than he did as a freshman. He still managed to shot over 86 percent from charity stripe just like his first season in College Park.
Trimble also can be very dangerous from beyond the arc, which is why his ability to drive is so crucial. If he's shooting the ball well and getting to the basket at ease, teams will have a much tougher time figuring out how to defend the point guard.
The Upper Marlboro (Md.) native shot just 31.5 percent from three during the 2015-16 season. That's way down from the 41.2 percent clip that he put up as a freshman.
With all that being said, this year's roster possesses the most guard depth that Maryland has had in quite some time.
It appears that the Terps will have four to five guards that can produce at a high level. Obviously, you can never be 100 percent sure what you're getting in freshmen like Cowan and Huerter.
However, these are two of the more highly rated guards in the nation during their high school days. If Cowan and even Wiley can handle the ball more, Trimble will be able to focus his attention more on being a scorer.
Much like when he was a freshman, this could be a monster year for Trimble.
More from Terrapin Station
This article originally appeared on