Maryland Basketball: Justin Jackson shines against Georgetown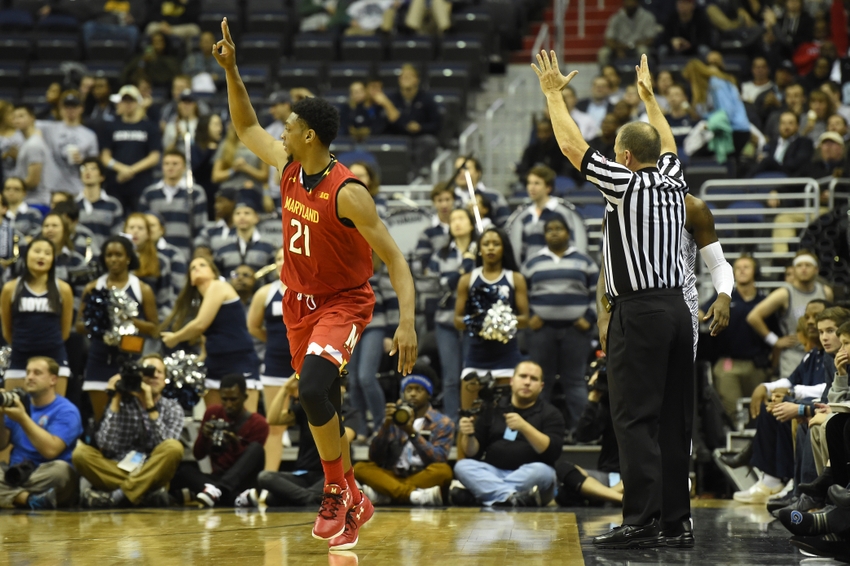 Justin Jackson was a late addition to Maryland's 2016 recruiting class.
He showed why he's such a integral part of the program's future on Tuesday evening.
Jackson scored just three points against American, but was able to secure nine rebounds. However, the East York, Ontario native bounced back with 17 points and seven rebounds against Georgetown in a 76-75 thrilling Terrapin victory.
The highly-touted freshman was forced into action very early. Forward L.G. Gill drew the start, but picked up two quick fouls and only ended up playing nine minutes against the Hoyas.
Even before Tuesday's game, it was clear that Jackson has a presence on the glass. He is a high-energy player that has a tremendous amount of length.
Due to that length, tip-ins and outmuscling opposing players for rebounds seem to be his specialty. That's a huge factor for Maryland seeing that the Terps lost a significant amount of presence on the interior from last year's Sweet 16 squad.
His length also allows him to cause matchup problems on the defensive end.
Offensively, Jackson is one of the most gifted athletes that you will see. He has the ability to score from just about anywhere on the floor.
Jackson excels around the basket and can score in close with the best of them. It also doesn't hurt that he has a point guard like Melo Trimble feeding him the basketball when he's down low.
For example, early in the first half against Georgetown, Jackson benefitted from some great passing on the interior. Fellow freshman Anthony Cowan drove to the rim with five seconds left on the shot clock and dished a beautiful feed to Jackson, who was able to convert the easy layup.
Another area that Jackson really shined against the Hoyas was behind the three-point line.
The Terps really struggled as a group from that area throughout the game. As a team, Maryland made just 25.9 percent (7-of-27) from beyond the arc.
Jackson certainly wasn't the norm as he hit three of his five three-pointers on the night. He didn't hesitate to hoist up a shot from beyond the arc.
He is the true definition of an inside-out player that is dangerous both as a driver and a shooter. Jackson can do damage in a multitude of ways and will only get better as the season goes along.
Jackson displayed all of these characteristics against Georgetown and it certainly won't be the last time.
More from Terrapin Station
This article originally appeared on