Maryland Basketball: Georgetown provides early test for Terps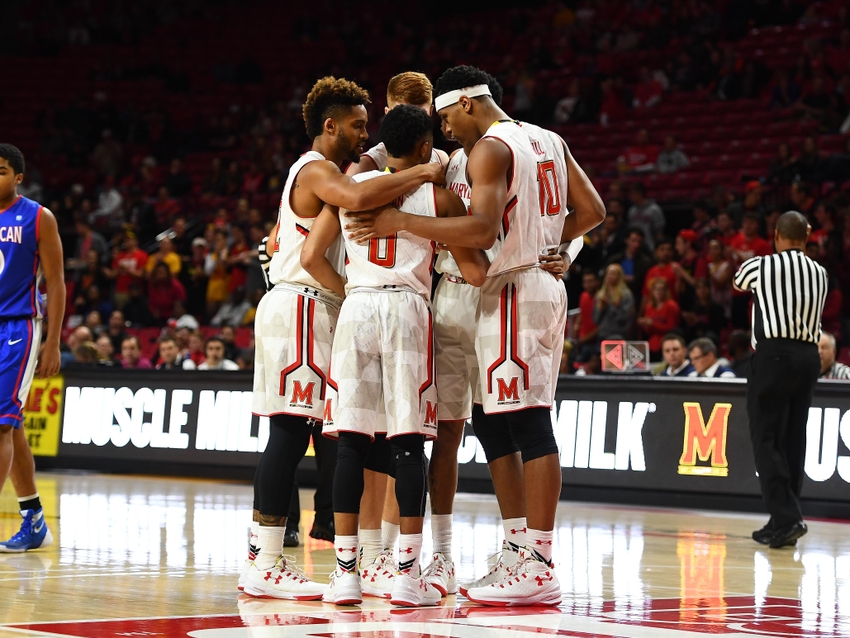 The Maryland basketball team got much more than they bargained for against a pesky American squad in their season opener.
The Terrapins even trailed in the second half against the Eagles before ultimately obtaining the 62-56 win. Guard Melo Trimble led Maryland with 22 points (9-of-19 shooting) and four assists in the winning effort.
Trimble scored nine of those points in the second half when the Terps had to rally from a six-point halftime deficit.
Trimble's backcourt mate, Anthony Cowan, had an extremely efficient collegiate debut. Cowan scored 12 points (3-of-4) and grabbed a team-high nine rebounds.
Cowan also made five of his six free throws, which was second on the team.
One of the strongest areas for the Terps was in the rebounding department.
Maryland outrebounded American by a 44-22 margin, Aside from Damonte Dodd, every Terp recorded at least one rebound with forward Jared Nickens being the only one who didn't have multiple boards.
One of the biggest issues for the Terps was scoring on the interior. Forward L.G. Gill was the only big man that provided any sort of offense in the frontcourt.
Gill had 11 points (2-of-3) and six rebounds while making seven of eight attempts from the charity stripe. On the other hand, Dodd was off track from the opening tip and only scored three points while failing to grab a rebound.
Coach Mark Turgeon elected to start four guards and Dodd because he didn't want to get Dodd and Gill in foul trouble early.
Keys to the game
1.) Slow down the Georgetown backcourt – Even though D'Vauntes Smith-Rivera graduated, the Hoyas still have a loaded backcourt. Robert Morris transfer Rodney Pryor appears more than happy to shoulder the scoring load. Georgetown also has Tre Campbell and L.J. Peak, who are some of the more underrated guards in the Big East. Maryland has the bigger guards to help defend the talented trio in Cowan, Kevin Huerter, and Trimble. If they can limit the damage, it'll go a long way towards earning a big win over the Hoyas.
2.) Establish an advantage on the glass – As we saw in the season opener, Maryland was very active on the boards. On the other hand, Georgetown and USC Upstate both had 33 rebounds apiece in their game on Saturday. Center Jessie Govan led the team with six rebounds, but the Hoyas were outrebounded 20-8 on the offensive glass. The Terps are going to need to play with energy and get the likes
3.) Limit the turnovers – This was an area of concern for both Georgetown and Maryland in their season openers. The Terps turned it over 18 times with Cowan and Trimble coughing it up four times apiece. Maryland needs to take better care of the basketball and avoid risky passes. If the Terps can do that, it'll be a huge feather in their cap.
Players to watch
Rodney Pryor (Guard) – Pryor is an extraordinary athlete that can fill up the stat sheet every night. During his time at Robert Morris, it was evident that this guy is a high-volume shooter that can hit from just about anywhere on the court. Pryor dropped 32 points in Georgetown's season opener and looks to be the top option on the offensive end.
Jessie Govan (Center) – It's always been more about potential than production when it comes to Govan. The Queens Village native has an NBA body and can be very effective in the post. Govan turned in a solid performance against USC Upstate (11 points & six rebounds) and could be ready to take the next step. With Bradley Hayes set to miss three more games, Govan has to protect the rim.
L.J. Peak (Guard) – Peak is a very well-balanced player that should help carry the scoring loads this season. The South Carolina native has really developed his three-point shot since arriving at Georgetown. After shooting just 24.6 percent as a freshman, he shot at a 40.9 percent clip as a sophomore. Peak also rebounds very well for a guard and has no problem slashing to the rim. Along with Pryor, Peak isn't afraid to shoot from the perimeter.
Prediction
This is certainly a tough one to predict, especially with such differing results in the season openers for both teams. Georgetown manhandled USC Upstate like they were supposed to. However, Maryland had a very close contest with American. The Terps are young, so it'll take time for the youngsters to develop their game.
Much like last season, I think this will be one that does down to the wire. This game is going to be won in the final moments. I'll say Maryland gets big performances from their backcourt and wins 73-68.
More from Terrapin Station
This article originally appeared on