Maryland Basketball: Dion Wiley showcased his potential against Stony Brook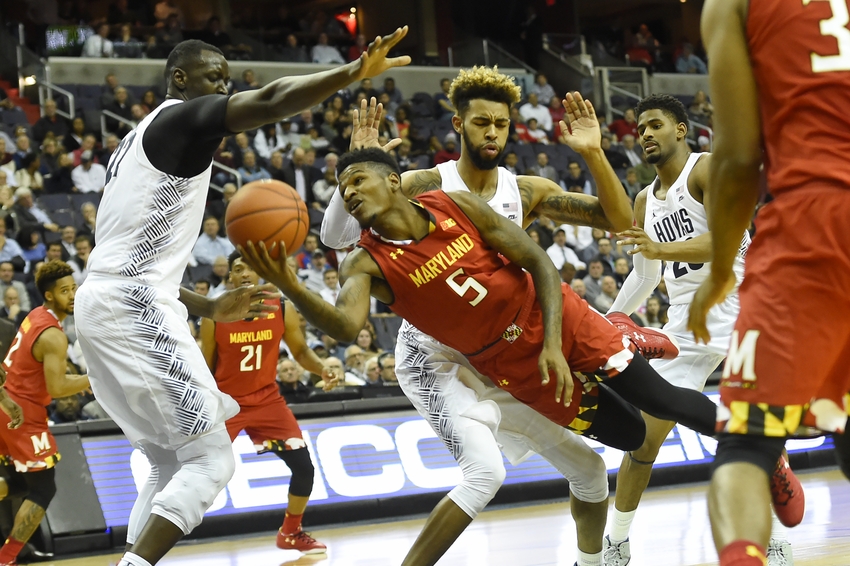 Dion Wiley has encountered quite a few hiccups since arriving in College Park.
However, Wiley showed why he was such a highly-regarded prospect with a strong performance against Stony Brook on Tuesday.
The former Potomac (Md.) standout contributed off the bench as a freshman and was expected to have a big role last season. Unfortunately for the Terrapins, Wiley tore his meniscus over the summer and was forced to miss the entire 2015-16 campaign.
Wiley scored just eight points in Maryland's first three games. He didn't play in Sunday's win over Towson due to a stomach virus.
On Tuesday, Wiley had his best outing of the young season as he scored 13 points and recorded two assists. All five of his field goal attempts were from beyond the arc.
"I think he played a really good pace offensively tonight," Turgeon said. "Dion's a starter in my mind who's not starting. That doesn't mean that he might not start as the year goes on. We'll see. He's that kind of player for us."
Shooting the three is one of Wiley's biggest strengths. Coming into Tuesday's game, he hadn't connected on a long-range shot.
Wiley got involved offensively very early on against the Seawolves.
With 12:16 left in the opening half, Bryan Sekunda grabbed his own rebound and drove to the basket to try and convert for Stony Brook. Forward Michal Cekovsky, who made his season debut on Tuesday, swatted the field goal attempt off the backboard and the Terps were off and running.
Melo Trimble brought the ball up the court and spotted a wide-open Wiley as the trailer in transition. Wiley was able to spot up on the wing and splash home his first three-point shot of the evening.
One of the biggest reasons for Wiley's success may have been a session with coach Mark Turgeon last Friday. Before Wiley got sick, he came and practiced his shot with Turgeon.
"I think my thumb was on the ball too long," Wiley said. "He told me to just get my thumb out of there and when I shoot, just hold my release and I'll start making shot more."
It definitely seemed to be working as Wiley made his first four shots from beyond the arc. Cleaning up his mechanics is a huge deal this early in the season and it allows Wiley to be more confident in his shot.
Maryland's biggest position of strength has to be in the backcourt.
Getting early production from guys like Anthony Cowan and Kevin Huerter has been huge. However, Wiley has the ability to be a completer player because he can defend, drive, and shoot.
If the guards can continue to perform at a high level, Maryland could be one of the more successful teams in the Big Ten.
"It's important for us to get going," Wiley said. "The team is going to need us to get going in order for us to go far in the tournament and for us to be a Top 25. If we do, we can be really good."
More from Terrapin Station
This article originally appeared on